Le Petit Mousse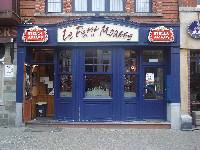 Reviews by TheLongBeachBum:
TheLongBeachBum from California
3.64
/5
rDev 0%
vibe: 3.5 | quality: 3.5 | service: 4 | selection: 3.5
With an early morning Brewery Visit to Brasserie Brootcoorens, Erquelinnes completed and an excellent late lunch at the superb Fermette Des Pins in Buvrinnes (see BeerFly) quietly resting; the final full day of the annual Wakefield CAMRA 2006 Easter Belgium Tour was in a "don't want this to end" mood. Checking the Drivers hours we had time for one more stop on the way back to Mons and decided to have a 90 minute stopover in Binche.
Having spent a full evening in Binche only two years ago at Easter 2004, but with Tim Webb's 4th Edition Good Beer Guide to Belgium, I decided to head straight for the recent addition to Tim's 5th Edition, the Petit Mousse.
At the bottom end of the Main Square, it is easy enough to locate nearby to the set of traffic lights where the three main roads that run through Binche meet.
Wooden ground floor has a bay window frontage that is painted dark blue and has a door either side, though only the one on the left hand side seems to be used and was permanently wedged open. Set between two Stella Artois signs a white backed main sign has the words "Le Petit Mousse" in a purple script, this design is repeated on etched windows in the bay window.
The interior is heavy on new wood and upholstered seats with a clean modern Café feel about it interspersed with a few plants to brighten things up. The bar is up to your right and set up a level against the wall about half way back. Clientele was a real eclectic mix, from the old couple enjoying a bowl of Soup and cup of fresh Coffee, to the group of young lads in the back room being well, "lad-ish" and downing copious quantities of some nondescript Pils. Music seemed to be playing louder in the back of the pub than the front, maybe that's why the younger end were seated there, and it was obvious that the sound system here could knock out a Club-land pounding beat if it needed to. Yet the individual control of speaker volumes seemed to offer the best of both Worlds to those that did not want to listen, they could sit in the front part and hear themselves speak, this too may be why the older end frequented this section of the Petit Mousse.
A handful of taps has a growing bottle beer list to back it up. Some 50 beers, I opted for a bottle of the superb John Martin 8% Guinness which arrived with the correct glass, which was a surprise. Others picked up on a variety of aged Orvals, this too added some serious depth to the beer list, and the older/aged ones weren't too expensive either. A handful of Chimays, other Trappistes and lots of Wallonian brews completed the list. Nothing outstanding but a nice list nonetheless and you probably won't beat it in Binche. Serves up free peanuts and those small pretzel-like snacks with each round. But just as you get fooled into the serious upcoming beer bar, behind the seating area where we were, there was a plethora of various styles and sizes of "Giraffe", those tall plastic tube fonts with a base tap which you fill with macro tap beer, and not usually the good stuff, nonetheless you could fill it with good bottled stuff if you wanted to here it seems, but what would be the point.
Service was on the ball, and attentive, no mistakes and a speedy delivery, just as we like it when we have these quick town stops. Does food, but none of our party opted this after having just partaken of a serious meal at the Fermette Des Pins in Buvrinne. Menu didn't look to be anything other than standard Pub Fare with a few local specialties thrown in for good measure, but the Soup did look to be home made and very good.
A strange place; probably the best beer range in Binche, and it seems genuinely interested and serious about its craft beer list - yet at the same time it retains a "lads" image that seems to project a "we really don't care what you drink" feel. Mixed clientele who age as you walk back down the main room and it gets harder to hear yourself as you do. Not sure whether this is the best of both Worlds? Maybe! because it seems to work just fine. It will be interesting to see how this one pans out. Worth trying, but don't miss the Côte de Chez Boule and Aux Inséparable, both just a short walk away if you get to Binche and fancy a change of pace.
Last Visit: Monday 17th April, 2006.
May 17, 2006
Le Petit Mousse in Binche, Belgium
Place rating:
3.64
out of
5
with
1
ratings