Star Tavern, The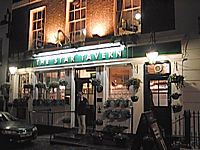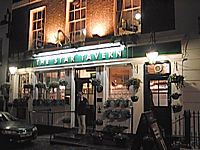 PLACE INFO
Type:
Bar, Eatery
6 Belgrave Mews West
London
,
England
, SW1X 8HT
United Kingdom
+44 (0)20 7235 3019 |
map
Notes:
No notes at this time.
Added by wl0307 on 03-08-2006
Ratings: 6 | Reviews: 6
Reviews by rarevos:
3.85
/5
rDev
-0.3%
vibe: 4.5 | quality: 4 | service: 4 | selection: 3 | food: 4.5
This is a Fuller's pub, and a damn fine one. It's located at the entrance of a residential street. Very, very small (or cozy, depending on your perspective). Very, very, very comfortable. Lots of small tables, a fireplace (lit) and a lot of laughter. There was even a small dog sitting next to us, waiting patiently for his owner to finish his dinner.
My wife and I met two local boys while here: Clive, and his nephew whose name I didn't catch. They were drunk, and great, giving some good food advice. The aubergine lasagna was really good, and the steak and ale pie was pretty tasty, too. Excellent creamy potato soup.
Beer selection left a little to be desired, but who can complain when you can get pints of London Pride for around two pounds? I can't. Not if it's Real Ale. They had Pride and ESB on cask, and a bunch of swill: Carlsburg, Stella, bottles of Bud & Bud Light, and there was a Guinness handle as well. Fuller's bottles were the Blonde and the Winter Ale, which the guys told me not to get b/c it was probably old. Of course, they were also drinking the Blonde after pouring it into a glass with ice, so maybe they steered me wrong.
This is supposedly where the planning for the Train Robbery took place.
Really a great little place. Very inviting, very friendly, and the food was pretty top-notch.
1,333 characters
More User Reviews:
3.88
/5
rDev
+0.5%
vibe: 4 | quality: 4 | service: 4 | selection: 3.5 | food: 4
Have been a semi regular visitor to the Star over the years, most recently back in the summer
One of two London pubs that have been ever present in the Good Beer Guide (along with the Buckingham Arms)
Fullers tied house normally with 4 of their beers on, usually Pride and Chiswick, plus ESB or Discovery more often than not, and perhaps a seasonal
Have had food here once in the form of an after work corporate type buffet which was decent, but never ordered food myself
Nice Mews setting and this pub is convenient for me in terms of being walkable from my office and on my route home. It ticks all the boxes of a decent pub.
If I was in London for a short stay over I wouldn't recommend going out of the way for it unless you are a big Fullers fan perhaps?
If it's diversity of choice and/or hard to get beers there are plenty of better options around London
869 characters
4
/5
rDev
+3.6%
vibe: 4 | quality: 4 | service: 4 | selection: 4
Very attractive traditional pub at entrance to Belgrave Mews, easy to find close to Belgrave Square.
Two main rooms with leather chairs and sofas and various size tables, making for a comfortable feel, though smaller inside than I expected.
Full range of Fullers beers were on tap at the time of visit and those we tried were on top form and very good. Service was friendly and efficient, and food menu looked good, though pricey - as was the beer - we had the Autumn Seasonal "Red Fox" (over £3 a pint) but typical prices for this part of London.
A traditional up-market pub with historic associations which is well worth visiting, especially if you enjoy Fullers beers.
Ten minutes walk from Knightsbridge Tube Station. The Nags Head in Kinnerton Street is only a few ninutes walk from here too.
JohnW
October 2008
822 characters
4.28
/5
rDev
+10.9%
vibe: 4.5 | quality: 5 | service: 4.5 | selection: 3 | food: 4.5
My wife and I have been visiting this Fullers pub once every year or two for the last 15 years on our trips to London. It has become our "local". We have seen the management change two or three times without a drop off in the quality of the beer or the food, the hospitality or the friendly atmosphere created by both the staff and the patrons. It can be crowded at times but that adds to the fun. The Star Tavern has been included in every issue of the CAMRA Good Beer Guide since the beginning with good reason. We recommend it to tourists who want to experience what a real London pub should be.
598 characters
3.63
/5
rDev
-6%
vibe: 4 | quality: 4 | service: 3.5 | selection: 3 | food: 4
Very close to the hotel we were staying at in London. Obviously a very upscale area as I walked by at least a dozen or so embassies, consulates and official residences to get to it. Quite large and open inside, with lots of tables close together. The bar area was full, so I found a spot at one of the vacant tables. According to the menu, the location where the Great Train Robbers drank and planned the robbery. Also the former hangout of old movie stars and celebrities (didn't notice anyone famous, but I was too interested in the beer anyway). I ordered dinner here which was served piping hot and quite delicious. I'd probably pop by again if ever in the area.
666 characters
3.51
/5
rDev
-9.1%
vibe: 4.5 | quality: 4 | service: 3 | selection: 3
A Fuller's pub situated at the end of a mew where the Austrian and German Embassies are located, nr. Belgravia Sq.~~ Before going I was wondering what kind of drinking place it might be in this (very posh) part of London? Real ales being only the second/third choice to Champagnes and wines? My visit proves me wrong big time.
From outside the pub you can't see through the coloured glass windows, some of which are engraved though I'm not sure if they are genuinely old. Once getting inside, a U-shaped bar dominating a small area welcomes you, with four handpumps serving Fuller's regular stuffs: Pride, ESB, Chiswick, and the new Discovery. The beers were in very good condition but the barmaid was at best lukewarm to customers... Nothing too special, innit?
The vale for money in this place lies in the atmosphere (to me). I was seated at the deep rear end of the drinking area which is semi-separated from the bar area, and watched how the locals enjoyed themselves in this cosy place. The interior setting is quite comfy: the creamy yellow ceiling, concealing the original Victorian dark red I believe, provides a refreshing and soft feel; two original fireplaces, both on, sit in two sub-sections of the long drinking area, looking like two originally separate rooms of the building were connected by breaking down the wall. Wooden furnitures and sofas are all arranged closely but neatly. Photos of the past in this area are displayed on the walls orderly as well. No music, no fruit machines, only lively as well as silent conversations b/w punters, mostly office-workers and embassy clerks (talking), local residents (reading papers), and a couple of tourists like me (photographing). A sufficiently comfortable place to drink, albeit not giving one a feeling at home for sure. BTW, their food menu looks very decent at good price, as far as this area is concerned.
1,883 characters
Star Tavern, The in London, GB2, United Kingdom
Place rating:
0
out of
100
with
6
ratings