Armes De Philippeville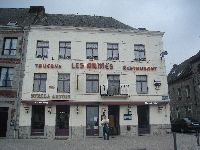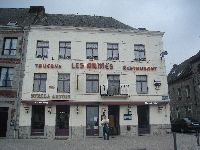 Bar
Place Des Armes 3
Philippeville
, 5600
Belgium
+32 (0)71 66 62 41 |
map
Notes:
Reviews by TheLongBeachBum:
TheLongBeachBum from California
3.86
/5
rDev 0%
vibe: 4 | quality: 4 | service: 4 | selection: 3.5
After a full lunchtime at Brasserie Mortals and a quick 2-beer stop at the large Super Des Fagnes Brewpub, we eventually found ourselves in Philippeville with a 90 minute break for the Coach Driver. So given the time we decided to sample the wares of the two establishments listed in Tim Webb's ever trusty Guide.
Now, much to my chagrin, several people reminded me that I had been here before……bugger me if I couldn't recall this previous visit, I must have been wrecked. As soon as we arrived in the square though in Philippeville it all came flooding back ….some of the previous trips were, shall we say, heavy on the booze and legendary.
Les Armes has an imposing location, overlooking from the top and middle of the gently sloping town centre square, which is now fully refurbished (it was dug up the last time we were here). The three storey building has a cream painted frontage with the words 'Taverne – Les Armes – Restaurant', with the only visible paraphernalia being a small Stella Artois and Ciney sign, neither of which are usually good pointers but don't let that put you off trying this place.
The entrance is just to the right of centre and once inside an interior door keeps the wind out when punters arrive and leave. The bar is in the middle of Les Armes, is set back against the wall and surrounded all the way around by dark wood tables & chairs together with upholstered seats around the edges. We sat to the left and back of the bar which seemed to be a smoking area. Articles on the tables appeared to warn of the high fines for straying out of this area with a lit cigarette and seemed to tell the story of a bar that had been heavily fined; a reminder that the smoky days of Belgian bars are definitely numbered, thankfully.
It was pretty quiet during our afternoon visit, a handful of afternoon drinkers but service was sharp. A chap who was sat down playing cards with friends at the front when we arrived, soon leapt to his feet and took our orders, quickly organizing the woman behind the bar to start getting and pouring the beers. Can't knock the service at all.
I counted around 35 beers, or so, on the list, four taps with a cooler near the entranceway to the toilets that restrained about 30 bottles, including a few Trappistes and "specials". The "specials" are those odd-ball and unusual brews rarely seen outside small local areas. The one to go for here is/was a local brew called 'Schwendi'. Schwendi was originally produced by Devaux; a small tiny brewery that dated from the 1860's and was actually based in Philippeville. Devaux produced a range of table beers but they had one unusual brew simply called Schwendi, at that time a 6.5% brew that was allegedly brewed with Rodenbach yeast. This brew was officially listed as retired when the Brewery closed some years ago, but it seems that Scwendi is still on the beer list at Les Armes. It is now listed at 7.5%, a tad stronger, and it seems that it is now contract-brewed by Silly, though nothing of note on the beer label substantially proves this. The Schwendi bottle label has altered slightly but it was served in its trademark earthenware mug and alongside a small bowl of peanuts, a nice touch. The second brew we opted for was 'Cuvée Li Crochon Blonde', another unusual 6.8% brew from Du Bocq.
Food is available, at certain times, and the Menu looks very good. The local specialty is indeed Rabbit cooked in beer and nettles. We had all eaten substantial fare at Mortal's earlier so we made do with the small bowls of cheese and peanuts that accompanied each round of beer, a nice touch that seems to be a rare find these days.
A super relaxed place. Despite giving a 3.5 for selection, this is well worth a visit just for those odd-ball brews that you never seem to find anywhere else, like the re-born 'Schwendi' and 'Cuvée Li Crochon Blonde', as well as a few solid brews including Trappistes, not bad for a list that barely edges 35 in quantity. I can't believe that I forgot that I had been here before, damn old age, it's no good. Live life today because tomorrow you may, erm, …..what was I saying!? I won't forget this place in a hurry again though.
Last Visit: Sunday 16th April, 2006.
May 15, 2006
Armes De Philippeville in Philippeville, Belgium
Place rating:
3.86
out of
5
with
1
ratings