Dubbel Overhead Abbey Ale
| Pizza Port Solana Beach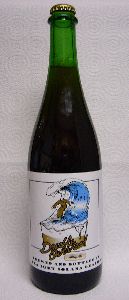 BEER INFO
Brewed by:
Pizza Port Solana Beach
California
,
United States
pizzaport.com
Style:
Dubbel
Alcohol by volume (ABV):
6.50%
Availability:
Limited (brewed once)
Notes / Commercial Description:
No notes at this time.
Added by xlperro on 03-21-2004
This beer is retired; no longer brewed.
Ratings: 11 | Reviews: 11
Reviews by mzwolinski:
3.72
/5
rDev
-9.5%
look: 3.5 | smell: 4 | taste: 3.5 | feel: 3.5 | overall: 4
2004 edition, bottle #141
Mostly clear in appearance, orangeish/red in color with a thinnish, spotty light-tan head and very light carbonation. The aroma is interesting -- candi sugar sweet but spicy with a zesty fruit character. It doesn't quite prepare one for the tartness one experiences on the first sip. Hints of lemon in the flavor? Perhaps a bit of muted ripe banana. Nice Belgian malt flavors strengthen and develop a toasty character as the beer warms. Some apple in there too? Fairly light in the mouth, mostly smooth but a bit prickly in the end. Overall, some interesting stuff going on here, but it just doesn't seem to hang together very well. Not my favorite Pizza Port Beer.
694 characters
More User Reviews:
3.95
/5
rDev
-3.9%
look: 4 | smell: 4 | taste: 4 | feel: 3.5 | overall: 4
Hand bottled# 49. A monk surfing on a wave of brew adorns the label. Also this is the first Belgian style ale produced at Pizza Port Solana Beach! Pours from the 750ml bottle a nice amber brown color with streaks of red. A half inch of bubbly head stays strong atop the brew. Aromas begin with sweet fruity malts, candi sugar, apple, pear, slight raisin as well. Big, earthy yeast spiciness flows over everything with an undercurrent of nutty caramel. Pretty nice and refined.
First sip brings a sweet caramel apple fruity maltiness upfront. Slight nutty with a nice wave of spicy, earth yeast flavors and notes of candi sugar. There's a subtle sourness throughout that I actually find enjoyable myself. Finishes with a crisp spiciness and a bit of lingering raisin, cherry and apple. An enjoyable brew overall!
Mouthfeel is a touch on the thinner side with a steady carbonation. Goes down pretty smooth. Overall I found this to be a nice brew that I would drink more of if I had the chance. Taking down the 750 by myself is a nice Friday night treat. If you can still find this anywhere..I'd say give it a try. Thanks to wezil for the opportunity to sample this one.
Edit: As this one warmed up the flavors seems to jump out even more...so I'd say slowly enjoy a bottle and taste how it changes as it warms up!
1,320 characters
3.88
/5
rDev
-5.6%
look: 4 | smell: 3.5 | taste: 4 | feel: 4 | overall: 4
750ml bottle obtained via trade with hopdog. 2004 vintage, bottle #152. Thanks for the opportunity...
Poured into a Rapscallion glass, formed a 3/4" light tan head over the slightly cloudy orangey red brew. Foamy head lasts and lasts due to lots of tiny bubbles rising form the bottom of the glass, with heavy sticky coating lacing. Aroma is spicy tart fruitiness. Flavor is spicy malts, with the middle dominated by a tart apple flavor, with a dry close. Mouthfeel is nice over the tongue, and drinkability is pleasing as well. Nice treat from Pizza Port.
559 characters
4.4
/5
rDev
+7.1%
look: 4 | smell: 4 | taste: 4.5 | feel: 5 | overall: 4.5
750ml shared courtesy of EDA (thanks!). Bottle #127. I've also had this a few other times.
Poured a cloudy mahogany color with an averaged sized tan head. Aromas and tastes of cherries, apples, grapes, light yeast and caramel. Nice and easy to drink.
Notes from 1/16/05
272 characters
4.1
/5
rDev
-0.2%
look: 4 | smell: 4 | taste: 4 | feel: 4 | overall: 4.5
Presentation: A recent gift and payment in kind from FMonk for giving him a lift from the Pizza Port Strong Ale Festival in Carlsbad back to Long Beach. The latest bottled creation from Solana Beach arrives in a green 750ml flat bottomed bottle that has one white background label that wraps around the whole body of the bottle. The upper surface of a straight sided Pint Glass has a robed Monk surfing underneath a breaking wave.
Hand Bottles #446, it is listed at 6.5% Alcohol by Volume. The back portion of the label goes on to explain that is a recreation of the very first Belgian Style Ale that Pizza Port created back in 1997 when Tomme Arthur took over at the reigns of the brewery. Made with Belgian Malts, Candi Sugar and authentic Trappist Yeast [I wonder which one?].
Appearance: At first it has a clear looking chestnut brown body which seems to fill the glass with little problems. Later a more hazed appearance exhibits a dark and very warming orange hue when backlit. A nice looking but controlled light brown tan head forms readily but seems to break a little too quickly which is a disappointment. However, a halo ring and a thin broken head remains at all times. Little to no lacing. Average conditioning has enough ooomph to reinstate a thin fizzing head when the glass is swirled.
Nose: Belgian Malts and Candi Sugar are immediately detectable in the nose. Sweet malts linger in the glass and they are punctuated by a lower strength banana-cum-clove odor as well as some mild yeasty spices in the backend.
Taste: Smooth Belgian Malts fill the flavor zone. Sweet Candi Malts fill the middle of the Double Overhead whilst a spicy feel lingers with a light caramel tingle to start the proceedings. I use the word smooth again, yet this does have a tart sharp feel in the finish. Some alcohol is detectable in the finish, I suspect this maybe a little more than the 6.5% that it claims to be, yet the alcohol is not that demanding. Slick but often prickly spicy finish has a warming velvet malty ending. Lingering Abbey Ale finish that lasts for months…..
Mouthfeel: Low carbonation yet solid conditioning throughout if that doesn't sound like an OxyMoron. The lingering "Abbey Ale" feel that this leaves in the mouth is fantastic, probably partially from the Candi Sugar and Trappist Yeast no doubt.
Drinkability: A lovely late night sipper from Pizza Port and one that would finish me for the night, or at least I thought, but it disappeared way too quickly. Pairs extremely well with a strong aged Cheddar.
Overall: Another high quality offering from Pizza Port – Solana Beach, the buzz that this leaves in the mouth long after the swallow is quite superb! Extremely well done.
2,723 characters

4.33
/5
rDev
+5.4%
look: 4.5 | smell: 4 | taste: 4.5 | feel: 4 | overall: 4.5
08/06/05- Recieved via trade with Lostbearbrew.
Presentation- 750ml bottle, caged and corked. Poured into my Duvel tulip.
Appearance- Darker golden, maybe even approaching copper coloring. Superb 3/4 inch head and well placed lacing.
Smell- A tart smell right off the bat. I knew I was in for something hopefully good. Maybe a bit of citrus and rind as well.
Taste- Ahhhh, hits the spot. Sour, but not overwhelmingly sour. Has it's sweet moments as well. Some dark fruits as well and some citrus flavors. Maybe a touch of lemon rind to go with some plum, date and maybe a touch of cherry.
Mouthfeel- I bit too carbonated IMO, but still a fairly easy drinking brew. Maybe a touch of a salty taste as well.
Drinkability- Another tremendous brew by Pizza Port. I wish I has acsess to this stuff up here. Wonderful after dinner beer, wonderful poolside beer. Heck, wonderful anytime beer.
903 characters

4.13
/5
rDev
+0.5%
look: 4.5 | smell: 4 | taste: 4 | feel: 4 | overall: 4.5
750 hand marked as bottle #329 shared with truthbrew - Crimson orange color, clear up to the point of the yeast pour where it turned opaquely dull orange mud. Capping was medium sized to start, fades down to a broken thinning skim and good collaring. Lacing is stringy/blotchy and sporatic.
Aroma starts out slightly vinous with a lightly soured tone with apples and tart cherries. Warms to add potent alcoholic esters and yeasty spices that radiate with strength until very late where it then revels in the yeatsy tartness.
Taste is lightly tart and mildly sharp with flavors of cherries, apples, lime, and lemon. Turns a bit darker in the fruityness as it middles and finishes with a slight molasses and dark candied sugar. Some light dancing spices add some cinnamon late mixing with some of the cherry tartness and fresh apple skins.
Feel is semi tangy and tart with a spiced grab of sharp fruit juices. Smooth mostly, even with the tartness in hand, and is seemingly drawn into a mediumish body all while keeping its evidently mild Belgian-like, spritely, lively, tangy carbonation.
Goes down very easy and is perfectly tart and tanged for my buds. Could use a bit more complexity and depth but is still quite a treat. Not quite true to the dubble style, but leave it to Pizza Port to push it out of its realm.
1,327 characters
4.32
/5
rDev
+5.1%
look: 4 | smell: 4.5 | taste: 4.5 | feel: 4 | overall: 4
Presentation: 750 ml green bottle - capped. Long description of the beer on the back. Apparently this was PP's first belgian. Hand numbered, but no date information.
Appearance: Pours a slightly haze orangish brown with a smallish head. Head fades relatively quickly but leaves a thick lacing the entire time.
Smell: The yeast is the dominant aroma, with a bit of sweet malt and candi sugar. Just a hint of spice in there too.
Taste: Sour and fruity - starts off very tart, then the slightly over-ripe fruit flavors come on. Lots of candi sugar and belgian spices in here as well.
Overall impression: Very flavorful - definitely kept me interested through the entire 750. The profile changed nicely as it warmed up.
729 characters
4.05
/5
rDev
-1.5%
look: 4 | smell: 4 | taste: 4 | feel: 4.5 | overall: 4
Bottle # 124.
Nice looking scarlet red hue. Thin beige head recedes to a good sized collar. Lacing is more than adequate. This beer's got a nice candied aroma. And a little must. Yeast. Sweet candied plums come to mind the most. Now while this beer doesn't just take my breath away, it is a solid Belgian Style brew nonetheless. The flavors tilt heavily toward the green apple fruitiness (acetylaldehyde), peppery spiciness and doughy yeastiness. The mouthfeel is very nice. Lightly prickly and almost medium bodied. Solid brew.
I have to thank my Meth supplier, I mean Port supplier, Mr. Long Beach Bum. Port Brews are like Liquid Gold to me and without you, I doubt I'd have the access to them. Thank you.
713 characters
4.25
/5
rDev
+3.4%
look: 4 | smell: 4 | taste: 4.5 | feel: 4.5 | overall: 4
750 ml bottle #363 (from the San Clemente Location): The pour on this yields a little bit of fizzy carbonation, leading to a small off white head. Both the fiziness and the head disappear rapidly. The color of the beer is a cloudy copper color. The aroma is a bit yeasty. I also smell some caramel and fruits in there. A hint of sourness also. The taste is sour, with notes of some dark fruits. It also leaves a slight tingle on the tongue. Interesting and worth checking it out if you are a Belgian fan. If not, you probably won't like this!
543 characters

4.1
/5
rDev
-0.2%
look: 4 | smell: 4 | taste: 4 | feel: 4 | overall: 4.5
750ml bottle, purchased at the Carlsbad Pizza Port at the occasion of the Strong Ale Festival, 12-4-04. On the label, a monk surfs a mighty wave on top of a pint glass...love the high-concept artwork! bottle #438 of___???
Deep burgundy color, a rugged, thoroughly opaque crimson kind of color, with a fine, if thin, slice of whitish bubblies above.
Aroma is outsized, plump with dark fruits, cherries, and berries, and grapes, their pits replaced with most resplendent spices...ah, more delectable by the minute! Rich, ripe, and sparkling every step of the way! In other words, I like it...
Over the tongue, it's a mellow, grooovy thing...soaks the palate with a supple, fruity feel. A bit lighter in body than I'd like, but I can appreciate the effort here, as they seem to be going for an easier-drinking abbey dubbel, the kind they may find broader appeal with everyday folks at the pub, rather than the demanding Belgian beer connieusseur. Done this way, it works, ...but I go for the other kind, mostly.
There's a minor tangy tartness alongside the sweet, spicy fruit, and it's an intriquing combination. Body is medium, finish is soft, and lightly fruity.
I wish I had an extra bottle, or any capacity for patience, in order to test whether this will age nicely,..though I'm sure it does.
Good work, tomme!
1,318 characters
Dubbel Overhead Abbey Ale from Pizza Port Solana Beach
4.11
out of
5
based on
11
ratings.