Special Pale Ale (SPA)
| Pizza Port Solana Beach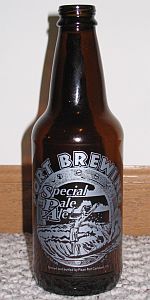 BEER INFO
Brewed by:
Pizza Port Solana Beach
California
,
United States
pizzaport.com
Style:
American Pale Ale (APA)
Alcohol by volume (ABV):
5.80%
Availability:
Summer
Notes / Commercial Description:
No notes at this time.
Added by beerguy101 on 09-15-2003
Reviews: 33 | Ratings: 45
4.65
/5
rDev
+12%
look: 4 | smell: 4 | taste: 5 | feel: 4.5 | overall: 5
Multiple tastings
This orange hued pale ale has been such a success they've started bottling it. Citrus aroma leans towards orangey, not grapefruity. They say it's made with Amarillo. Brief fizz, nice hop bite, then JUICY citrus hop flavor. Just gorgeous. Then a tremendous warming wave of grainy malt surges in. Quite lovely. Finish is lightly dry. Medium bodied.
Overall: An intensely drinkable, JUICY, pale ale.
★
421 characters

4.33
/5
rDev
+4.3%
look: 4.5 | smell: 4 | taste: 4.5 | feel: 4 | overall: 4.5
On cask at the brewpub: Softly lit copper with a cascade of dull ochre dancing up to put a poof of light yellowed froth on top. Settles with a thicker set foam of oatmeal creamyness. Lacing in dump truck loads of sandy coated sheeting.
Aroma is citrusy with a high ended alpha acid aridness. Crisp toned with a orange/lemon sided tint with grapefruit jam. Juicy and thickly lingering within its crispness. Quite unique in its quality.
Taste is all about the citrus bitterness. Lemon, grapefruit, and orange all scrap across with pure quality alpha acids. Citrusy as hell with a big pithy-like bitterness that tends to peak early and linger long. Small piney whisps around the edges. Malts are there in the back with a toasted caramel backing adding a fairly rounded balance to its overall singe of puckering citrus. One hoppy pale for sure.
Feel is medium bodied with a creamy quick front then followed by crisply thick setting of carbonation. Really takes hold right away with the hops and lingers. Toasted slightly with a big pithy citrus twist. All that and smooth as any cask pulled brew could be. The only thing that hampered its drinkability is its full-on coating of citrusy pith bitterness. I don't think I really tasted my sandwich for lunch as this was what accompanied it.
★
1,292 characters
4.5
/5
rDev
+8.4%
look: 4.5 | smell: 4.5 | taste: 4.5 | feel: 4.5 | overall: 4.5
07/03/05- Purchased at Ledger's Liquors in Berkeley, CA
Presentation- 12oz stubby bottle (reminescent of a shorter Sierra Nevada bottle). Undated and poured into a random pint glass.
Appearance- Fat creamy white pock marked head, golden-orange color pour with what looked like suspended yeast floaties in mid air....and lots of them. Average amounts of lacing.
Smell- The first whiff almost burned my nosehairs off completely. It was like the maximum amount of pine hops mixed with butane lighter fluid and paint thinner. To me, that was a good thing.
Taste- Very good sweeter malt backbone with a very nice chunk of pine resinous hops tossed in. A tad bit of grapefruit and maybe a touch of orange peel tossed in for good measure.
Mouthfeel- Pale ale quality carbonation with a sticky mouthfeel.
Drinkability- One of the top pale ales I have had. I knew when my eyes spotted Pizza Port on the shelves that I was in for something special.
★
956 characters
4
/5
rDev
-3.6%
look: 4 | smell: 4 | taste: 4 | feel: 4 | overall: 4
Presentation: A 12 ounce stubby, the same as those used for the Frank D-IPA. A simple brass colored crown cap sits atop a white screen printed brown glass bottle, which has a home-made presentation about. The reverse printing simply has the Governments usual nanny state warning crap, but the obverse printed label is much more interesting. The front has the words 'Port Brewing', with a picture of a Surfer Dude taking the waves. Labeled as "Special Pale Ale". Strength is listed as 5.8%. No Best Before Date but as this one is a new release I know it is at least fresh.
Appearance: Amber-orange body that is slightly turbid when poured. A lovely off-white almost vanilla colored head quickly rises in my tall Pilsener Urquell flute when poured. The head settles slowly, leaving some lacing and a thick deep rocky mass that holds well. Above average carbonation.
Nose: !!!Wow!!! Quite the impact from this one! Juicy hops and a lovely malt backbone fill the aromas. Fruity in the front end with a sweet malt feel and fresh hops in the back end.
Taste: Starts with a fruity hop entrance. Middle has sweetish malts but these are nicely balanced by the hop-bitterness. Some dry bitterness in the middle proceeds to finish with some citrus orange in the back end which in turn leaves a piney hop oil bitterness lingering in the mouth. Tasty stuff.
Mouthfeel: The smooth feel created by drinking through the ever present creamy head and the above average carbonation, both give a medium to full bodied feel.
Drinkability: Damn lovely this one. A fine Special Pale Ale that benefits from a neatly compacted typical West Coast hop juice finish.
Overall: I first tried this on draft at the 2004 Pizza Port Real Ale Festival, where it impressed me. If my ailing memory is anything to go by, the bottle version is just as good. Worth seeking out and maybe picking up a few 6-Packs of this one!
★
1,908 characters
3.95
/5
rDev
-4.8%
look: 4 | smell: 4 | taste: 4 | feel: 3.5 | overall: 4
Presentation: 12 oz silk screened bottle, no freshness info.
Appearance: Hazy red-orange color with a thick head that is very solid.
Smell: Aroma is fruity and hoppy, with a nice sweet malt backbone.
Taste: Medium bodied, with lots of malt sweetness, and some good hops in the finish. Hops leave a nice bitter finish. Hops in the finish are nice and piney.
Overall impression: Nice pale ale - definitely stands out from the regular APA offerings. Now available in six packs from Pizza Port - $7.99 at the time of purchase.
★
535 characters
3.92
/5
rDev
-5.5%
look: 3.5 | smell: 4 | taste: 4 | feel: 3.5 | overall: 4
Draught @ Real Ale Fest & Pizza Port
The beers sets in the glass a slightly hazy golden amber color with a generous head and a nice bit of lace, white in color, semi-creamy in texture. Nose is hop floral sweet and crisp, start is also sweet with a nice malt profile, top is moderate. Finish was moderate in carbonation with the hops upfront and plentiful, dry long lasting aftertaste, had it at the fest and the Carlsbad Pizza Port, to good to pass up at either place.
★
469 characters

4.32
/5
rDev
+4.1%
look: 4 | smell: 4.5 | taste: 4.5 | feel: 4 | overall: 4
Sampled on tap at the Carlsbad location in Dec. 2003.
This pale ale poured a clear amber color with white foam that settled but clung to the glass. The smell was a good, strong, fruity hop aroma with some background malt. The taste was very hoppy (fruity hops) but was nicely balanced by sweet malt. There was a bit of floral hop flavor as well. The aftertaste was dry and hoppy. The body was medium with low carbonation feel. The feel was a little sweet up front but with a very hoppy, dry finish. This was a very nice and easily drinkable pale ale and especially smooth on cask.
★
583 characters
3.58
/5
rDev
-13.7%
look: 4 | smell: 3.5 | taste: 3.5 | feel: 4 | overall: 3.5
An extra hopped Pale Ale. Medium pale brown color. Aroma is malty and hoppy. A medium bodied pale ale. Malts are nutty and slightly sweet. Hops are very prominent and grapefruity. Well balanced. Nice flavor. Mouthfeel is full and round. Finish is clean and smooth. Aftertaste is slightly bitter.
★
295 characters
Special Pale Ale (SPA) from Pizza Port Solana Beach
4.15
out of
5
based on
45
ratings.