Wynona's Big Brown Ale
| Voodoo Brewery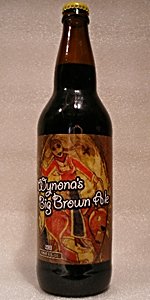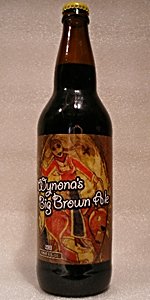 BEER INFO
Brewed by:
Voodoo Brewery
Pennsylvania
,
United States
voodoobrewery.com
Style:
American Brown Ale
Alcohol by volume (ABV):
7.50%
Availability:
Rotating
Notes / Commercial Description:
This is named after a song that sparked the idea to make this ale. Brown ales seem to be there, but not really there, do you know what I mean? Well that won't be the mistake with Wynona! Voodooed out this style and add more that's what we say. Hoppy and smooth hints of chocolate and tons of brown malt to let you know it's there. Try the brown, You'll be Happy You Did!!
Added by WVbeergeek on 07-05-2006
HISTOGRAM
Ratings: 336 | Reviews: 121

2.98
/5
rDev
-22%
look: 4 | smell: 3.5 | taste: 3 | feel: 2 | overall: 2.5
Poured from 22 oz bomber. Thanks VWCraig.
Appearance: A big woosh erupts from the bottle when popping the cap. Uh Oh is my 1st thought. Poured gently into my pint glass a huge 3 finger light tan head erupts from the beer. Deep mahogony in color with ruby hints along the edges. Head is slow to fade.
Smell: Hints of bittersweet chocolate and raisin bread with a good amount of citrusy hops coming through as well.
Taste: Well, if it wasn't for the overcarbonation this might be a pretty good beer. Somewhat roasty with a good abount of bittersweet chocolate and caramel. Finishes with nice and dry with dark roast malt and a citrusy hop bitterness.
Mouthfeel: Way overcarbonated. Really takes away from the mouthfeel leaving too thin for the style. Super tingly in the mouth.
Drinkability/Notes: This beer needs some QA done at the brewery. Way overcarbonated. The carbonation really does the beer a disservice because I think there is a pretty decent beer somewhere in my glass. It has some nice qualities, chocalte, roasted dark malt, citrusy hops but the carbonation issue almost ruins it. You really need to let this one warm up a bit as well to really get a good feel for it. Worth a try? I don't know, would like to try it again if Voodoo gets a handle on carbonation.
1,280 characters
3.67
/5
rDev
-3.9%
look: 3.5 | smell: 4 | taste: 4 | feel: 2 | overall: 3.5
Appearance: Like other reviewers have noted, this one is way overcarbonated, so the good news is that the head lasts forever and the lacing is excellent; the bad news is it is hard to find the liquid right away, but when it appears it is coffee brown
Smell: Rich milk coffee aroma with a burnt brown sugar and butterscotch aspect
Taste: Opens with a roasty, almost smoked flavor that has elements of milk chocolate developing by mid-palate; after the swallow, the surprising hop presence kicks in to announce that this ain't your father's brown ale; piney finish mingling with the brown ale elements
Mouthfeel: There is so much carbonation that it is a struggle to taste the elements of this beer; I guess you would say that the mouthfeel is medium but it is hard to say
Drinkability: If it weren't for the overcarbonation, this would be a fine drinker
856 characters
3.85
/5
rDev
+0.8%
look: 3.5 | smell: 3.5 | taste: 4 | feel: 4 | overall: 4
We got a gusher here. Pours dark brown with a ruby hue and a massive tan head. Nose is muted. Flavor is very hearty. Lots of malty goodness and some roasted aspects in there as well. Feel is nice. Drinkable, yes. The over-carbonation definitely is a kill-joy as it takes a long time to get this thing to settle where you can take a sip of it. Nice and robust though.
366 characters
3.45
/5
rDev
-9.7%
look: 3.5 | smell: 3.5 | taste: 3.5 | feel: 3 | overall: 3.5
Have a mixed variety case of voodoo new brews. Have tried them all. Can't say any of them knocked my socks off, but nothing wrong with any of them either. I think given time, they will all become solid offerings. Well on to the review of Wynona's Big Brown.
Murky dark almost black brown appearance. Huge head that forces you to pour this one over 5 minutes or so. Once it's in the glass the head sustains nicely and forms crater like mounds and lumps. Smell of faint chocolate and somehow a chalky note. Mild citrus hop notes but very faint. Taste is what it is. Malty, little bit of chocolate. Chalky off taste. A little thin on the mouthfeel that may be caused by the huge carbonation level and the airy feel that gives. I see potential in these beers but they aren't quite there yet.
788 characters

2.6
/5
rDev
-31.9%
look: 3 | smell: 3 | taste: 2.5 | feel: 2 | overall: 2.5
Seriously over carbonated. Scary artwork on the bottle. Bad spelling and grammar on the case and many of the bottles in it. And... WTF are they talking about? Some inside joke they have? They claim to have been brewing for 10 years but, wow, do they ever have, like, no reviews here. And then...
Yeah. This one tastes a heck of a lot like the pilzilla. Golly. Must be the yeast or some other funkiness in the brewery. Only the pilzilla is a lager, isn't it? Whatever. Let me try another one or two from the brewery before deciding if they all have that same flavor to them... Still... Pretty unbalanced. Fizzy. Way too much chocolate. Like... It's like... Well, it's like homebrew - the first time brewing a recipe (before you tweak it). That chocolate would surely mellow with age but I'm not keeping this one around long enough for anything like that to happen...
866 characters
3.93
/5
rDev
+2.9%
look: 4.5 | smell: 4 | taste: 3.5 | feel: 4 | overall: 4.5
Wynona's Big Brown Ale Voodoo Brewing Co
22 oz bottle in Pint Glass at 50 degrees F
My second tasting from this brewery. A brown ale made with Marris Otter, Brown Malt, Carastan, Crystal 80, and Chocolate malts. Hops are Simcoe, Amarillo, and Northern Brewer. I anticipated big body well balanced by hops flavor and bitterness.
Appearance: Wow, lot of fuzz on Wynona's big brown. The stout-like head is a big bubbly beige that I assume comes from the Carastan malt. The head settles but never breaks down. This is perfect except maybe just a bit too big for style. The bubbles cling to the glass but have a greater affinity for each other than the glass and so they slowly slink back to the top of the beer between sips. The brown, crystal 80, and chocolate give this brown an imposing, nearly opaque dark cocoa brown. Looks more like a porter in terms of darkness but the absence of red hues from the malt and the above average carbonation make me certain this is clearly a brown ale. (4.5)
Smell: Wonderful vanilla and burnt brown sugar greet the nose first. A subtle butterscotch is detectable. The chocolate and coffee notes are largely subdued/absent. The hops citrus notes lighten the scent to some degree. The aroma of roasted grain is clearly evident in the aroma. I was amazed by how gentle this aroma was from the brown malt. Much more pleasant than the aroma of black patent but not quite as deep and complex as the aroma from Carafa (4.0)
Taste: The taste is much bigger than the aroma lets on. The flavors of coffee and dark chocolate are much more pronounced while the vanilla and butterscotch flavors are more subdued. The flavoring hops provide a nice sharpness and clean bitterness accompanied by an earthy, mineral, or dirt like quality. The bittering hops accompany the roasted malt well. It cleanses the palate and lingers strongly without being foul. A sour and sometimes grassy flavor comes through in the aftertaste which was unnecessary. (3.5)
Mouthfeel: Medium bodied with moderate high gas content. Maybe a bit too solid and carbonated for a brown but I enjoy a brewer pushing the limits. This perceived bigness for a brown is only relative to the porter and stout by the same brewer. So as long as these two beers are even bigger than I have no complaints, but it is hard to envision a porter and stout with a lot more roasted malt flavor without them being a bit tough to enjoy. (I'll let you know the reality once I try them). (4.0)
Drinkability: Extremely enjoyable. I recommend everyone give it a try. Some will moan about the cost, but given how big this beer is, I felt it was well worth it. Additionally, drinking the beer slowly allows the beer to warm which only improves the ability to enjoy its complexity. (4.5)
2,760 characters
3.7
/5
rDev
-3.1%
look: 3.5 | smell: 3.5 | taste: 4 | feel: 3.5 | overall: 3.5
Voodoo- Wynona's Big Brown (beaver?)
Picked up a bottle at Capone's- Norristown, PA
A- Murky muddy brown with a over-carbonated frothy head. Poured a 1/3 of a glass waited several minutes and repeat.
S- Strong cocoa, oak, and hazelnut.
T- sweet brown sugar with flavors of oak chip, bitter chocolate, hazelnut and almond,tobacco leaves, with a light touch of fig.
M- Very sweet and hot up front. Alc stays with you throughout. This 1 finishes of bone dry with an aftertaste of cocoa.
Overall- Aside from some serious over carbonation, this was a definite sipper! Another good beer from Voodoo.
596 characters
3.9
/5
rDev
+2.1%
look: 4 | smell: 4 | taste: 4 | feel: 3 | overall: 4
- Pours with a tall, tan head.
- Colour: dark dark brown... almost black.
- Aroma: slight caramel or REALLY faint coffee notes
- Taste: Very carbonated\fizzy mouthfeel. Hard to get around the fizziness to really taste, but can detect some smooth, malty flavors colliding with dark chocolate bitterness. After allowing to sit for 20 minutes, the carbonation started leaving and those flavours, along with some alcohol tastes came through.
Bottom line.. not sure if I just got an overly carbonated bottle or if all are like this, but after allowing to sit it was a very tasty brew.
581 characters
3.9
/5
rDev
+2.1%
look: 3.5 | smell: 3.5 | taste: 4 | feel: 4.5 | overall: 4
Poured from a 22 oz. brown bomber into a Sam Adams pint glass.
A: Most noticeable is a huge amount of gushing tan head that forces small pours to avoid overflow. The beer is a rather dark burnt brown color, with very little carbonation visible. The head leaves a slippery sheet of foam along the sides of the glass.
S: Sweet and malty, but also with some noticeable oily hops. Also some scents of chocolate and woodiness. Overall, a tad sterile/metallic.
T: Smooth and malty at first, with a tingling of sweetness. Some bitter flavors in the middle, almost hoppy. This changes very quickly, though, and the finish brings in a smooth chocolatey flavor that does linger for a bit.
M: Creamy and fluffy at first, because of the head. A bit heavier in the middle, and the finish is filling and with a small amount of underlying carbonation and tingly feel.
D: Pretty good. Definitely a "big" brown ale, though.
906 characters
4.03
/5
rDev
+5.5%
look: 4.5 | smell: 4 | taste: 4 | feel: 4 | overall: 4
22oz brown bomber -> nonic
No date: First Release 2007
Pours a light chestnut brown with an overflowing head that only allows about half a nonic pour to avoid overflow. The lace settles down to a lopsided pillow and leaves gobs and sheets of lace. Carbonation is robust and active.
Nose: Roasted and chocolate. Some burnt coffee tones. Rich. Hoppy floral twang at the end.
Smooth mouth that finishes dry, chalky. Dark malts are apparent and well done. Chocolate, coffee, and a nuttiness that is quite sweet. Light bitterness on the chalky finish. Let this beer warm up if you put it in the fridge, you'll be amazed at the characters that emerge as it warms.
Go Steelers, last weekend in NW.
When VooDoo by Rusted Root came on Sirius I knew it was time to get down with the brown. Glad I did.
799 characters
3.93
/5
rDev
+2.9%
look: 4 | smell: 3.5 | taste: 4 | feel: 4.5 | overall: 4
22oz bottle served in a nonic. Nice artwork on the label!
A - Pours a dark, but clear, brown with mahogony tint. Overflows with a huge tan colored head of dense foam. BIg bridal sheeting on the sides of the glass.
S - Big roasty aroma. A slight vegetable aroma, but spicy, like celery salt. Bittersweet bakers chocolate and roasted coffee. A touch of orange peel hoppy bitterness.
T - The big roasted malt presence from the aroma carries over into the flavor as well. Big roasted coffee bitterness. Finishes with an assertive green grassy hop flavor.
M - Light bodied, almost airy with its carbonation. Smooth and easy drinking.
D - A nice brown ale with an assertive roasty character. Nice drinkability. I dont know what the ABV is on this but it doesnt drink like a beer over 6%.
786 characters
Wynona's Big Brown Ale from Voodoo Brewery
Beer rating:
3.82
out of
5
with
336
ratings