Black Magick - Laird's Apple Brandy
| Voodoo Brewing Company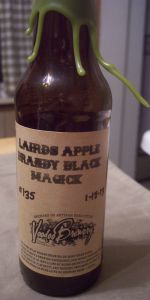 BEER INFO
Brewed by:
Voodoo Brewing Company
Pennsylvania
,
United States
voodoobrewery.com
Style:
American Double / Imperial Stout
Alcohol by volume (ABV):
13.50%
Availability:
Limited (brewed once)
Notes / Commercial Description:
No notes at this time.
Added by stakem on 04-16-2013
This beer is retired; no longer brewed.
Reviews: 14 | Ratings: 114
4.32
/5
rDev
-4.2%
look: 4.5 | smell: 4.25 | taste: 4.25 | feel: 4.25 | overall: 4.5
First had: bottle from the '13 release at Voodoo. What a day/night/day.
Shared at an April '13 SEPA tasting, following the Buffalo Trace version.
IMO, the least excellent of the three barrel Black Magick varieties, and that's still saying a lot. Appearance was no surprise: opaque obsidian in color, with a small, mocha ringlet of bubbles on the surface. Nice chocolaty aroma comparable to the other versions, oak, earth, tobacco, a little lighter on the booze, but also a little sweeter in tone from the brandy. Woody/barrel notes were more dominant in this version, as in the Buffalo Trace version, cocoa bitterness, roasty malts, earth, tobacco, brandy lending a bit of booze and sweetness, but no major "apple" flavors coming out, compared to other beers I've had aged in the same barrels. Body was on the heavier side of medium, essentially full, smooth, but a bit dry from the barrel, understandably warm with booze, but nowhere neat hot. Looking forward to further trying these goodies...maybe solo and on a totally fresh palate.
1,037 characters

4.4
/5
rDev
-2.4%
look: 3.75 | smell: 4.25 | taste: 4.5 | feel: 4.5 | overall: 4.5
Shared this one with a bunch of close friends and Matthew Allyn, Brewmaster at Voodoo.
A - Pours pitch black with a small half finger tall tan head, dissipating down to a light ring around the outer edge, leaving little to no lace down the glass.
S - Smells of warm apple brandy, vanilla, chocolate, molasses, dark fruits, oak and dark roasted malts. The apple brandy is a little strong but I still get a good bit of the base aromas coming through.
T - Starts off with some vanilla and chocolate sweetness, dark fruitiness, oak and dark roasted malt before it all gives way to the strong apple brandy presence. The booze burn, both from the 13.5% and the brandy, is strong throughout. Finish is a mix of sweetness and dark roast with a good bit of booze, clinging to the palate long after each sip.
M - Heavy body with moderate to low carbonation. Smooth, roasty feel with plenty of booze burn. It is well integrated but still kind of harsh.
O - I liked this one about as much as the BT version, with both lagging behind the PVW version. It has all of the flavors I would expect and the AB works really well, maybe a touch too well at times. Wish I had a few more of these, would love to see how the AB develops over the years.
1,232 characters
4.1
/5
rDev
-9.1%
look: 4 | smell: 4 | taste: 4.25 | feel: 4 | overall: 4
12 oz. bottle poured into a snifter. Bottle # 81.
Appearance - Very thick inky black. Viscous. Glass-staining. No head.
Smell - Rich chocolate. Licorice. Apple brandy. Some oak. Nice.
Taste - Dark chocolate. Tons of oaky barrel character. Caramel. Apple brandy behind the base beer. A little sweet.
Mouthfeel - Rich and boozy. Low carbonation.
Overall - The base beer is so much better than Big Black Voodoo Daddy.
420 characters
4.41
/5
rDev
-2.2%
look: 4.25 | smell: 4.5 | taste: 4.5 | feel: 4.25 | overall: 4.25
12oz bottle poured into a matching Voodoo barrel room collection snifter. The brew appears black in color with a thin penline of brown head that holds around the perimeter of the glass. A swirl releases a few bubbles and paints spots of lace on the glass.
The aroma is filled with notes of cocoa and a soft fruity brandy impact. Smooth sweet vanilla tones are contrasted by a pleasant roasted aspect. Some earthen barrel and oak character over a mild solvent burn of alcohol.
The flavor is earthy with roast and bitter chocolate. Some soft vanilla flavor mingles with fruity brandy character and a bit of booziness. Chocolate persists into the aftertaste with some solvent alcohol character. Some caramel flavors from the barrel are left lingering in the mouth.
This is a medium to fuller bodied brew with a moderate to light level of carbonation. This is a very nice brew that is an upgrade from the base black magick of years past. Dare I say, it isnt quite to the level of depth/complexity of the PVW version however, this one is the smoothest of the 3 treatments and dangerously drinkable. I want more.
1,115 characters

4.72
/5
rDev
+4.7%
look: 4 | smell: 4.5 | taste: 5 | feel: 5 | overall: 4.5
Thanks to All-Pro trader fiver29 for sending me a few of these bottles for a whistle & a song...those of you who think trading is all about winwinwin these days don't know the traders I know. 12. oz. bottle with pale green wax, bottle #353 dated 1/18/13.
Bottle has an old-feely, yellow-parchment-like label with black print that I am visually digging. The pour is tar pit black with a minor ring of hair. It even smells like a beast of a beer, huge chocolate, deep malts, brown sugar, vanilla. Reminds me of old vintage Darkness.
Black Magick - Laird's Apple Brandy makes me appreciate what getting an oil change must feel like. Mouthfeel is what leaps out, the consistency of maple sap trickling straight out of the tree - possibly the thickest, chewiest beer I've ever suckled on. Heat rises like shimmers off hot asphalt; big bite of alcohol right in yer grill. Brandy is prominent, adding to the load. Half a cup of cocoa, some molasses for thickness & flavor, with the barrel adding another layer of vanilla. Malts everywhere. Despite the warming of my midsection & the decline of my ability to operate heavy machinery, I would be happy to devour a bomber or two of this. In one sitting. And I mean, sitting.
Everything about this beer is classic overkill - big, bigger, biggerest. About as subtle as a derailed freight train, & I love it. This is an elite-level beer that hits all the high points despite its heavy footprint. I can't wait to try the others. Thanks again, my friend!
1,494 characters
4.14
/5
rDev
-8.2%
look: 3.5 | smell: 4.5 | taste: 4.5 | feel: 2.5 | overall: 4
Got this one from claaark13 a while back. Big fan of the regular version so I was stoked to see these. Thanks a lot man! Appreciated.
From a 12oz bottle into a snifter
Bottled 18 January 2013
# 287
Lime green wax
The Barrel Room Collection
APPEARANCE: These all look the same basically. Thick black pour yields a 1+ finger, slightly looser, crackly, foamy dark tan head with decent retention. Inky black body with no real carbonation evident. Head crackles down to a decent foamy cap and then to a foamy ring only. Ring and a few wispy dots remain but no lacing down the sides. Black and nasty, but a decent-at-best head.
SMELL: Like the others, this one's got a bold nose with oak, vanilla, coconut, molasses, toffee and pure dark chocolate. Very aromatic and some nice qualities from the apple brandy barrels. Perhaps a touch of roasted grain in there, but the barrel, which is rather decadent in itself, plays the most important role here. This is obviously very much the same as the other two but with apple brandy as opposed to bourbon.
TASTE: Oak and apple brandy up front, with vanilla, coconut some nice butterscotch and some dark chocolate at the swallow. Flavorful finish, with plenty of toffee, butterscotch and coconut, vanilla sweetness, brandy, some roasted grains and nice, pure, bitter dark chocolate as well. Lots of good stuff here and the apple brandy adds a nice butterscotch quality to it all. Very enjoyable and more different than the other two are.
PALATE: Medium-thinner body and slightly higher levels of carbonation. A bit prickly on the palate, goes down slightly harsh and finishes rather sticky on the palate. A bit thinner and pricklier than the other two variants. The lesser of the three here.
OVERALL: Really good, with lots of lovely aromas and flavors and plenty of stuff to contemplate. The apple brandy barrels definitely made this one the more unique of the three, as the added sweetness and butterscotch flavors here were well received. Loved every drop of this stuff. The palate is definitely the lightest and prickliest of the three variants, which unfortunately keeps this one, and perhaps the whole series, from being the absolute whopper it could be, but that really is a minor complaint. In any case, these were all extremely enjoyable and I'd love to see Voodoo do these again. Thanks again claaark13. Awesome stuff.
2,379 characters
4.26
/5
rDev
-5.5%
look: 3.5 | smell: 3.75 | taste: 4.5 | feel: 4.5 | overall: 4.5
Did the full side-by-side-by-side with the Buffalo Trace and Pappy versions. Bottle #076 into a Cigar City snifter. Shared with schen9303.
Same as the other versions. Pours a .25 finger dark mocha colored head with poor retention. Beer is pitch black. Lacing is minimal. Stringy and spotty with decent cling. Thick, oily, monstrous legs. Solid.
Apple Brandy makes its presence felt in this one. Big apple brandy notes that engulf the chocolate and molasses sweetness but enhance the dark fruit flavors. Booze really tickles the nose. Decent.
Opens chocolate, sweet soy sauce and fudge. Apple Brandy presence takes over in the middle, helping to assert the dark fruit flavors. More chocolate, some woodiness and leather notes at the back end. Finishes sweet molasses and fudge with the same aftertaste. Real good.
Medium to full bodied with low carbonation. Smooth, slick, and oily in the mouth and goes down warm, viscous, and caressing. Messy finish with a strong, sweet, lingering aftertaste. Like the Buffalo trace, a touch harsher going down than the Pappy.
Not on the same level as the Pappy but better than Buffalo Trace, regardless, this beer is worth trying. The base beer is so good here that the Apply Brandy, though overwhelming at times, is an interesting and delicious complement to the complexity of flavors that exist in this one. Seek it out!
1,363 characters
4.88
/5
rDev
+8.2%
look: 5 | smell: 4.5 | taste: 5 | feel: 5 | overall: 5
Absolute fudge. Just a phenomenal blend of barrel and stout. The richness from the base beer combined with the fruitiness of the barrel turns out rich dark chocolate fudge. Phenomenal.
187 characters

4.65
/5
rDev
+3.1%
look: 4.5 | smell: 4.5 | taste: 4.75 | feel: 4.5 | overall: 4.75
Reviewing the Laird's Apple Brandy Black Magick from Voodoo Brewing Company out of Meadville, Pennsylvania.
Score: 96
Bottle is dated 01/18/13, #003 out of 174. Served in a Goose Island Black Friday Bourbon County Brand Stout snifter and enjoyed on 12/04/13.
Appearance: Pours a deep, inky black color, similar to the Buffalo Trace version, with a half finger of coffee colored brown head that settles to a thick ring around the glass and wispy island of head floating in the center of that ring. This beer has noticeably less head off the pour than the Buffalo Trace version did. Good lacing, similar to the Buffalo Trace version, but less clingy retention than the Buffalo Trace version. 4.5/5
Smell: Just like the Buffalo Trace version, the minute the cap is removed, huge chocolatey aromatics explode out of the bottle. Big notes of fudgey brownies and vanilla are apparent immediately. Also present in this bold nose are toffee, caramel, sweet dark fruits, cocoa and brown sugar. Light syrupy undertones too, which grow in intensity as the beer warms up. The nose is decadent, enticingly sweet like an epic barrel aged barleywine. There is also a light leather and faint smokey quality present in the background, hiding amongst the sweeter characteristics. The nose of this beer is different from the Buffalo Trace version in its subtler complexities, but overall similar in its more forward/bolder characteristics. 4.5/5
Taste: Here is where this beer differs most substantially from the Buffalo Trace version. The Laird's Apple Brandy aging has resulted in a sweeter, less dry beer with less oak/vanilla and more of everything else. Up front is a sweeter, almost candied, dark fruit and raisin flavor than the Buffalo Trace version, followed by caramel, toffee, cocoa, vanilla and a light apple/fruity flavor as well. There is no real "oakiness" here as there was with the Buffalo Trace version. My favorite part about the flavor, which most distinguishes it from the Buffalo Trace version other than the subtle fruitiness, is a light leather/tobacco flavor and very subtle smokey character that is present towards the finish that brings to mind Hair of the Dog's Adam (and, by association, Matt). Like the nose, there is a syrupy backbone, but the syrup flavor is more prominent on the palate than it was aromatically in the nose, which was more brown sugar-like. The finish is long, just like the Buffalo Trace version, with a light apple/fruitness, cocoa, vanilla and toffee. Just like the Buffalo Trace version, despite being a hefty 13.5% ABV, this beer is dangerously devoid of alcohol heat, though, as it warms up, there is a very faint warmth to the finish. Superbly integrated in its complexities, this beer is one to revel as you sip. 4.75/5
Mouthfeel: Full bodied, with a low level of carbonation that is good for the style and flavor profile. Sweeter than the Buffalo Trace version, but still balanced and easy-to-drink without any layering sweetness. Oily mouthfeel. 4.5/5
Overall: Rich, bold, complex and dangerously drinkable! I preferred the Buffalo Trace version (I liked the bitterness), but this one was quite excellent as well. Black Magick was a delicious beer to begin with, but these new barrel aged variants have taken this beer to a whole new level. Seek them out with confidence!
Cost: $10 for a 12 oz bottle.
3,350 characters
4.02
/5
rDev
-10.9%
look: 4.25 | smell: 4 | taste: 4 | feel: 4 | overall: 4
12oz, Bottle #001 (pretty cool!), Bottle date 1/18/13
Mini snifter
A: Pours dark brown color with reddish hues. Darker tan head than Big Black Voodoo. Almost like what I have seen on Marshal Z, but not at thick and creamy. Alcohol feet.
S: Sweet apple Brandy. Dark fruits. Dark roasted malts. Not as much chocolate because it's over run by the Brandy.
T: Sharp dark fruit. Good mixture of roast, chocolate and that Brandy sweetness. Finish is sweet and boozy.
M: Big medium. For some reason, this isn't as big as BBVDD.
523 characters
4.77
/5
rDev
+5.8%
look: 4 | smell: 4.5 | taste: 5 | feel: 4.5 | overall: 5
Poured into the barrel room markinator snifter. Semi aggressive pour led to a very rocky 1/2 of mocha foam that you could actually hear fading.
Smell apples soaked in booze backed by a ton of dark chocolate.
Tastes like someone burnt a batch of brownies and then said screw it and soaked them in apple brandy. You have the sweetness of the apple booze playing off the burnt chocolate and its damn near perfection.
Mouthfeel is slightly chewy but not hunah levels where you can stand a spoon in it.
Overall this is one of those stouts that is why people lose their sh*t and will take a 1/2oz pour just to tick.
609 characters

4.85
/5
rDev
+7.5%
look: 4.25 | smell: 4.75 | taste: 5 | feel: 4.5 | overall: 5
A - Dark chocolate brown with a walnut hue. Small head to it as well
S - Dark chocolate, fudge, dark fruits, sweet caramel, and good strong apple brandy. One of the most apple brandy presences I've ever gotten in a nose
T - Dark chocolate, sweet caramel, vanilla, lots of apple brandy sweetness, and brown sugar. Finish is light dark chocolate, dates, and walnuts. Good alcoholic presence to it but it is muted and provides a nice warming presence to it
MF - Creamy velvety mouthfeel with light spice and alcohol on the back end.
O - An amazing apple brandy stout with great apple brandy presence, slight alcohol, nice chocolate and spice, and a sweet caramel and vanilla presence
684 characters

4.84
/5
rDev
+7.3%
look: 4.5 | smell: 4.75 | taste: 5 | feel: 4.75 | overall: 4.75
*great use of Lairds Apple Brandy barrel, unlike AB Mexican Cake where it leaves nothing for the base stout. Great balance
A- Pitch black with medium dark coffee lacing that has very fast legs. Slight gumming of the glass when swirled around.
S- Perfect balance of Lairds AB with the base chocolate>toffee>fudge stout base. The apple brandy is definitely there, but 50/50 on harmony with the base beer. Very well done
T- Same as the nose, the apple brandy is perfectly barrel aged for the base stout. Base stout chocolate>tobacoo>fudge. Bananas, this is equally as pleasant to drink as PvW, but PvW is crafted better just a bit.
O- This fck beer is nuts. The perfect AB barrel aging for an amazing base stout. I need moar
739 characters
4.82
/5
rDev
+6.9%
look: 4.25 | smell: 4.75 | taste: 5 | feel: 4.75 | overall: 4.75
Big thanks to my brother RoninTK3 for sharing this one. Poured from a bottle into a new Smuttynose Big Beer tulip.
Appearance- Big black thick pour into the tulip with little to no off-caramel head.
Smell- Heavy duty dark chocolate and peppermint with lingering apple bandy aromas. Surprisingly no booze aromas which is outstanding for 13.5%.
Taste- Dark chocolate, caramel, peppermint, vanilla, soft apple pie flavors. With every sip, there's something new. Very fruity as it warms up. Not much booze taste either.
Mouthfeel- So thick. Well carbonated, which you wouldnt guess by the appearance. Smooth with no booze heat.
Overall- This is easily one of the best barrel-aged beers I've ever had. Look out for Voodoos' barrels in years to come!
749 characters
Black Magick - Laird's Apple Brandy from Voodoo Brewing Company
4.51
out of
5
based on
114
ratings.