Urthel Nouicius Vertus
| De Leyerth Brouwerijen (Urthel)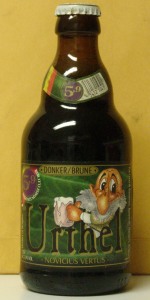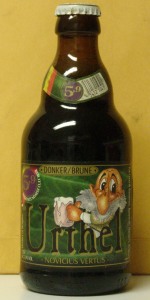 BEER INFO
Brewed by:
De Leyerth Brouwerijen (Urthel)
Belgium
urthel.com
Style:
Belgian Dark Ale
Alcohol by volume (ABV):
5.90%
Availability:
Year-round
Notes / Commercial Description:
No notes at this time.
Added by BeerAdvocate on 11-16-2002
This beer is retired; no longer brewed.
HISTOGRAM
Ratings: 12 | Reviews: 10
Reviews by dogfooddog:
3.25
/5
rDev
-6.9%
look: 3 | smell: 3 | taste: 3.5 | feel: 3.5 | overall: 3
BBD 7/6/6, 2 weeks out of date, shouldn't matter as far as any analysis of taste goes, though would be interested to try this new.
Pours absurdly large head, like 9 times the liquid volume. This is sometimes a sign of damaged beer but this bottle arrived with many others which are fine, so if there is a problem it was further up the delivery chain. taste wasn't of heat damage, in any event.
Nose is yeasty, with background of dark/sweet heavy fruits.
Taste is mildly floral, slight hints of roasted malt and dark fruits. I was expecting more from a beer that described itself as a dubbel, maybe the year+ in bottle has knocked down any hop character it might have had.
Pouring this beer remains a problem though the bottle, overkill foam takes a long time to die down.
Unremarkable dubbel and the least-impressive of the 4 beers I have had from this brewery.
877 characters
More User Reviews:

4.08
/5
rDev
+16.9%
look: 4.5 | smell: 4 | taste: 4 | feel: 4.5 | overall: 4
This beer pours a slightly hazy medium dark orangy red color with an extremely large light tan clingy head. The smell is very similar to grape candy. he taste is grapelike malt with slight peppery alcohol and a lingering sharp bitterness. The mouthfeel is creamy, firm and rounded-quite nice. Overall a very nice beer with a relatively strong alcohol flavor in spite of a not extremely high abv with a wonderful silky mouthfeel.
428 characters
2.76
/5
rDev
-20.9%
look: 3.5 | smell: 2.5 | taste: 3 | feel: 2.5 | overall: 2.5
A clear, red brown beer with a thick, big bubbled head.
Smell of overripe apples, higher alcohols, some tartness and a light caramel smell.
Taste is light tart with ripe red apples and higher alcohols. Some caramel malt whiffs that make the beer woody. The beer is not very balanced and seems to be off. Bitterness is low. Body is quite dry. Drinkability is low.
365 characters
2.56
/5
rDev
-26.6%
look: 3.5 | smell: 2.5 | taste: 2.5 | feel: 2.5 | overall: 2.5
Now retired beer, was brewed for Urthel / De Leyerth by Van Steenberge. Bottle, as Urthel Novicius Vertus, at Den Tatoverede Enke, Copenhagen. Reddish brown colour. Sweet wort aroma, verging on "sickly". Malty sweet flavour too, not much to make me happy here.
260 characters
3.81
/5
rDev
+9.2%
look: 4.5 | smell: 3.5 | taste: 4 | feel: 4 | overall: 3.5
Tasted at 2003 Kempisch Bierfestival in Geel, Belgium...
Appearance: dark mahogany, fluffy huge darkish head, lots of bubbles, slightly hazy
Aroma: toasty and MALTY, caramel, woodsy, rich; the sweetness of the aroma becomes a bit cloying though
Flavor: big malty front, gentle sweetness balances out nicely with the spritzy carbonation, molasses, a touch of hop bitterness at the very end, finish is sweet yet light
Mouthfeel: medium body, spritzy foam carbonation, slight warming
Overall Impression: This brewery never disappoints. Another fantastic offering. The score speaks for itself, though it would have been higher if that cloying aspect in the aroma was absent.
685 characters
3.49
/5
rDev 0%
look: 4.5 | smell: 3 | taste: 3.5 | feel: 4 | overall: 3.5
Standard Brunes and sub 7% Dubbels are probably my least favorite Belgian style, so I was certainly prejudiced going into this one.
Urthel however seems to be quite the little brewery and this beer, while no world beater, is one of the best brune's I've ever had. Taste is still mostly tilted towards sweet, my qualm with all with Brunes, but this one is defiantly less so and has have a lot more hop character than usual for the style to balance. Interesting that the previous reviewer notes a major head as mine poured virtually flat.
Purchased from Belgian Shop and is currently not distributed in the good old U S of A.
630 characters
3.22
/5
rDev
-7.7%
look: 3 | smell: 3.5 | taste: 3 | feel: 3 | overall: 3.5
Dark winaceous colour, soft foam, quite thin, but with some big bubbles.
Smell of malt, caramel, candy sugar, hazelnut. Fruity and sweet.
Taste of malt, and grapevine. Very creamy at the taste.
A light bitter, but noticeable (almost mint?). Caramel.
Medium body.
Aftertaste hopped, caramel again.
301 characters

3.98
/5
rDev
+14%
look: 4 | smell: 3.5 | taste: 4 | feel: 4 | overall: 4.5
Wore my hair shirt with this one on 10/13/2004. ?-oz. pour at ACPH in the kicking Urthel glassware that they have on hand. I want that old man as my grandfather, not my daddy.
Plume of frothy head at start is almost angry and refuses to sit down. A murky, golden hazed, though light on the gold, tint pervaded, and it was impossible to peer through. Like the Samaranth, it possesses a home brew quality green-ness to its nose; still, malt is the god that all other scents bow in obeisance to. Young tasting with a slightly tart underpinning that informs the whole essence. Quite sticking but not in an obtuse manner; refreshing and glowingly drinkable. Perhaps a nice one for those new to craft ale, although I would certainly drink more of it with gusto.
758 characters
3.5
/5
rDev
+0.3%
look: 3.5 | smell: 3.5 | taste: 3.5 | feel: 3.5 | overall: 3.5
330ml short brown bottle, no BB date printed on the bottle. Served lightly chilled in Westmalle broad-rimmed goblet.
A: lightly fizzy, murky russet brown body comes with a slowly dissipating beige foamy head.
S: the light aroma of herbs and brown sugar precedes a touch of dates and plums, aromatic malts, and a little sour fruits like oxidised pears(?) - overall, very light for a Belgian dark ale with an "immature" touch of yeasts too much.
T: predominately sour-sweet estery (like Chinese red-bean paste) taste with a touch of spice firmly underneath - then sour-sweet prunes/berries, brown candy-sugar, and a touch of chocolates come forth, leaving a rather soothing aftertaste full of sugary aroma and a wee bit of hop bitterness.
M&D: not bad, pretty low in carbonation, hence pretty soothing; the problem is with the flavour structure that is disturbed by the rather massy yeastiness. However, the goody part of the flavour and a certain depth make this a pleasant drink all the same.
993 characters
4.72
/5
rDev
+35.2%
look: 4.5 | smell: 5 | taste: 4.5 | feel: 4.5 | overall: 5
Dark garnet color, fantastic, towering head, with an utterly volcanic pour! It gushed all over the place and left an amazing mountaintop of foam. Aroma of...everything wonderful under the sun and moon!
Honest, I checked anhd double-checked, they're there! Spice, and a bewildering blend of fruit: grapes, cherries, melons, peaches. Highly hoppy, but softly, this brilliant bitterness. I'm put to mind of my favorite Belgians, like Delirium Nocturnum, La Trappe Quadrupel.
Very smaller ABV than expected, and a joyous flavor. A complete delight in one bottle. Highly recommended!
580 characters
Urthel Nouicius Vertus from De Leyerth Brouwerijen (Urthel)
Beer rating:
3.49
out of
5
with
12
ratings