Vandalia Ale
| Mountaineer Brewing Co.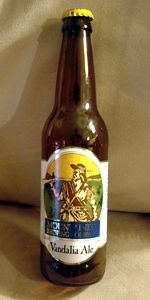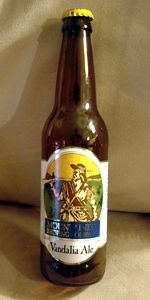 BEER INFO
Brewed by:
Mountaineer Brewing Co.
West Virginia
,
United States
Style:
American Amber / Red Ale
Alcohol by volume (ABV):
not listed
Availability:
Year-round
Notes / Commercial Description:
An amber ale / altbier hybrid. We call it a West Virginia-Style Ale.
Added by JamesS on 04-17-2010
This beer is retired; no longer brewed.
HISTOGRAM
Ratings: 11 | Reviews: 10
Reviews by TMoney2591:

4
/5
rDev
-2.4%
look: 4 | smell: 4 | taste: 4 | feel: 4 | overall: 4
Served in a Devil's Backbone willibecher.
My first onion beer. ...What? It's not? Oh... It pours a clear deep ruby brown topped by a finger of slightly bleached khaki foam. The nose comprises chalky florals, toffee, citrus rind, and a kiss of cocoa powder. The taste brings back the toffee, dusts it with the cocoa powder, and dips the mixture in liquefied citrus pulp. The combination is quite interesting, and rather far from the flavor profile of a blonde, but still rather tasty nonetheless. The body is a heavy light, with a light moderate carbonation and a smooth feel. Overall, a strange, if tasty, brew, one that definitely defies characterization.
657 characters
More User Reviews:

3.12
/5
rDev
-23.9%
look: 3 | smell: 3.5 | taste: 3 | feel: 3 | overall: 3
12oz bottle thanks to TrippHop. With this beer, I tick off state #50 of the 51 states (including DC). There's one thing I need to get off my chest here, and that's DAMN IT NORTH DAKOTA GET A M***F***ING BREWERY YOU STUPID F***S, I NEED THAT FINAL TICK! I HATE YOU! Ok, now that we've established that, let's get to this review, shall we?
Reddish amber in color with a small whitish head.
Nice toasty caramel aroma, surprisingly better than I expected.
The flavor is a little buttery but has good caramel malt and maybe a touch of wood or fruit. Maybe a bit oxidized as it falls a little flat at the end with a cardboard note.
Medium-bodied with average carbonation. Not bad for a state like this, but not great.
723 characters

3.76
/5
rDev
-8.3%
look: 4 | smell: 3 | taste: 4 | feel: 4 | overall: 4
Appearance: dark amber in color with a one finger head. Spotty lace develops during the session.
Smell: very mild aroma as only some caramel sweetness comes through to the nose.
Taste: caramel, some fruit sweetness, hint of chocolate, and some soft grapefruit citrus are most noticeable. This beer is more malt focused than on the hops.
Mouthfeel: lightly crisp to start, smooth at the finish. Medium bodied beer.
Drinkability: very easy drinking beer that has a nice flavor and mildly refreshing for me. Worthy of a try.
525 characters
4.63
/5
rDev
+12.9%
look: 4.5 | smell: 4 | taste: 5 | feel: 4 | overall: 5
The store where I bought it listed it as an alt, but Mountaineer calls it an amber and an alt...
...anyway, to me, it's closer to an alt. It has the musty undertones that can almost seem chalky in your mouth. Awesome. It has a nice rich ruby color though I've never really cared too much how the beer I drink looks.
My first one was yesterday, and I'm pretty sure it has moved on to my Top Ten already. Drinkable, balanced, distinctive, flavorful, fresh--I could go on. I need to taste this on tap soon.
I'm actually surprised my scores created an "A+", but I really do like this beer and can't go lower on my scores, so I guess it makes sense.
Top 3
Samuel Smith's Oatmeal Stout
Brooklyn Brown
Bell's Amber
712 characters

4
/5
rDev
-2.4%
look: 4 | smell: 4 | taste: 4 | feel: 4 | overall: 4
Thanks again to Santa Adam for this brew. I poured this brew into a Sam Adams pint glass. I was greeted with a amber brew with a finger worth of white head that laced out good. The nose was malty sweet with some toffee notes added for good measure. The flavor was sweet and a little toasty I guess that is were the hybrid style comes in. the mouthfeel was medium and good carbonation. I easily drank this brew and could have had a few more another great beer from this brewery
476 characters

4.85
/5
rDev
+18.3%
look: 4.5 | smell: 4.5 | taste: 5 | feel: 5 | overall: 5
Served in a bottle I bought this on a trip to visit friends in WV glad I did.
A- Pale Golden Yellow.T- Sweet malt candy. This beer is exceptional in Flavor, I am amazed at the sweet malts fruits,candy and chocolate and Coffee in its flavor profile.
M-Very Refreshing in your mouth.D- It is also totaly drinkable, can easy drink a few or more!
I bought a case and half of this and will find people to bring me more when it is gone or take a drive down to Martinsburg for more.
Give this one a try you will love this beer.
523 characters

4.2
/5
rDev
+2.4%
look: 4 | smell: 4 | taste: 4 | feel: 5 | overall: 4.5
(To be honest, I'm not sure it should be put in as ablonde ale, but their description of it didn't lend itself to any clear style, and appearance-wise and after-taste wise it fit this best.)
Poured a very nice pale color with excellent head and great lacing. Very sweet and crisp aroma without being overpowering; a nice subtle scent. Great relaxed flavor, it has a nice sweetness to it, a good malt body; it would be a great beer to drink while out on the river all day, as it has a wonderful flavor without having too much (it was made with this in mind, according to one of the brewers). Goes down extremely smooth with a great crisp, sweet aftertaste. Possibly my favorite Mountaineer brew. Hopefully we'll get it in Morgantown. (Had on-tap at the Star City VFD Brew Fest fund raiser.)
792 characters

4.2
/5
rDev
+2.4%
look: 4 | smell: 4 | taste: 4.5 | feel: 4 | overall: 4
A= nice chestnut-brown, fair light-tan head with nice rimming and plenty of lacing.
S= roasted malts and toffee, light hops florals, dry coffee and chocolate notes.
T= reminds me of an English Brown Ale. Roasted malts, light hops, toffee, dry coffee and chocolate, bitters more from the roasted malts than the hops but a very nice balance. Finishes with a nice splash of vanilla. [Feb 2011] The more recent batches seem to have more of the chocolate notes apparent, so I've just bumped up my 4.0 to 4.5.
M= somewhat dry, light bitters, light molasses notes. Some dry chocolate.
D= very drinkable. Anyone who enjoys a good brown or nut-brown ale will probably love this, and probably those who enjoy good porter or stout might be interested as well.
752 characters

4.3
/5
rDev
+4.9%
look: 4 | smell: 4 | taste: 4.5 | feel: 4 | overall: 4.5
I had this on tap, on site, at the brewery in Martinsburg, WV. It's an entirely sessionable beer, but there's also tremendous flavor in there. The closest thing I can think to compare it to is Sam Adams Lager, however, it is different, but I can't fully explain how (it's an ale, for starters, but so smooth). Indeed, it may be a new style entirely - definitely not a blonde ale.
A - It's a nice copper color, very inviting, little head.
S - It's an all-malt aroma.
T - The flavor is nicely balanced with a subtle hint of citrus and pine, and you notice the hops in the finish, but they use simcoe hops, which probably contributes to the uniqueness. It's a fantastic, well-rounded and balanced beer.
If you live in an area that gets Mountaineer, you can expect to see this soon, and you deserve it. They are also hoping for improved distribution in the near future, and we all deserve that.
896 characters
3.55
/5
rDev
-13.4%
look: 3.5 | smell: 3.5 | taste: 4 | feel: 3 | overall: 3
Poured from a 12 oz. bottle into a Sam Adams Boston Lager glass.
Appearance: Pours a translucent, amber color with a relatively large, frothy head that dissipates slowly and leaves some decent lacing.
Smell: Has a sweet smell of caramel and slightly roasty malts.
Taste: Definitely tastes more along the lines of an altbier than anything else. It has an assertive, but not overpowering, hoppiness throughout. It is backed by some sweet maltiness with hints of caramel.
Mouthfeel: Crisp and light, almost like a lager. Good, but odd for the style.
Drinkability: A pretty forgettable ale, this one. While it's certainly not bad, nothing about it makes it memorable. I'm always happy to support small, local breweries but this one doesn't really measure up.
759 characters
Vandalia Ale from Mountaineer Brewing Co.
Beer rating:
4.1
out of
5
with
11
ratings