Sebastopol Brewing Company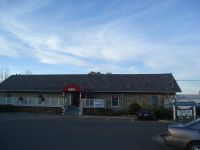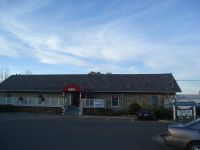 Brewery, Eatery
268 Petaluma Avenue
Sebastopol
,
California
, 95472
United States
// CLOSED //
Notes:
Reviews by TheLongBeachBum:
TheLongBeachBum from California
3.45
/5
rDev
-2.3%
vibe: 3 | quality: 3.5 | service: 4 | selection: 3 | food: 3.5
Those pioneering railway people even got as far as Sebastopol it seems, and so was the birth of the Petaluma and Santa Rosa Railway in 1903. In the early 30's it had expanded to nearly 50 miles and served as a mixed freight & passenger line for many years. Sadly the original shitty smelling horse power that it was meant to replace eventually morphed, and returned, in a more mechanized; the age of the Auto was here and this in no big part led to the untimely death of the P&SR. The building that now houses the Sebastopol Brewing Company was the original Powerhouse for the P&SR electric railway line housing switch gear, transformers and batteries - this was the source of the name for the previous incarnate brewers, the Powerhouse Brewery, which also ceased to exist some years ago.
With this colorful history, the award of a recent local Historical Landmark moniker, and a previous life as a Brewpub; it was with mixed expectations that I visited here, thanks in no large part to fellow BA Rapopoda.
From the outside, the raised single storey building has a light stone exterior topped off with a slate colored low gabled roof. From the parking lot, a red awning with the number 230 in white projects out from the entrance and over a few steps with some trellis and fencing to the left and right which edges the outside seating area. Low key looks that you could easily miss, but it's hard to drive fast in Sebastopol so the freestanding elliptical wooden sign is the thing to look for.
Raised wooden floors, pastel yellow walls, thick dark wooden beams for the roof eaves, whilst the furniture below is all made from light woods. Inside the bar is runs perpendicular to the length of the building and across the width. The back of the bar has some high quality carpentry fitted with large mirrors, one of which has the words 'Sebastopol Brewing Company' etched into it. In front of the bar a small waist high wooden dividing wall which keeps the bar stools cleanly separated from the many 4-seater tables regimentally laid-out and organized. Behind the bar, the large stainless steel vessels that comprise the brewery are easily visible. The Atmosphere is clean, airy and has a quality feel to it, but it does seem to lack a little something special as well as certain warmth. It is nice enough, different for sure, neatly decorated with some old photos of Sebastopol to reinforce the old-but-modern feel to it.
Beer range was rather pedestrian, just 4 beers, a 4.7% Beach Blonde, 5.0% ESB, 6.6% White Owl IPA and a 5.6% Powerhouse Porter. Seems like they also do Specials and Seasonals occasionally. Sampled a couple of these between this, and the beers may have been a little more palatable if there were some trains to watch whistling past, sadly there weren't any. This allowed a clear focus on the brews and they were average, often with a little grainy nature to them with an overall underwhelming feel and light body. The ESB is more SB than E, whilst the Porter seems by many to be the pick of the small bunch here.
Food Menu is a little more adventurous than the beer line up, but never strays far from the well beaten path of Soups, Salads, Burgers, Pasta and Sandwiches; though they did advertise Fish & Chips and Meatloaf as their specialties. I opted for one of the many Burgers, most of which carried prefixes like Sebastopol Postal Service, Ragal, Reiss Horse Whisperer, O Solo and the rather strangely named Analy High Burger….oooerrr madam that had the childish DNA in me giggling. My Burger took a little while to arrive, but in a way that is a comfort these days, and when it was presented it was well put together and tasty, it hit the spot. Though I am no fan of the wimpy thin curly crispy French fries that it came with, the ones here were palatable.
Service was good and attentive. The chap behind the bar was very good, greeted us immediately even though he was busy pouring a few beers. He had his patter down to a finely rehearsed delivery, and his enthusiasm was far from false, taking time to ask if we were familiar with the joint before leveling his pitch. Although he was pouring beers for the waitresses frequently, he was never too busy to keep the chat going and explaining some of the history and personalities involved at SBC. Good service, and for me the strongest part of the visit.
Definitely a nice quiet spot to visit after a day sampling wine and a half decent stop off for an hour or so; the food is solid and the beer is good enough for a Pint or two. It is clean, tidy and at times feels a tad clinical, too open and a little too chilled, it lacks soul in a way (especially if you are only drinking at the bar), but I would be up for a visit here again when next in the area. Thanks to BA Rapopoda for the open top ride out here.
Last Visit: Saturday 30th December, 2006.
Jan 07, 2007
More User Reviews:

GClarkage from California
3.61
/5
rDev
+2.3%
vibe: 3.5 | quality: 3 | service: 5 | selection: 3
03/12/06-
This used to be the Powerhouse Brewery, which closed a year or two ago. I believe this is a total different brewery with new owners though. It's in an older historical landmark building, which I believe used to be a train station. We got there right as they opened, so chairs were still on tables, stools weren't at the bar yet. Seems like they should have been set before they opened the doors for service. We were greeted by a friendly hostess who took us to our table and gave us some menus. They only had 4 beers on tap at the moment, with a maximum of 8 at any given time. I think they have only been open for a few months. So, we ordered two samplers each. Truthfully, the beer was subpar and really didn't for me. Rather tasteless brews. Their porter wasn't bad though. They had a usual pub fare menu....burgers, pizza, appetizers, etc. We didn't get any food though because we had already eaten lunch. They did have potato skins (which are my favorite), so I will probably visit again to try the food at least. The one very cool thing is that the hostess apologized for the mess and that the place wasn't set up, so she gave us our samplers for free! Even though the beer wasn't that great, it was a very nice gesture and a good way to win customers. So, I will be back for the food and will try more beer if they have some other varieties.
Mar 17, 2006
Sebastopol Brewing Company in Sebastopol, CA
Brewery rating:
0
out of
5
with
0
ratings