Jupiler Tauro
| Brasserie Piedboeuf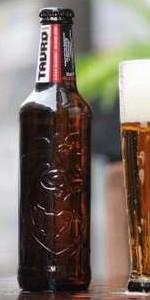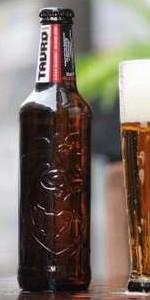 BEER INFO
Brewed by:
Brasserie Piedboeuf
Belgium
interbrew.com
Style:
Euro Strong Lager
Alcohol by volume (ABV):
8.30%
Availability:
Year-round
Notes / Commercial Description:
No notes at this time.
Added by drpimento on 06-21-2009
HISTOGRAM
Ratings: 14 | Reviews: 8
Reviews by PapaEugene:

1.97
/5
rDev
-21.8%
look: 4 | smell: 2 | taste: 1.5 | feel: 3.5 | overall: 1.5
Bought this beer at the Bierschuur in Poppel because of the nicely designed bottle. Shared it with BA buddy rvdoorn.
A: Like a regular Jupiler, a little darker.
S: Red Bull is the first things that comes up. Sugar sweetness and alcohol follow.
T: This is a pimped up Jupiler. Clearly added alcohol and other chemicals. Metallic tint.
M: Smooth beer with low carbonation.
D: Booh!!! Keep chemicals away from beer!!!
419 characters
More User Reviews:

2.11
/5
rDev
-16.3%
look: 3 | smell: 2 | taste: 2 | feel: 2.5 | overall: 2
Discontinued in march 2012: this must be one of the last remaining bottles about: found and drank on 19th Oct 2012 in 't Puur Genot, Diest.
Looked like a normal pilsner/lager: bright, clean and clear, golden with a thin white head on top.
Pils with steriods is the smell and taste: not too pleasant, I bet people on park benches used to use brown paper bags when downing this: just so their mates thought they were drinking 'Special Brew' and not Tauro!
Unfair to call it odourless and tasteless maybe but grain soaked in alcohol with a hop pellet lying close by doesn't do it justice either! take your pick.
The brewery deciding to drop this and produce a new 6.2% ABV version has got to be good for the unwary and alcoholics who used to purchase this surely?
764 characters
2.73
/5
rDev
+8.3%
look: 3.5 | smell: 3 | taste: 2.5 | feel: 3 | overall: 2.5
Nose cereal, like for the mouth that tastes also cereals. The body is slightly warm (alcohol does not feel very strongly for a beer in that category) and not bad, we feel that the defects of Jupiler have been more or less erased without forgetting that the transition characteristics that have made industrial glory of his little sister. Beer not bad at all.
358 characters

2.43
/5
rDev
-3.6%
look: 3.5 | smell: 3 | taste: 2 | feel: 2 | overall: 2.5
A clear yellow/orange colored beer, with a thick white head. The aroma of hop with fruits like citrus with malts. A little grassy. The taste of bitter citrus with strong malts and hops. Notes of alcohol. The aftertaste is bittersweet. A stong alcoholic lager/pilsner.
267 characters
2.93
/5
rDev
+16.3%
look: 3.5 | smell: 3 | taste: 3 | feel: 3 | overall: 2.5
A clear, golden yellow beer with a receeding head. The beer looks most like a pilsner.
Smell is light malty which is most lager malt and a bit raw grainy. The bottom fermenting yeast adds a distinct sulfuric smell. Some wort-like smells.
Taste is light. The beer drinks fairly easy and the 8,3% alcohol is not tasted. The strong base of pilsnermalt and sulfur yeast are the main tastes. The alcohol drops in after a couple of sips, but stas very well hidden all the way.
472 characters

1.99
/5
rDev
-21%
look: 3.5 | smell: 2 | taste: 1.5 | feel: 4 | overall: 1.5
Had this beer during another beer evening with PapaEugene.
Poured into an original palm glass. The beer pours a typical pilsner color and head
Smell: Very sweet, red bull is the first that comes to my mind, followed by honey, sweet candy and alcohol
Taste: The taste is a bit chemical, sweet chemicals to be more precise. The alcohol is also too much present, almost like ethanol was added after the brewing process. After the sweetness comes a very long lasting, not very pleasant bitterness.
Mouthfeel: The beer is very smooth and soft in the mouth. Med-low carbonation that tickles the tongue.
Overall: Well, what to say. This beer is artificial and very unbalanced. The aftertaste is not pleasant and stays in the mouth way too long. Not recommendable.
762 characters
2.69
/5
rDev
+6.7%
look: 5 | smell: 3.5 | taste: 2 | feel: 2.5 | overall: 2.5
got this at the corner shop 7express across from the train station in Schaerbeek, Brussels, Belgium. Poured with a huge, foamy, frothy, textured, off-white head and lots of lace. Head lasts forever. Color is of rich gold. Aroma is beery, honey, malt, a little hop and spice. Flavor is not as good with some circus peanuts and sea-foam candy. Not a lot of depth. Body isn't bad, but heavy boozy effect. Alcohol and circus peanut after taste. Session beer if you want to get smashed with a bonus headache.
503 characters
2.46
/5
rDev
-2.4%
look: 4 | smell: 3 | taste: 2.5 | feel: 3 | overall: 1
A: orange yellow colour good head, some lacing
S: some hops, some malt some grains but not a lot
T: not much there, some hops some malts, but also something metallic and a very strong alcoholic taste
M: not too thin, carbonation's a bit off
O: it isn't terrible as such, but i just can't see when you would drink it. If you want a heavy beer, you drink something better, if you just want a beer you take a s regular beer. This is just good for getting drunk.
462 characters

Jupiler Tauro from Brasserie Piedboeuf
Beer rating:
2.52
out of
5
with
14
ratings