Sam's Wines & Spirits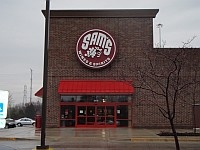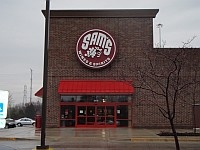 PLACE INFO
Type:
Store
1919 Skokie Valley Rd
Highland Park
,
Illinois
, 60035-2361
United States
(847) 433-9463
// CLOSED //
Notes:
No notes at this time.
Added by Redrover on 03-14-2006
PLACE STATS
Reviews:

10

Ratings:

pDev:

8.47%
HISTOGRAM
View: Place Reviews
Ratings: 10 | Reviews: 10
Reviews by granger10:
3.95
/5
rDev
+4.5%
Stopped by here on my move up to Milwaukee. I didn't know it was directly off the highway. Nicely accessible.
Beer is definitely secondary, no thirdary, no fourthdary here. Wine takes the show, liquor next, and probably gourmet food items before beer. It's almost hidden in the back corner. However, the beer selection is still substantial and nothing to scoff at.
As with most wine specialty stores, the Belgian selection takes the cake. However, this Belgian selection is the best I've seen except for Bello Vino in Ann Arbor. Tons of lambics, farmhouse ales, etc. Regional micro selection is decent, hit or miss, and the same with bomber choices. The same really can be said for English and German selection. Some staples weren't there but some unique offerings were. A few of the bottles I looked at were past date, so be sure to look.
Fridge selection was ok but I'd like to see more chilled, but they do what they got. Service was friendly and offered help. This was a nice place but I wouldn't go out of my way for it. Fortunately, I don't really have to.
1,073 characters
More User Reviews:
3.5
/5
rDev
-7.4%
Huge store tucked away behind a car dealership and a Staples store. The place is mammoth as other reviews have stated, but there is a lot of open/unused space. The beer selection is relegated to the far corner of the store, with the majority of the shelf space dedicated to wine. There is a wine-tasting bar/lounge and a deli counter with a selection of fine meats and cheeses. Glassware selection is decent, but again, mostly focused on wine. Beer selection is decent but not great, usually nothing to be found here that isn't stocked at the Binny's just South of this location. Decent amount of chilled beers, but all pretty common stuff. I can't remember any good finds I've had here, other than some limited Lagunitas stuff like Sirius and We're Only In It For The Money. Overall, not a bad spot, but certainly not the best and not worth going to over Binny's.
864 characters
3.5
/5
rDev
-7.4%
Sam's has 4 locations now in Chicagoland, and this one has declined since the investors came in (owners sold out to an iinvestment firm of some kind) and since the previous beer manager left (mid-07?).
For the size of this megastore, the beer area has decent sq footage, but the selection has declined. Probably has 2/3 of what the Marcy St. location has in a smaller space, with certainly a selection of Micros, Belgians, and the usual stuff. But interesting stuff spotty, a couple Cantillons, a few Trappists, not as many Three Floyds or Two Bros as I remember before. Even Sam Adams, where I can now find up to 10 different 12 packs at most any Binny's, only three here (including Light!?). A disappointing selection.
Wine and Liquor selections remain strong, must be focusing on the most profitable areas.
Pricing on what they do have is good, better than most other options, if you can find it.
Service is a focus, was asked several times if I needed help. And what they do have turns over, though did see some forlorn Christmas beer hanging on.
I used to go here monthly to peruse the selections, but now only will go for the base stuff there for the pricing.
1,170 characters
3.85
/5
rDev
+1.9%
Stopped by here the other day after FINALLY finding it. It's confusing as hell following Google directions to here from Lake Cook Road. Once you finally find it it's a fairly big store that is very nice and seems pretty new. The American micro brew section is fairly small consisting of only one big rack with a modest selection of the normal's (Three Floyds, Founders, Rogue, Two Brothers, Great Divide, etc...) The best part about this store is the Belgium and Euro selection. They have quite a few older J.W. Lee's Harvest Ales and Thomas Hardy Ales and the usual selection of Hefs and Pils. They have pretty much all the Trappist brews that are sold in the U.S. and a great selection of randoms and Gueze/Lambics. Once I lighten the cellar a bit I'm excited to dive in and try some of these beauties. They also have a nice glass selection. No logo glasses or anything like that but they do have all the weird shaped stuff that's always cool to drink good brews out of.
972 characters
3.85
/5
rDev
+1.9%
Stopped in here after taking the long way back from O'hare in effort to avoid the tolls.
This place is almost pristine. Very clean and very big. It is more set up for the snobby wine customer than the blue collar beer geek. The beer selection is tucked into the back corner of the building and is lacking compared to the rest of the store, even though most of the customers were in this area.
There is a large selection of Belgian beers and German as well. Some of the more obscure finds from the Europian brewers. The U.S. craft section was OK. I was looking for things I can not find in Wisconsin and found some, like Ska and some FFF. There really wasn't that much I couldn't find north of the border.
The prices were on the high side from what I am used to at Three Cellars and Discount in the Milwaukee area.But, it is what I would expect in a place set up like this. There was a person assigned to the beer area that asked if he could be of assistance several times to the point it was almost obnoixious. I won't hold that against him. He seemed like a beer geek that wanted to show off his knowledge, but I was just scoping out the selection rather intensly.
Not a bad place if you can afford it. Clean and comfortable, but you will not find any diamonds in the 'ruff.
1,281 characters
3.8
/5
rDev
+0.5%
Stopped by here to pick up some beers to stock my hotel room. I am north of Chicago for the week and wanted to try and pick some stuff up not readily availble around home.
I read through the reviews for this place before visiting and if this is the "bad" Sam's of the bunch, it makes me sad that I can't get to the others. The selection here seems excellent and rivals or outpaces many of the Indiana beer stores I have been in (although we have Bells!)
I counted five shelves of warm singles and six packs, along with some random stuff stacked around on the floor. 2-3 doors worth of cold micro/craft items. Great selection of German beers and good selection of Belgians.
Not much interaction with the staff. They were friendly enough and greeted me upon entering and asked me if I needed anything. I only asked them for a church key, something I always seem to forget on out of town trips.
Only complaint would be a lack of prices on many items. Most of the beers have a label on the shelf denoting price, but quite a few had nothing. As I try to reign in my spending on beers, this doesn't help.
All in all, I was pretty impressed. While the focus here definitely seems to be wine and spirits, the beer selection was great to ogle for a while. Once you figure out how to get there from 41 South, this seems pretty convenient for North Chicago.
1,361 characters
3.2
/5
rDev
-15.3%
Echoing other reviews, this Sam's is a shadow of the city location, and has a long way to go.
The store is gigantic, and only 1/5 of the space (or less) dedicated to beer.
Confusing layout, beer is relegated to the rear of the store, to the left of the "wine lounge". The store clearly deals primarily in wine...on my 2nd visit, I navigated past 3-4 wine "tasting stations" before making it to the beer. There's a good import selection, this is Sam's after all. Don't expect to find any rare or limited release items here, they seem to disappear without a trace. 1/4 of the beer (or less) is in coolers, a couple doors are devoted to wine coolers, and bs items like mike's lemonade.
Domestics are against the wall, imports occupy a couple tiny shelves opposite a random liquor shelf. This store makes beer look like an afterthought, guess they do enough business at the downtown location.
Sevice was nonexistent in the beer dept., despite the 20 odd staff milling around the store.
If you are visiting Chicago, go downtown, this Sam's need help.
1,052 characters
4.15
/5
rDev
+9.8%
Getting there is tricky, you can't just run down Skokie Highway as it gets split about a mile before you hit Sam's. Not sure how to explain how to get there, but check a map instead of just trusting the directions.
Quality was fine. Only had one of the beers so far, and it was delicious. One of the 3F I bought is probably out of date, as it was an Octoberfest. Figured I would give it a try.
Service was good. Numerous offers of assistance, but didn't test knowledge.
Selection was really good. Picked up Goose Island Imperial IPA, 3F Rabid Rabbit & Musterfest, Bare Tree Weiss Wine & Philosopher's Stone. Plenty of other stuff, both U.S. and imports.
Pricing was reasonable.
As a bonus, there is a Staples next door if you need any packing/shipping supplies.
777 characters
4.35
/5
rDev
+15.1%
When I'm in Chicago I'm in the Northern Suburbs, so this new Sam's is much closer than the downtown store. Located right off the highway, not as big and not as much selection as downtown Sam's, however there is a lot of quality beer in the Highland Park location. Two metal racks full of imports, mostly from Belgium, Germany, and the UK. Theres another rack against the wall that seems to be local stuff, Midwestern breweries etc. Skids on the floor with cases/6 packs, same against one other wall. Big cooler with all sorts of cold beer, from micro's to macro's. Assorted stacks of beer throughout the store. Good selection, decent prices, Sam's is always a great place to hit for beer, especially for out of towners. Met the Unibroue rep for the midwest there once, hit it up and talked about their beers.
808 characters
3.65
/5
rDev
-3.4%
When I walked into this place it had the nice big open warehouse feel with a nice display of fall beers. That was the only sign of beer in sight, the rest was all wine. At the far back wall by the bar where you can buy wine by the glass is the beer section.
They have a good layout of racks of imports then racks of local craft beer and then stacks of cases. There were 8 doors of coolers with a mix of BMC and craft beer. It the very corner was a smaller rack of bombers with several boxes of bombers with the tops cut open. I rummaged through the boxes to find some interesting beer and some local one-offs that have been wiped out of other stores for a month or so.
I was happy to see the Paulaner Marzen-fest was here but all the bottles I checked were from 05.05 so I didn't pick any up. This place has a fair sub-sample of the big Sams in Chicago but nothing I had to have. I think the large part of their sales is for wine and then high-end spirits with beer coming in third. That was the impression I got from the layout of the store.
1,050 characters
Sam's Wines & Spirits in Highland Park, IL
Place rating:
3.78
out of
5
with
10
ratings