Le Grain De Sel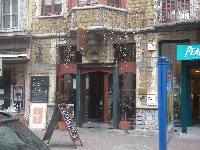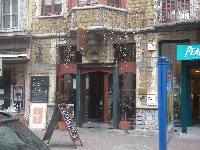 Bar
Rue Albert 1er, 30
La Louvière
, 7100
Belgium
+32 (0)64 67 74 97 |
map
Notes:
Reviews by TheLongBeachBum:
TheLongBeachBum from California
3.73
/5
rDev 0%
vibe: 4 | quality: 4 | service: 3.5 | selection: 3.5
After a tour around the Brasserie Dupont earlier in the day, and after our party of 30, or so, checked into the Hotel Ibis in Mons that would be base camp for the Easter 2006 weekend, we had the evening free. Having stayed in Mons before, a small group of us decided to make use of the Hotels excellent location opposite the Mons Railway Station and head out somewhere new but nearby before heading into Mons for the night time session.
As always, Tim Webb's Good Beer Guide to Belgium proved invaluable, Page 236 offered just such a destination; the Grain de Sel in nearby La Louvière.
Easy enough to get to from the Gare de Mons, we hit Platform 5B and caught the 2:00pm (hourly) train to Charleroi-Sud which stopped at La Louvière-Sud where we hopped off for a 5 minute stop & changeover for the shorter ride to La Louvière-Centre. Once at the (Centre) station, head up Rue Sylvan then head left down Rue Albert 1er, a long cobbled affair that has wide pavements & a single lane roadway, lending a pedestrianised feel to it. Grain De Sel is just before you get to the main square on your left.
From the outside, the Grain de Sel has a rather eclectic appearance, a two-storey stone frontage, with a large bay window over the entrance doorway on the first floor; all of this is topped off with a fine looking gothic-style blue slated gambrel roof. The stone is punctuated with red oxide primer painted window frames and an entrance doorway that is set dead centre & surrounded by a dark green steel beam affair that lends a semi-modern look to the entire presentation. A chalkboard on the wall & a sandwich board on the streetside display the day's foody offerings. All this seriousness seems to be ruined by the myriad of dangling party lights across the frontage & above the entrance way that help to lend "Bolton club-land" feel to what is otherwise a fine frontage.
Inside, the Grain de Sel is a single long rectangular room that seems to stretch way off to the back of beyond. A small area at the front has tables set in front of upholstered seats set against the walls & chairs both side of the central walkway. After this, the lovely 1930's style bar quickly starts to your left and runs down most of the left hand side wall. The back has access to the restrooms & the kitchens.
Beer range according to Tim Webb's guide is around 60, but I only counted around 40. Nevertheless, a solid selection with no crap listed, just plenty of solid brews for those that want to revisit their favorites. The Beer Menu is on one of those large laminated sheets, all neatly laid out & broken down into styles; Les Trappistes: (Chimay Red/White/Blue, Orval, Westmalle Triple, Rochefort 8° & 10°), Les Bières d'Abbaye Blondes: (Bonne Espérance, Floreffe Triple, Maredsous & St. Feuillien), Les Bières d'Abbaye Brunes: (Leffe Brune & Radieuse, Maredsous & St. Feuillien), Bières a Fermentation Spontanée: (Gueuze & Pêche from Timmermans with Kriek & Framboise from Liefmans), Les Flamandes: (Delerium Tremens, Duvel, Palm & Rodenbach), Bières Wallonnes: (Binchoise Blonde, Barbãr, Bush 12°, Ciney Blonde/Brune, Divine, Grisette Ambrée, Moinette Blonde, Quintine & La Saxo) and something listed as "Les Incontournables" (Carlsberg Blonde and Bass Pale Ale)…nuff said about that. Whilst it was less in quantity than we expected, it had a lot of depth with no crap and is well thought out, though I do miss the lack of traditional lambics. Still, no trouble spending several hours in here, or ever getting bored with the menu, it does have something for everyone - though I'll stick with a 3.5, it's just short of a 4.0 for the depth.
Sadly we missed out on the Food, just, it seems like we hit the afternoon quiet period when no food is served (3-6pm), even though we arrived literally at 3pm we were told we would have to wait until 6pm, but we had decided to leave before then so never got to try the Food Menu, though what everyone was finishing when we arrived looked great.
Service was OK; nothing wrong with the attention to detail & the waiter made sure we had plenty of snacks, no doubt prompted by the disappointment on our faces at missing the food.
Nice enough, an establishment which is high on quality. A great place to spend a few hours. There isn't much else to do in La Louvière so I don't recommend coming here especially, but if you're in Mons and fancy a change of pace, this is a good establishment to head out to.
Last Visit: Friday 14th April, 2006.
May 07, 2006
Le Grain De Sel in La Louvière, Belgium
Place rating:
3.73
out of
5
with
1
ratings