Fall Festivus
| Cricket Hill Brewing Co.
BA SCORE
80
good
35
Reviews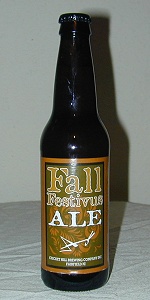 BEER INFO
Brewed by:
Cricket Hill Brewing Co.
New Jersey
,
United States
crickethillbrewery.com
Style:
American Amber / Red Ale
Alcohol by volume (ABV):
4.80%
Availability:
Fall
Notes / Commercial Description:
No notes at this time.
Added by Bitterbill on 11-08-2008
Reviews: 35 | Ratings: 66
2.76
/5
rDev
-19.5%
look: 3.5 | smell: 2.5 | taste: 3 | feel: 2.5 | overall: 2.5
Picked this up a few weeks back because it was available via the single bottle. I have no idea if this is play on the Seinfeld episode but I've never had a Fall Festivus beer before and after having this, I'm not sure if I'll ever have one again. This doesn't look or feel like an American Amber and only because I've let it warm up quite a bit am I even getting this down...
The pour to this was alright - very hazy, a murky apricot hue, and decent head to boot. The lacing was there but didn't last that long. The taste is very sharp - think grapefruit, rind, and an acrid metallic undertone with a bit of wheat and rye thrown in for thickness. The aftertaste lingers quite a bit and this almost reminds me of an inferior gin in terms of the mouthfeel. Although I love a good Sapphire and Tonic, there's just something missing in this beer. It's probably more malt as there just doesn't seem to be enough of a backbone to this.
The ABV% isn't listed and I've hardly felt it as I've worked my way through my glass. I think that I'm so used to the American Ambers from Troegs that something like this is a stylistic opposite. While I've had worse beers, this is probably my biggest disappointment for 2009 and I'm glad that I didn't start off the near year this way. Only worth a try because of its single-bottle availability and ability to clean my mouth out of any food or drink I've had beforehand.
★
1,403 characters

3.75
/5
rDev
+9.3%
look: 4 | smell: 4 | taste: 3.5 | feel: 3.5 | overall: 4
Appearance: hazy orange in color with some yellowish highlights. A two inch head lasts a while before breaking apart.
Smell: floral hops and some sweetness is detectable.
Taste: caramel, orange, pear, and a floral hop bitterness are most notable, but there is a bit of earthiness here too.
Mouthfeel: medium bodied beer. Crisp to start, less crisp and lightly dry at the finish. Bitterness lingers on the tongue after swallowing.
Drinkability: this beer went down easily and more than one could be had in a session.
★
519 characters
2.74
/5
rDev
-20.1%
look: 3.5 | smell: 2 | taste: 2.5 | feel: 3.5 | overall: 3.5
Big thanks to NJpadreFan for the brew!
12oz. brown bottle poured into an imperial pint.
A: Pours a light glowing amber. Not much head leaves a creamy skim and light lacing.
S: Not a whole lot going on here. A bit of sweet, grainy malts but that's about it.
T/M: A small touch of light, earthy hops. Some lightly toasted malts, biscuity, maybe some toffee. Body is medium or so and carbonation is accurate.
D: Drinkable but very ho-hum. Was excepting a least a little something more from this.
★
497 characters

3.5
/5
rDev
+2%
look: 3.5 | smell: 3.5 | taste: 3.5 | feel: 3.5 | overall: 3.5
12oz bottle
Pours a dirty orange brown color with a thick head of foam that leaves nice sticking on the glass. Sweet nose of caramel malt, banana, and a woody/earthy hop character. A hoppy bite kicks things off in the mouth settling to a slightly spicy, candy sweet slightly orange rindy bitterness, sharp and still with enough sweetness from the malts to make it feel fall-ish. Easy to drink. Worth trying a single bottle before diving head first into a 12pk...
★
463 characters
3.38
/5
rDev
-1.5%
look: 3.5 | smell: 3 | taste: 3.5 | feel: 3.5 | overall: 3.5
Cricket Hill- Fall Festivus
A- Light orangish obrown with a small light ringed lacing head.
S- Nutty earthy malt with slight pine hops.
T- Malty, Slight caramel, wood/ bark earthiness. A touch of pine hops.
M- Very malty and earthy with a decent sweet hoppy finish.
Overall- Decent, didn't WOW me but it was drinkable. Mediocre at best.
★
338 characters
3.03
/5
rDev
-11.7%
look: 3.5 | smell: 3 | taste: 3 | feel: 3 | overall: 3
I got this bottle in a trade with jwc215. Thanks Joe!
This pours a hazy orange gold with a 1 finger head of foam.
The smell is hoppy and earthy with the hops winning out....quite bitter nose overall. Oh, and it also has some corn notes that reminds me of a typical macro. Not the best nose...
The taste starts off bitter, can't say it's of citrus or pine or grass, just bitter. I get some earthy malt tones and a strange feeling of some funk and..yeast?? Weird. The finish is bitter but again, it's a weird bitterness and the aftertaste lingers on a bit too much.
The mouthfeel is thin and the carbonation borders on high. Head retention is good and there's some nice lacing.
Drinkability? Not too bad but I could do without that blasted aftertaste. For the style though, I thought it missed its mark.
★
806 characters

3.1
/5
rDev
-9.6%
look: 3 | smell: 3 | taste: 3.5 | feel: 3 | overall: 2.5
extra via jwc215
Pours a cloudy orange with a 2 finger, bubbly white head. Some lace, and ok retention.
At first it smelled like burnt cantaloupe and tuna fish. That went away and it smelled like non-burnt cantaloupe with yeast and spice. Smells like a orange wheat beer actually.
Tastes like tangy, burnt orange rinds with a nice yeast finish. Tastes like an orange wheat beer.
Are you sure this isn't a wheat beer?
★
422 characters
3.28
/5
rDev
-4.4%
look: 4 | smell: 3.5 | taste: 3 | feel: 3 | overall: 3.5
Pours amber with a thin, lasting, off-white head. Uneven rings of lacing stick.
The smell is bready/biscuity, grainy with a hint of orange and light hop spicing.
The taste is yeasty - sweetish with some orange marmalade and a light sourish note. It has a dryish finish with a floral/herbal touch.
Light-bodied with somewhat sharp carbonation.
Not bad, but a bit yeasty in a "home-brewish" way. And I'm not quite convinced that a thin beer necessarily makes for a "cross-over" or "session" beer. More caramely, smoother maltiness would improve it, I'm thinking. Not quite sure I catch the "fall" aspect here, either. Drinkable, but something "off-ish" about it that I would want to "session" with it.
★
703 characters

3.92
/5
rDev
+14.3%
look: 3 | smell: 3.5 | taste: 4 | feel: 4 | overall: 4.5
just purchased a keg of this for my kegerator and i have to say that this is a unique beer. On their website it says that it is a combination of hops and malt. you can definitely taste that it is strikingly similar to an ESB. It pours a small white head, with an amber color. it truly is a session beer, but i am still in the dark about the ABV. i think it is in the lower category. overall though, i think that it is a great beer that is new to the cricket hill brews.
★
469 characters
3.96
/5
rDev
+15.5%
look: 4 | smell: 3 | taste: 4 | feel: 4 | overall: 5
This one has session beer written all over it. An agreeable tasting amber ale with finely balanced malt and hops. This is a beer you drink, not think. The mouthfeel paired well with the taste as it was neither watery nor thick. Definitely a brew to reach for after more complex/heavier beers. I enjoyed it enough to have a second pint.
★
335 characters
Fall Festivus from Cricket Hill Brewing Co.
3.43
out of
5
based on
66
ratings.