Double Diamond Winter Ale
| Dick's Brewing Company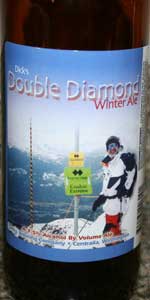 BEER INFO
Brewed by:
Dick's Brewing Company
Washington
,
United States
dicksbeer.com
Style:
Winter Warmer
Alcohol by volume (ABV):
7.50%
Availability:
Winter
Notes / Commercial Description:
No notes at this time.
Added by freed on 11-10-2003
Reviews: 56 | Ratings: 75
3.73
/5
rDev
-5.3%
look: 3.5 | smell: 3 | taste: 4 | feel: 4 | overall: 4
Poured into 12oz glass. Poured a deep chestnut color with about 3/4 of an inch of light tan head that left a little more than moderate amount of sticky lacing. Fairly neutral aroma with hints of sweet malt, spice and alcohol. Solid malt body with a slight hop tang on the finish. Leaves a little spice aftertaste. Solid, smooth body that coats the tongue nicely. Easy to drink, but as with most Winter Warmers the alcohol can sneak up on you. An above average version of the style, worth seeking out.
500 characters
3.72
/5
rDev
-5.6%
look: 3.5 | smell: 4 | taste: 4 | feel: 2.5 | overall: 3.5
Appearance – Orangish-brown in color with some good carbonation but little head.
Smell – Faint aroma of sherry-laced toasted malts with a strong citrus compliment.
Taste – The hops fall back at the tongue, leaving a big sherry-soaked malt base. This one is filled with a strong, bitter coffee/alcohol flavor and a strong oak influence. The sherry is really more like a whiskey or rye flavor, making this one a strong drink indeed.
Mouthfeel – Medium-bodied with a rather harsh alcohol sensation. This one could have been a little smoother.
Drinkability – I enjoy heavy Christmas ales, but this winter offering by Dick's was a little rough.
657 characters

3.7
/5
rDev
-6.1%
look: 3.5 | smell: 3.5 | taste: 4 | feel: 3.5 | overall: 3.5
A: Pours a heavily, and heavenly, tinted amber with burnt brown and reddish colorings. After an aggressive pour the head was a pillowy mass. Receded quickly but left decent lacing. Sits in the glass darkened caramel with ruby striping apparent when held up to light.
S: Sweetness is in the forefront of the nose. Spices make an appearance towards the back but this is saturated in confections and taffy apple goodness. A slight hops scent ultimately overshadowed by a tightly wrapped present of candies, sugars, and fruitiness.
T: The taste is extremely candied, sweet, and buttery rich. Sugary malts with a nice cinnamon and nutmeg spice. Reminds me of a gingerbread house that was doused in brandy and set a blaze so that the remnants could be liquefied into this fine beer. There are also citrus and pine hops which add to the dizzying array of celebratory tastes.
M: Medium, bordering on full, bodied. Good carbonation.
D: I picked up a six and it has kick. This makes the drinkability a little less but at the same time helps live up to the winter warmer style. I dig the graphic on the front of the bottle, like a polaroid. Overall, this fits the PNW winter months nicely.
1,182 characters
3.68
/5
rDev
-6.6%
look: 3.5 | smell: 3 | taste: 4 | feel: 3.5 | overall: 4
Pours a reddish brown with 1 pinky of tan head into my Chimnay goblet. Average lacing & above average head retention
S: A cross between caramel & wet dog up (goes away) front. I start getting some nice spices once warm.
T: Caramel, cinnamon, dryness, some herbal hops & bit of cocoa up front. Brown sugar, nutmeg ( some more caramel as this warms. Finishes with herbal hops, tangerine, caramel, boozey warmth, some honey dryness & a kiss of lemon hops at the end buried beneath caramel
MF: A bit chewy, slick, low carbonation & somewhat light body for the style, balances good though
Drinks very easy for the abv, just not too interesting as winter warmers go
665 characters
3.6
/5
rDev
-8.6%
look: 3.5 | smell: 3.5 | taste: 3.5 | feel: 3.5 | overall: 4
Poured out a reddish brown, head was low, dissipated quick, left lacing.
Aroma of malt, earthy,
Flavors indicate a slight peppery character, with malt sweetness.
Mouth feel is medium/high body, with moderate carbonation.
Nice interpretation, it is a little light for me but it is still a drinkable brew. A must try.
328 characters
3.6
/5
rDev
-8.6%
look: 4 | smell: 4 | taste: 3.5 | feel: 4 | overall: 3
This one was on tap at the Elk Public House in Spokane, WA. Served in a pint glass.
Pours a dark walnut brown with copper hues and is clear. A foamy off-white head forms and quite resilient.
The smell is hoppy and piney. Evergreen.
The taste is bitter and hoppy. There is a little sweet malt flavor, and some alcohol. The taste is sharp and shocking initially. But it grows on you.
Mouth feel is crisp, sharp and clean.
This is a drinkable beer, but not very sessionable. The bitter flavor might get tiresome. Good in moderation.
545 characters
3.58
/5
rDev
-9.1%
look: 3.5 | smell: 3 | taste: 3.5 | feel: 4.5 | overall: 4
This beer pours an amber brown color with a thin head. The smell is malty with fruity esters or possibly fruitty hops, smells more like yeast though. At first the taste is of citrusy hops which quickly leads into toffeelike malt. Warming alcohol sensation, then finishes with hops. Nice thick bodied beer. Very drinkable considering the abv.
341 characters

3.53
/5
rDev
-10.4%
look: 4 | smell: 3.5 | taste: 3.5 | feel: 3.5 | overall: 3.5
Pretty simple beer here. Done very well, but nothing too exciting. Pours a small head that only sticks around for a minute or so, leaves nice lacing throughout the glass. Nice dark brown color with hints of red in it. Smell is extremely malty, very sweet. Taste is just the same, very malty and unbelievably sweet, that is really the only shocking thing about this beer, I know malty beers are supposed to be sweet, but wow, this was on another level. It didn't taste bad, or overpowering, just really sweet. Drinkability was decent, might have been higher if that sweetness was diluted. Now that I think about it more and more I can't decide if the intense sweetness was bad or good, I guess I'm neutral on it, either way, not a bad beer.
739 characters
3.52
/5
rDev
-10.7%
look: 3 | smell: 3.5 | taste: 3.5 | feel: 4 | overall: 3.5
Dark brown color. Small white head. Aroma is malty, sweet and fruity. Medium bodied "strong-ale". Malts are nutty and sweet. Hops are piney and grapefruity. Underlying tone of smoke, spice and peat. An easy drinking winter warmer. Hides the 8.5% alcohol very well. It's slightly under-carbonated. Mouthfeel is full and round. Finish is clean and a touch dry. Aftertaste is slightly bitter.
392 characters

3.44
/5
rDev
-12.7%
look: 4.5 | smell: 3 | taste: 3.5 | feel: 3.5 | overall: 3.5
Pours with a light two, five-finger head that stays forever, leaving a good lace. Light carbonation and medium-heavy bodied. Red amber color. Nose is spicy hops. Flavor is balanced, slight hoppy finish, lingering bitter aftertaste. $1.99 for a 12oz bottle from Haggens Beaverton, OR. Label has ABV at 7.5%.
306 characters

3.42
/5
rDev
-13.2%
look: 3.5 | smell: 4 | taste: 3.5 | feel: 2.5 | overall: 3
12 oz. bottle. Snifter.
A: Golden darkness with a tenacious 1-finger head of white bubbles.
S: Promising with thick syrupy malt and spicy/mossy hops. Caramel sweetness and sticky toffee notes with cream.
T: Dark rich malt notes lead off with earthy hops in the mix. Some hints of stronger alcohol permeate intermittently throughout the solid malt base. More caramel/crystal malt character is apparent.
M: Strong carbonation and high bitterness lend a harshness to this beer that knocks my mouthfeel and drinkability scores down a bit. This medium-bodied ale, while quite tasty, seems to attack the tongue in a way that seems to contradict the overall perceived maltiness.
D: Again, enjoyable, but somewhat over-aggressive in mouthfeel.
[This bottle appears courtesy of Svejk in Washington State. Thanks!]
810 characters
Double Diamond Winter Ale from Dick's Brewing Company
3.94
out of
5
based on
75
ratings.