Rossi's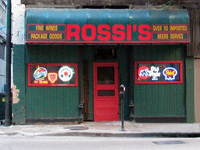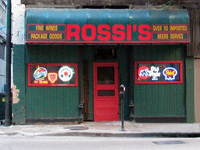 Bar, Beer-to-go
412 N State St
Chicago
,
Illinois
, 60654-5608
United States
(312) 644-5775 |
map
Notes: Cash Only.
Recent ratings and reviews.
Ratings by jrallen34:
Reviewed by jrallen34 from Illinois
2.73
/5
rDev
-10.8%
vibe: 4.5 | quality: 2 | service: 3 | selection: 2.5
I use to work around the corner from this dive and became quite familiar with it. At that time I wasn't into beer so I found this place quite charming. A townie bar in the middle of downtown Chicago, what could have been better? Now, after knowing a bit more it still has that small town charm in the big city but the beer selection is crap. Low tier craft, not even close to the number or quality of beer they advertise. I can't imagine any reason to come to this bar besides it charm when you are downtown.
Mar 19, 2011
More User Ratings:
Reviewed by Paige234567
1
/5
rDev
-67.3%
vibe: 1 | quality: 1 | service: 1 | selection: 1
I was incredibly disrespected by the bartender. My husband took a beer from the cooler doors and listening to the signage posted on the cooler, we brought it up to the bar to purchase it. There were multiple signs stating not to open the beer and to bring it up to the bartender. I imagined this was due to people taking drinks without paying for them. I ordered a cocktail and set my husband's beer on the bar. I told the bartender that we also wanted the beer sitting in front of us.The bartender walked to the other end of the bar to make my cocktail and I handed the beer to my husband. He opened the can. When she came back to our end of the bar, she asked my husband to come over to her and let her see his hand. She proceeded to slap him on the hand and said "Didn't you read any of the signs? You can't open your own beer!" I was floored. I cannot believe someone in customer service SLAPPED my husband. I stepped in and told her that I showed her the beer that he wanted and she walked away so I assumed we could take the beer off the bar. I explained that I knew we needed to bring the beer up to her, but the sign was not clear that the bartender must PHYSICALLY OPEN all cans. She then looked at me and said, "Oh, you're upset I smacked your husband? I bet he liked it" and winked at him. My jaw dropped. How disrespectful! She continued to mock me using a baby voice. She said she would come around the bar and give me a hug to make me feel better. I told her not to touch me or my husband again. She then told me that if I didn't like her service she would show me the door. I am still shocked thinking about the situation. I understand that the customer is not always right in every situation, but her slapping my husband on the hand, mocking me, and making sexual jokes at my husband is disgusting customer service. I truly just wanted to get out of the situation, but she was obviously enjoying making me upset.
Feb 06, 2023

Reviewed by emerge077 from Illinois
3.92
/5
rDev
+28.1%
vibe: 4 | quality: 3.75 | service: 4 | selection: 4
100+ beers to drink here or take to go, all available in singles. Nice to see they upped their game even more. PSA: This is a dive bar, don't expect anything else. According to local city ordinances, you can't open your own beers in any bar in Chicago. Not an insult, it's just the law.

2013: 3.75
Stopped in again recently as there was time to waste, and Rossi's was right there. Hello old friend. This time there was no amateur bartender, the staff were friendly and cracked jokes the whole time. It's a true dive bar, so if that's a foreign concept, just pass right on by as most of the tourists do. It's blue collar and no frills, a scruffy gem of a hole in the wall. Not a place for the pretentious or self-absorbed, thankfully the ramshackle bar façade is effective yuppie-repellent. The door is covered in graffiti and punk band stickers, Rossi's is clearly appreciated by those subcultures. The jukebox played MGMT and plenty of other eclectic music. On the wall by the door was a Duvel sign and poster for $8 Rogue bombers. Framed Old Style Lager labels from decades past hung above one table. It seemed that their cooler in the back held the majority of the beer selection, including Alpha Klaus and Rev bombers, even Emelisse a rare import Schwarzbier (next to some bread and milk). Oddly enough there was a singles section in the cooler too, with BA shelf talkers, and sixers of Schlafly Coffee Stout.

2008:
Stopped in because we were walking by. The young guy "bartending" had questionable tending skills. We asked for 2 Rogue Dead Guys, he takes 2 bottles and upends them into to chilled glasses sitting on the bar. Foam everywhere, he says "whoops, those 2 are on me." Then after my next beer he charges me for 3...wtf? Explanation: "Man i'm already drunk."

11-25-2007 2.93
Really a choice of convenience and not much else.

Service was quick, 2 Old Styles within 2 minutes of getting in the front door. Selection is probably greater than your average dive, but not by much. The reality was very different from the "50 imported beers" sign on the awning. On the way out the door I noticed 3 beers from New Belgium, including 1554. The draw to the place was the allure of black-market New Glarus. Apparently word got out, and it's no longer available. So all you get is Old Style and Blue Moon on tap, and a few uninspired imports... It was close enough to the Billy Goat to have a quick one, warm up, and be on our way. If in search of more crafty options, head to Rock Bottom or Clark St. Ale House instead...unless you are looking to hide out from the typical area crowds.
Jan 04, 2013
Reviewed by TheLoneGunman from Illinois
3.48
/5
rDev
+13.7%
vibe: 3.5 | quality: 3 | service: 4.5 | selection: 3
Rossi's is a hole-in-the-wall. But it's one of those bars that has its own little charm.

You walk in and notice its small size. Tables on the left, bar on the right, perpetual Christmas lights hung. Yet it is fairly comfortable.

What makes it is the lady that owns the place. At least I think she does. She's a real bitch at times. But she's not serious. In actuality, she's damn cool and often quite nice. Just get your ass out quick when closing time hits! Overall, great people.

Service is usually solid behind the bar. The prices are typical for downtown Chicago. Just don't go into the place expecting to find good beer. Their cash and carry cooler ain't pretty. So only buy beer there in a dire emergency. Hell, if it's not too late, just walk a few blocks to Rock bottom to get a growler. I didn't try the food. I don't think I ever will.

This is a good spot to hit on your way to the House of Blues, if you need to kill some time.
Mar 30, 2006
Rossi's in Chicago, IL
Place rating:
3.06
out of
5
with
6
ratings