Maduro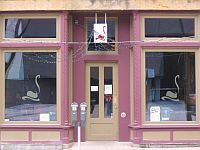 PLACE INFO
Type:
Bar
117 E Main St
Madison
,
Wisconsin
, 53703-3315
United States
(608) 294-9371 |
map
madurocigarbar.com
Notes:
No notes at this time.
Added by DaPeculierDane on 03-24-2006
Ratings: 42 | Reviews: 26

4.56
/5
rDev
+4.8%
vibe: 5 | quality: 4.5 | service: 4.5 | selection: 4.5
This was a very narrow and not terribly deep establishment, so it there is an event that you are planning to attend, I recommend arriving early. Two big glass panes flanked the doorway that opened onto the wood bar to the left. Black leather couches, coffee tables, and vintage advertising on the wall dominated the right side. Just inside the door, on a buttonhook right, were a couple of high tables and stools as well as a green (not black) board. All of the way aft was a short, red velvet-lined stage for bands that perform twice a week. Beyond the bar, headed aft, was a humidor and beyond that, still on the left, were the washrooms, as well as a small reading library. Couple all of that with a pressed tin ceiling and exposed ducting and I ask you, what's not to like?
The back bar featured an impressive array of wines and liquors (or so I was told). They also had an equally impressive lineup of eighteen taps, including five Belgians, five Bell's, three Lake Louie, Victory, and New Holland. I was further told that their mixed drinks are "kick ass".
1,069 characters
4.5
/5
rDev
+3.4%
vibe: 4.5 | quality: 4.5 | service: 4.5 | selection: 4.5
Maduro is a beautiful little cigar bar tucked away on Main street just a block from the Great Dane, and within walking distance of several other great restaurants.
From the black leather love seats and sofas to the brown tin-ceiling, this place is just slathered in style. Be sure to take a look at the tiled bar!
Beyond that, they bands are great, and the cigar and drink selections are more than adequate. I should warn you, however, it is a cigar bar, and it will be smoky. You can try that rare single malt scotch if you'd like, but your senses will probably be at least a little bit numb. That said, you're certainly not going to do to well with beer. However, I have been in early and found no one smoking at all, so who knows.
There are 18 taps and a cask, although I'm not sure how often they use it. Of the local beers they had on tap during my last visit, 5 were Bell's/Kalamazoo, and 1 was from New Holland (Dragon's Milk... at least it's a real good choice). The rest were imports, mostly Belgian and English with a few very good choices - nothing truly ordinary.
The service is great and the bathrooms are clean, what else can you ask for?
1,166 characters
3.71
/5
rDev
-14.7%
vibe: 3 | quality: 3.5 | service: 4 | selection: 4
It was very smoky but has an excellent beer selection on tap which is rare in city of Madison. I had the Bell's Cream Stout hhhmmmm Cream Stout. They had a number of good beers on tap but the Bell's was the only Stout and I wanted either a Stout or Porter. The ambiance is nice with a smattering of just about every group in the bar at 10:30pm on a Saturday night, just be aware this is a cigar bar and there is much smoke from them there cigars. They also have a great selection of high octane liquors and wine for your choosing.
530 characters
4.36
/5
rDev
+0.2%
vibe: 4.5 | quality: 4.5 | service: 4.5 | selection: 4
A must for any visitor, and maybe the new best beer stop in Madison.
After being dissapointed by the Dane's mediocrity and stuffed with Come Back Inn's good beer and alright German fare, we capped the evening off at Maduro.
At 8:00 on a Saturday, there were about 10 other patrons there and it was warm enough to have the door open (which is probably why the smoke levels were quite tolerable). The music was good, classy, and at a sensible volume.
The bartender was very friendly and seemed knowledgeable. We were only getting one round. Although there were many high quality beers on the list, our decision was quite easy: Bell's Hell Hath No Fury, and New Holland's Barrel-Aged Pilgrim's Dole. The Bell's was in a nice chalice, and while quite good, it seemed to be going slightly south and taking on a sourness. The Dole was served in something like a 16oz water glass. Not the most pleasing glass, but a very pleasing volume of this strong and lovely beer. These two top shelf high gravity beers were $4 each, which is a great deal.
We sat on the comfy couch and leasuirely sipped our beers.
This is the place to go whether you want a relaxed, conversation friendly atmosphere or just want the best draft list in town.
1,242 characters
4.44
/5
rDev
+2.1%
vibe: 4 | quality: 4.5 | service: 4 | selection: 5
After reading the reviews here, I made a bee line for this place downtown with my wife.
It's a little different than I expected. It's much more worn in than their online pictures show. It was smaller than I thought. Quite narrow. There is a long bar on one side, a walk way down the middle, and not quite enough sofas on the other side.
The bartender was absolutely swamped. He had to do everything, include leave the bar to take orders outside. However, the bartender was completely friendly, extremely well versed in the beers, and would dote on you (which helped cause some delays).
In fact, after I got my first beer, I watched him come and go with this one pint of Guinness. He would pour it extremely slow for 10 seconds, and then leave to take someone's order. Later, he'd come back and do the same thing. 5 minutes later when it was finally full, he was able to "draw" a design of a 4-leaf clover into the foam with the last slow trickle of beer from the tap. He handed the beer to the customer and said, "As you requested".
Behind the bar is a looter's dream. Shelves and shelves of top notch liquor. All I could see were rows and rows of "8" and "12" shining back at me, denoting their years. Check out their web site for their huge list in PDF format.
At first, I was a little disappointed in their beer selection that night. Only because I wanted to try out their Bell's Two Hearted on Cask. They had nothing cask conditioned. I then wanted to try their St. Bernadus on tap, and they didn't have that either. So I had to console myself to their monstrous chalk board of 20 beers on tap! Silly me for reading the reviews here and expecting certain brands. They do swap out often, and in the end, that was a great thing.
I had some great beers here, starting with Urthel's Tripel. Best tripel I've ever had, and was recommended by the bartender. The bartender uses the correct glassware for the right beer every time. I was a little disappointed by the half pours I was getting. Mostly because that's not what I'm used to, but also because it took a long time for the bartender to get back to you. However, don't let that put you off, when I got the first bill of only $9 for 3 beers, it suddenly made sense. These are great prices for craft brews.
It is a cigar bar, and despite some of the other reviews, I found it quite smoky in there. However, it doesn't take long to get use to, and who am I to complain - I was smoking one by the end of the night anyway.
We did catch their Rat Pack music on Friday night. The guy futzed with his equipment forever and started 45 minutes late. Some of the songs were decent, and it definitely fits the theme and class act of this bar. It's just too bad the singer was obviously burned out doing the same thing for who knows how long.
I caught a lot of conversation while sitting at the bar. Someone asked about food, and the bartender explained that a lot of the local restaurants on the block liked to deliver food right to the bar, all he asked was that you tip them very nicely for the extra effort.
The variety of people in this bar was huge. Early in the afternoon there were mostly older gentlemen that looked quite comfortable with a cigar in their mouth. By midnight, the majority were much younger, trying to look cool with a cigar in their mouth. It seemed like everyone was there for deep conversation, and it's a very comfortable, relaxed place.
3,439 characters
4.36
/5
rDev
+0.2%
vibe: 4.5 | quality: 4.5 | service: 4 | selection: 4.5
Maduro was a wonderful prize at the end of our Madison beer tour.
The space is a single room with large open windows on either side of a central door. Exposed brick walls, painted tin ceiling. Long bar along the left side with hefty wooden shelves stocked with top shelf liquor of all varieties. Cozy black leather couches on the right hand side and several tables and chairs. An organ or piano tucked into a back corner. Mostly candle lit. Cigar smoke that is present but not overwhelming around 10pm on a Saturday night. Also some tables on the sidewalk out front under red christmas lights. Very pleasant atmosphere. (especially having just come up the hill from the Essen Haus!)
The tap list was excellent and displayed on a chalkboard centered behind the bar: the standouts were Hell Hath no Fury and an Oak Aged Pilgrams Dole (both $4, Hell hath in a St Bernadus goblet and the Dole in a pint glass). The Hell hath was perhaps a bit off (or not as good as it was when we had it a couple months ago at the Map Room in Chicago) but the Pilgram's Dole was exquisite! Lovely oak and warm vanilla sweetness.
Rest of beer list was quite the selection: Einbecker Pils, Spaten Lager, Erdinger Weiss, Bells Oberon, Lake Louie Scotch, Bells Pale, Lindemanns Pomme, New Holland Black Tulip, St Lous' Framboise, Ale Asylum Trippel, Hitacho White, Echt Kriekbier, Urthel Hop-it and Heavy Handed on Cask (also Boddingtons, Guinness, Magners).
Service was fine -- almost everyone was drinking beer, and the bartender seemed to do a good job describing the styles to novices.
No food, but someone at the bar had a very nice plate of Sushi delivered (on a plate even).
This gets my pick as my favorite beer destination in the Madison area.
I was also favorably impressed by Quivey's which I had not been to before. Great to have two new wonderful destinations for beer travels.
1,887 characters
4.5
/5
rDev
+3.4%
vibe: 4.5 | quality: 4.5 | service: 4.5 | selection: 4.5
Kind of surprised I have never beerfly'd this before. This is a local BA favorite with good reason.
Location is a major plus, being in the 100 block of east main street. The Great Dane is a mere block away as our tons of local dives and great restaurants. If someone came from out of town and started at Maduro, you could occupy yourself all night without travelling more than a block or two.
Atmosphere is interesting...red christmas lights outside with a few outdoor tables on east main. Inside you will find the only smoke friendly place in Madison (smoking banned). No cigs, just cigars, and they sell them too. I am not crazy about this but it usually isnt offensive, depending on the time. Quite upscale, but dont expect to pay upscale prices. I have never felt like I wasnt the youngest person in there (i'm 24) and often favors upscale business class.
Service is pheonmenal, period. The bartenders are all nice, helpful, and very beer savvy. I can see people finding them pretentious, but thats Madison, and thats how we roll.
Selection is awesome. Usually about 20 taps. 2 hearted always on cask is probably the most overlooked beer treasure in Madison. Worst taps are usually guinness/boddingtons. There always seems to be crazy unique things. Last winter there was the south shore imperial mint chocolate stout. Lately there has been bells hell hath no fury, la chouffe, oak aged pilgrims dole. Always strong imports and lambics with a rotating selection of obscure micros.
No food.
prices are tough to beat. everything on tap is 4 beers and always served appropriately. happy hour is 4-7 and everything is a dollar off
a must stop
1,663 characters
4.2
/5
rDev
-3.4%
vibe: 4.5 | quality: 4 | service: 4 | selection: 4.5
Look for the glowing logo above the door and that is the place. They have a very dimly lit bar with some people sitting around smoking some nice size heaters. The narrow long bar on the left leaves room for soft leather couches on the right and a DJ spinning some house music in the back by the cigar humidor.
They had lots of good beers on tap and they said as soon as La Chouffe was finish they had their new IPA ready to go. They were pretty knowledgeable about beers and for 4 bucks a chalice it was a great price.
We had to move out to the tables on the sidewalk because although you can smoke pipes and cigars you can't smoke cigarettes inside the bar. Gotta love the law. It was a great night and the bar next door had hookahs that people were bringing out to smoke on the sidewalk tables.
Great place for beer and they have a great selection of cigars aswell.
879 characters
4.22
/5
rDev
-3%
vibe: 4.5 | quality: 4.5 | service: 4 | selection: 4
After feeling the buzz of this place ringing in my head for a couple of weeks I had to see for myself what it was all about. Dimly lit with wafting trails of cigar smoke rising to the bar lamps and the corresponding, and pleasing scent of fine cigars and cedar warms the your nose as you walk in. A fine line-up of taps, I can't name them all but there were 4 Bell's options (Two hearted on the beer engine), St. Bernardus 6, St. Louis Framboise, Lake Louie Porter, Erdinger Weisse and Victory Golden Monkey from what we sampled. I was dissapointed to see that my favorite Aecht Schlenkerla wasn't on tap, but I'm hoping to see it back at some point. I wish they could do away with the all too familiar options like Guinness and Boddingtons, even Spaten and Franziskaner and pick up some more unique beers...but you can't have it all.
Glassware to match the beer. Very limited seating, it wasn't bustling but every seat was taken after 4 of us sat down, including the bar and the outdoor patio.
The best part about the whole place it the price. $4 for anything on the menu, minus Guinness and Boddingtons $5 20oz pints...no loss. I hope this place sticks to its guns and can do well enough to continue to offer such a great assortment of beers on tap.
1,257 characters
4.44
/5
rDev
+2.1%
vibe: 4 | quality: 4.5 | service: 4.5 | selection: 4.5
Maduro, where have you been all my life? Aside from a random trip a few weeks ago on a tip that they had South Shore Bourbon Coffee Mint Stout on -tap I had never considered this place as a beer bar. Boy was I wrong.
The interior reeks of class. Dark woods, clean lines, earthy tones. Walls loaded with bottles of fancy scotch and a hutch-sized humidor full of fancy cigars (both at reasonable prices I hear from people who are into that crap). A good-sized bar seating maybe 15-20 is backed by three or four 'pods' of leather chairs and couches lending a more social atmosphere perfect for snobs of any sort to tout the fine qualities of their fine quaffables. A top-notch filtration system syphons out all that yucky smoke so don't let that be a deterrent.
And then there's the beer.
19 taps. All Quality. From memory...St Bernie's 6, Piraat, St. Louis Premium Framboise, Madhatter, Golden Monkey, Bell's dopplebock among others (including Two-Hearted on cask) a few Germans, a few British. Best of all, they rotate them constantly, bringing in new top-notch stuff as soon as a keg is finished. Bottle selection is limited interesting at least (currently offering the Bell's Wheat series). Here's the real kicker though - Monday through Thursday from 4-7pm are Happy Hour Prices - that's $3 a pour for anything on tap. $3 Piraat, $3 St. Bernie's. Just Ridiculous. Even after Happy Hour it's only $4. Rumor has it they're trying to bring in as much of the Unibroue line as possible this summer. And the staff is friendly and knowledgeable about the great beer they serve. God this place is amazing.
If you're looking for a relaxed, classy, top-quality place to hit up after work or before a run the the Dane (literally around the corner) then Maduro is a must. Get the word out and support this amazing addition to the Madison beer scene.
1,852 characters
4.44
/5
rDev
+2.1%
vibe: 4 | quality: 4.5 | service: 4.5 | selection: 4.5
What a cool place! I had no idea that this place existed until I read a beerfly review. I immediately decided to check it out, and it was well worth it. I visited Maduro on the day they allowed smoking cigars, following Madison's ban on smoking last year. Apparently they are allowed an exception for some reason. Anyway, I was skeptical of drinking beer in a smoky bar, but it wasn't bad. If you can stand cigar smoke, it's definitely worth coming here for the beer.
I had an Aecht Schlenkerla Fastenbier, a Bell's Two Hearted on cask, and a La Chouffe. The bill? 9 freakin' dollars. You can't beat those prices. In total there were 19 beers on tap and a couple more in bottles. The worst of the bunch was Guiness and Boddingtons. The selection was about evenly divided between American micros and tasty imports. In addition to beer they serve wine, scotch, gin, vodka, and cocktails. No food was available, as far as I could see.
Service was good, as the bartender was friendly but not overbearing. Many of the customers were friendly beer lovers interested in talking about beer. As I mentioned, prices are excellent. All beers are $4, with a dollar off during happy hour. Some of the more special beers are served in 10 ounce glasses. Maduro is conveniently located about a block and a half from the Great Dane. I'll definitely be back.
1,348 characters
4.64
/5
rDev
+6.7%
vibe: 4.5 | quality: 4.5 | service: 5 | selection: 4.5
Some time ago, when I drank more scotch than beer, I was almost a regular customer at Maduro. At that time they had but six taps and no bottles. Boy have times changed.
Maduro is strong in every area that we rate on BeerFly. The staff is good looking, smart, attentive, and extremely knowledgeable about their trade. My bartender last night was well versed on some relatively obscure Belgians and fully capable of discussing any great American craft brew you could throw at her. Furthermore, the owner is frequently found in the bar and takes an obvious pride in his establishment. This is always nice to see.
The atmosphere is excellent. Maduro is fairly small. The mosaic bar seats about twelve to sixteen but there are more than enough tables and leather chairs available on most nights to seat a large group. A fireplace and small stage sit in one corner. The lights are kept dim and there are enough soft materials around the place absorbing sound to allow for quite and intimate conversations even when the place is somewhat busy. The walls are decorated mostly with tasteful antique beer art and one wall is line with a small armoire style humidor. Maduro recently received an exemption form the city's smoking ban. Beginning in April of 2006, it will be the only bar in Madison where cigar and pipe smoking will be legal. Cigarettes are still verboten and Maduro has a state of the art air filtration system so beer enthusiasts need not worry too much smoke ruining their beloved hops aromas. Speaking of smoking, did I mention that Maduro has Aecht on tap!
Bottle selection is minimal. Currently they're serving the entirety of the Bell's wheat experiment. In the future they will offer only one or two bottled beers at a time, focusing on extremely rare or interesting brews. I'm looking forward to what they come up with.
Taps are a different story. Maduro offers 19 and every single one of them is a winner. Last night taps consisted of: Anchor Christmas, Franz Dunkel, Reissdorf Kolsch, La Chouffe, St. Louis Special Framboise, Aecht Fasten, Lake Louie Milk, Madhatter, Pilgrim's, Bell's Rye, Porter, and Winter Wheat, Boddingtons's, Guinness, La Rulles, Strongbow, Hebrew, and Anderson Valley's Winter Solstice. They change them frequently. They also have one cask ale from time to time. Recently it was Bell's Two Hearted. Are you getting the picture as to why I'm so syked about this place?
Great beer aside, Maduro is a scotch bar so if you're like me, you can get your peat fix too. They also serve some great wines and can make a mean cocktail to boot.
Oh, and one more thing…Happy Hour is unbelievable. From 4-7, Monday through Thursday, all taps are just $3. That's three bucks for La Chouffe, three bucks for la Rulles, three bucks for Aecht, etc…four days a week. In other words, if you ever want to meet me I'll be at 117 E. Main, Mon-Thu from 5 to 7 from now on.
Update, 5-2-06: Selection raised from 4 to 4.5 because this place rotates awesome beers like none other. Since my origional review a month or so ago Maduro has tapped Golden Monkey, Erdinger Weizen, Piraat, South Shore Bourbon Barrel Coffee Mint Stout, and about five other kick ass beers all for only $3 a glass!!!
Update 6-2-06: In the last 7 days I've consumed a couple gallons of St. Bernie 6, 8, and Tripel on tap thanks to Maduro. Des Roc's Grand Cru and Tripel Imperiale are coming next!
3,421 characters
Maduro in Madison, WI
4.35
out of
5
based on
42
ratings.