Twin Peaks Brewing & Malting Co.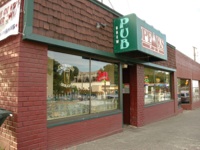 PLACE INFO
Type:
Brewery, Bar
2506 W 19th St
Port Angeles
,
Washington
, 98362
United States
(360) 460-0554 |
map
Notes:
No longer a brewpub serving food, moved locations and is now a production brewery with a tasting room.
Added by Tupperwolf on 03-26-2006
Ratings: 11 | Reviews: 10
Reviews by loren01:

5
/5
rDev
+24.1%
vibe: 5 | quality: 5 | service: 5 | selection: 5 | food: 5
Stopped in on a Monday afternoon for some beers and food. Ended up staying and talking with the owners and others in the bar for quite some time. Ed and Wanda were very friendly...they even shared some fresh halibut and salmon with us cause we were saying that being from MT you don't often get fresh fish. On the food menu I had the nachos with Ed's killer chili....seriously this is some awesome chili...gotta love chili with big chunks of steak in there. As far as beer goes they know their stuff. I didn't try any of the beers that they made, I wish now that I had tried them. However the other beers that they had on tap were awesome...Brutal Bitter, Sierra Nevada Celebration, a Rogue Locker stock, Hazlenut brown nectar and a couple Full Sail seasonals...very very well selected draft list. Ed told me that they sell more Rogue than all but one bar in Washington. Looked like a very impressive bottle list too....lots of stuff from Rogue, Dogfish, Deschutes, Ninkasi. I hopefully will be moving to Port Angeles in the near future and Peaks is gonna be my hang out, its most definatly one of the best beer bars I've ever hung out at.
1,139 characters
More User Reviews:

3.8
/5
rDev
-5.7%
vibe: 3.5 | quality: 4 | service: 4 | selection: 3.5
I remember having a beer here in May of 2013 and thinking it was a pretty good beer, but now I have returned only to find this place closed down. This really sucks because the new place 'Barhop' or something like that, really isn't worth your time.
248 characters
3.5
/5
rDev
-13.2%
First: note that most of the ratings of this place are out of date. They used to be a brewpub, but in 2013, they moved to a new location and now have a taproom only. So ignore all the discussion of the food below.
The new taproom is on the outskirts of Port Angeles, in a somewhat hard to find industrial park at the edge of the airport. You may need to call them for directions.
The place is what I'd call typical of small brewery taprooms. There are two smallish rooms, a couple of TVs, and tables. Probably could hold 25 or 30 people comfortably, more would be a crowd. Funky decoration.
They offer tasting flights of 4 or more of their beers. Seven beers were on offer yesterday. We had four .. "Ride the Hoh", a very good red ale; "Mt Pleasant Porter", a full bodied porter that's sweeter than most porters; "Spruce Juice Imperial IPA" - an unusual and very tasty DIPA that really does have a spruce character to it; and "Ed's Big Ass Red", which they call an Imperial Red. On BA, it's classified as an American Barleywine, which it most definitely is not; other beer sites call it an American Strong Ale. Whatever you call it, it's a punched up version of their red ale, and it's pretty good.
I thought all their beers were made with care and some originality in approach. If you're a style purist, this is probably not your place. If you're looking for the next Black Raven, this isn't it. But it's a better than average microbrewery making pretty good beer, and it's well worth a stop if you're on the Peninsula. Bring your own food.
1,569 characters
1.9
/5
rDev
-52.9%
vibe: 2.5 | quality: 1 | service: 3 | selection: 2 | food: 1
If you take pride in your beer, why don't you take pride in your food?
I stopped in at Peaks during a trip to the Olympic Penninsula and was pretty disappointed. Four of the beers on the menu and chalkboard were not available. Erase the unavailable beers on the chalkboard. Problem solved.
The IPA was actually pretty good. It had a nice bitterness, but was a little weak on the aroma side. Still, it was a good beer. I would like to have tried a couple other beers, but they weren't available.
The atmosphere is... interesting. There is a lot of clutter, a ton of crazy bottle openers, some old glass bottles (which are pretty cool), some funny signs, and some tasteful nudes. No really, there are naked ladies on the wall behind the bar... and penises in some of the glassware above the bar. I rate this place as a 2.5 for atmosphere because odds are you'll like at least one set of exposed genetalia.
Now we come to the food. It's all microwaved. The "kitchen" is right by the front door. I noticed that after my microwaved burger was still cold in the middle. The bartender was kind enough to microwave another patty for me. Oh wait! My frozen burger came with a bag of Cheetos.
I don't expect fine dining when I go to a brewpub. I also don't expect a partially frozen microwaved burger and less than half the beer menu available.
If you're in the area and looking for a good beer... drive faster to someplace else.
1,426 characters
5
/5
rDev
+24.1%
vibe: 5 | quality: 5 | service: 5 | selection: 5 | food: 5
I have to admit that I am biased, since Ed is my good friend. But as a serious beer drinker and appreciater (is that a word) of good beer served in a great atmosphere, this place is the best! What a perfect mix of good people, great beer, and a gorgeous setting nestled at the base of the Olympic Mountains right on the Strait of Juan de Fuca. Can't wait until I can retire from my job in the big city and move to PA! If you are a beer drinker (or even a wanna-be) this is the place to stop on your way to and from the OlyPen.
Doc
531 characters
4.3
/5
rDev
+6.7%
vibe: 4.5 | quality: 4 | service: 4.5 | selection: 4.5 | food: 4
Took a day trip from Victoria specifically to check out Peaks. If it's your birthday, you get free return travel on the MV Coho. But I digress. Got there just after opening time on a Sunday, couple of people inside, dark and quiet. But soon somebody fed the jukebox, the Legendary Ed arrived, started talking beer with us and all was well with the world. I love a place where women (clearly the worse for wear from partying at a Kiss concert) sitting at the bar comment knowledgeably about 9% IPA's :)
We did a taster tray of the house beers - the IPA, Ed's Big Ass (barley wine) and JDF Gold were highlights. Good selection of other NW taps and import bottles. One visitor didn't care for his bomber of "Old Viscosity" after a few sips (too strong for him) and promptly brought his 90% full bottle (with fresh glasses) over to our table. Spread the joy, no use throwing out perfectly good beer. That's Washington beer culture for you.
Completely unpretentious, great place to while away an afternoon. You're having the chili.
1,028 characters
3.2
/5
rDev
-20.6%
vibe: 2 | quality: 4 | service: 4 | selection: 2
While this may be the best place to grab a beer, it is not a very good place to grab a beer. The dark, cluttered interior is not very inviting or comfortable. Speaking of not comfortable, I went during a heat wave, and the air conditioning was not working, it was sauna-ish in there. The bartender was very friendly, and made light of the situation, and served a high quality beer, my only qualm beerwise is that they were out of most what was advertised as available. Prices were reasonable, I am sure this place usually does better, but this wasn't a very enjoyable visit.
574 characters

4.64
/5
rDev
+15.1%
vibe: 4.5 | quality: 4.5 | service: 5 | selection: 4.5
After a day of driving around Olympic National Park and seeing the fall colors in October, my wife and I come out in Port Angeles looking for gas, food, and maybe a beer. At a gas station with a surprising number of cats, I asked if there was a brewpub in town, and was quickly directed two blocks away to Peaks Brewpub.
Walking in, Peaks looks like your average small down bar, pull tabs for sale to a line of locals along the bar. But, that quickly changes when you look up at the extensive beer list. I started with the Spruce Juice since it looked like the most interesting name and our stop was supposed to be short since we still needed to make our hotel in Seattle yet that night. You can see my review, but the Spruce Juice was more than a pleasant surprise--it was really fantastic. Went on to the October Red, which was also good. By this time, Wanda, our waitress, had sent her husband Ed, the brewer, over to talk to us. Over two hours later we finally left for Seattle with directions of how to do the ferry to shorten our drive.
In between, we sampled a range of beers, including Rogue Brutal Bitter, Flyer's Porter, Port Townsend Scotch Ale on cask, and a bottle Ed opened for me called Snipes Mountain Roza because I said I liked barleywine. In between, we learned about the NW, Port Angeles, brewing in a small town, their son playing football, and even how Spruce Juice, a spruce spike Belgian ale, had one best beer at a festival even though its name was spelled wrong on the ballot: they won because of write-in votes.
Ed is the epitomy of the homebrewer, brewing what he wants because he likes it. If you want the tour, push your nose up to the glass in the back room, newly remodeled (pictures on the website) and ready to increase production. And, Ed and Wanda's bar is a lovingly decorated hodge podge of various beer items that gives it a real homey feel. Driving away, I told my wife I was tempted to move to Port Angeles just because I wanted to be a local and stop in with my own "Hey Ed." Hope I can get back again some day.
2,065 characters
4.22
/5
rDev
+4.7%
vibe: 4 | quality: 4.5 | service: 4.5 | selection: 4 | food: 3.5
Imagine my delight when shortly after moving to Port Angeles I discovered that Peaks was right down the hill from me. Peaks is also just a couple of blocks up Lincoln St from the docks, an easy walk for the tourists.
Peaks is a small brewpub, ample bar seating, just a couple of tables. Ed the owner ( along with Wanda ) told me the tabletops were actually century old beer barrel lids. Anyway, Ed and Wanda are very nice people, and a pleasure to chat with on my visits.
The small food selection is highlighted by Ed's Killer Chili, a very tasty substance indeed. And at $5.00 for a large bowl it is one of the least expensive meals in Port Angeles.
Now the beer. About 10 taps, mostly Washington and Oregon beers. Peaks does brew on a small scale, and the house beers that I have had have all been quite good. Try the " Spruce Juice". Very nice bottle selection, with some rarities tucked away. Make sure to ask about these.
All in all Peaks is a very nice brewpub, the only dedicated beer bar in Port Angeles. Give it a try.
1,041 characters
3.81
/5
rDev
-5.5%
vibe: 4 | quality: 3 | service: 4 | selection: 4.5
Even before I walked through the door, as I stood in the street confirming the address and admiring the display of antique bottles in the window, a man approached me and said it was the best place in town to have a beer. "They have good IPAs and they clean their tap lines every two weeks," he informed me. I was immediately impressed with such spontaneous, unsolicited praise from the proverbial man-in-the-street. But he was right; Peaks is a good place for a beer.
Peaks (no apostrophe) is still in the formative stages of establishing itself as a working brewpub. Beers were first brewed from a 2 bbl system in 2005. But a new, expanded system is presently being fitted to accommodate an increased capacity. Meanwhile, no house beers are in the tanks and only one beer from the earlier system was available on my visit. It was not a memorable one as it turns out, but I would still return for the enlightened beer culture. (I walk in and they're talking about Michael Jackson at the bar. Did they know I was coming?)
Peaks is a comfortable neighborhood place offering about 100 bottled beers for on-site or off-sale purchase, plus a dozen or more on tap from the likes of Hales, Elysian and Port Townsend Brewing. They've got pool, darts, free pretzels (I hope they were free – if not, my apologies to the guy sitting next to me) and friendly people who appreciate good beer. Food is limited to a few Tex–Mex items. Live music was playing upon my arrival on a Friday afternoon. Call ahead to confirm when house beers will again be available.
1,558 characters
Twin Peaks Brewing & Malting Co. in Port Angeles, WA
3.6
out of
5
based on
55
ratings.