Elevation 83
| Oceanside Ale Works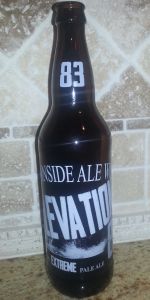 BEER INFO
Brewed by:
Oceanside Ale Works
California
,
United States
oceansidealeworks.net
Style:
American Pale Ale (APA)
Alcohol by volume (ABV):
8.30%
Availability:
Rotating
Notes / Commercial Description:
No notes at this time.
Added by t0rin0 on 06-08-2011
Reviews: 9 | Ratings: 28
2.22
/5
rDev
-33.7%
look: 4 | smell: 2 | taste: 2 | feel: 2.5 | overall: 2.25
Serving Type: Poured from a 22oz bottle into a mug.
Appearance: Dark amber in color with a one finger head of tight, white foam that slowly dissipates while leaving behind some solid lacing.
Smell: Minor hop and malt aroma but nothing overwhelming. Also bears a certain resemblance to the aroma of certain macrobrews (coors light), which is disappointing.
Taste: More bitter than I expected from a APA, which is not a bad thing necessarily, but I cannot detect much hop flavor. The malt flavor is lacking. This honestly tastes like a very bitter Coors to me.
Mouthfeel: The body is too light. Semi-dry. Highly carbonated.
Overall: This was my first bottled beer by OAW and, unfortunately, it was disappointing. I have heard good things about OAW and will attempt to try some of their other offerings in the near future. Support Oside!
841 characters

3.03
/5
rDev
-9.6%
look: 3.5 | smell: 3 | taste: 3 | feel: 3 | overall: 3
Served on-draught into a Leffe goblet at The Daily Pint in Santa Monica, CA. Reviewed from notes. It was marked as a DIPA on the menu, but some digging reveals the brewery considers it an "extreme pale ale."
A: Pours a 1.5 finger wide head of fluffy consistency. Beige-grey (ecru for the pretentious) colour. Nice creaminess and thickness. Light even lacing. Retention is good - about 6-7 minutes.
Body colour is a glowing copper. Vibrance could be better. No yeast particles are visible. No bubble show. Nontransparent but translucent.
Sm: Tropical fruit. Caramalt. Pale malts. Floral hops. Hints of dark fruit, actually - maybe dates? A soft approachable aroma. Pleasant. Moderate in strength. No yeast character or alcohol is detectable.
T: Tropical fruits. Caramalt, pale malts. Floral hop character. No yeast character comes through. I do get hints of alcohol. A bit of date as well. Feels strangely like it's hovering between a DIPA and a weak quadrupel. Reticent and a bit closed off. Not real complex or subtle. I like it generally. Balance is decent. Strange build for the style. Slightly on the bitter end of the bitter/sweet spectrum.
Mf: Smooth and wet. Nicely thick. A biteen over carbonated. Nice body. Suits the flavour profile decently. Crisp. Doesn't come off custom-tailored to the flavour profile.
Dr: Drinkable and enjoyable, but I wouldn't get it again. I do like it, but it's just not remarkable. A pedestrian brew from Oceanside. ABV does come through, unfortunately.
Low C+
1,511 characters
3.3
/5
rDev
-1.5%
look: 3.5 | smell: 3.5 | taste: 3 | feel: 3.5 | overall: 3.5
Sampled 5/28/2011 at the new brewery. I had this 4 years ago and have been waiting for them to remake it. Now that I retried it it's not as good as I remember, sadly.
Pours hazy light brown, white head, decent lacing and retention.
Aroma is malty, pine, and a significant amount of pineapple, followed by some green apple.
Flavor is definitely appley but also flowery and fruity with a strong caramel background. Also some booze. Could be quite nice without the apple flavor. High bitterness.
Body is medium/heavy, drinkable but could be toned down a bit.
Ƭίcƙ.
580 characters

3.32
/5
rDev
-0.9%
look: 3 | smell: 3.5 | taste: 3.25 | feel: 3 | overall: 3.5
Pours a thin head on a hazy dark straw body.
The aroma is ripe dark fruits.
The taste starts with fruit sweetness, then boozy sweet and finishes with a mild bitter note.
The texture is thicker.
A bit sweet for me but fine.
222 characters
3.36
/5
rDev
+0.3%
look: 4 | smell: 3.5 | taste: 3.25 | feel: 3.25 | overall: 3.25
Type: 22-oz. bottle
Glass: Firestone pint glass
From: Cherokee Market Beer & Wine in Normal Heights (San Diego), Calif.
Price: $6.99 (original price was $7.99, but owner gave me a deal)
Purchased: Aug. 23, 2013
Consumed: Aug. 23, 2013
Misc.: N/A
Poured a caramel honey clear color with 2-to-3 fingers of khaki-white frothy head. Very good amount of uneven foamy lacing along the sides. Good retention on the top all the way down.
Smelled a healthy mix of citrus hops and spicy malts. Got lemon, orange, grapefruit, lime, buttery malts, caramel, toffee, butterscotch, rye hops, iced tea mix, earthy grass hops, alcohol heavy and even some nuts. Not really what I was expecting.
First taste reminded me of iced tea with tons of alcohol. Also caramel, toffee, rye hops, buttery malts, earthy, grassy hops, lemon, faint grapefruit, altogether bitter.
Medium body. Creamy texture. Average-to-lively carbonation. Abrupt, bitter, warming finish.
Just didn't enjoy this beer. Nothing extraordinary about it except for the alcohol content. I won't have it again after this one.
1,081 characters

3.41
/5
rDev
+1.8%
look: 4 | smell: 3 | taste: 3.5 | feel: 3.5 | overall: 3.5
A dark amber "pale" ale. Nice white head in the pint glass, decent carbonation. Large hop taste greets the buds. Surprising Old Ale kind of taste, an oxidized flavor with a sweet vermouth nose. This is not too unpleasant, but definitely hard to pigeonhole. Long aftertaste of earthy, bitter hops. Touch of sweetness; seems like a lot of malt.
Rich flavors and unusual dark maltiness for the style. Dank is the word. Had a pint of this ($7) at La Jolla Brew House.
465 characters
3.44
/5
rDev
+2.7%
look: 4 | smell: 3.75 | taste: 3.75 | feel: 2 | overall: 3
22 ounce bottle. No freshness dating. 8.3%, 83 IBUs, brewed at an elevation of 83 (get it yet?).
Pours a deep amber, darkly hued. A frothy and rocky head sits on top, and it very slowly implodes on itself. Great head retention, and good lacing as well.
Loads of biscuit malts and cereal grains. There has to be some Cascade in here; it smells exactly like Liberty Ale to me. Citrus, pine, spice and a vague fruitiness.
Malt forward, with a raw graininess and biscuit flavors. Some mild fruit flavors and citrus zest. Resin and pine cone flavors build up to a big hop bitterness. I'm really liking this until the finish comes along and the alcohol murders me. There is no effort at all to hide the alcohol here. I've had 15% stouts that have burned less on the way down. It really ruins a pretty good thing. Share the bottle if you've got one.
845 characters

3.46
/5
rDev
+3.3%
look: 3.75 | smell: 3.25 | taste: 3.5 | feel: 3.5 | overall: 3.5
Poured from bomber into 19th century pub glass. Nice dark honey color. Not much head. Nose is mango and straw and a bit of alcohol. Mouth feel a bit of fizz , not as round as the color or nose. Decent flavor, a bit of burnt caramel, a bit of prune, bitter finish. Don't love this ale but nice enough.
301 characters
4.47
/5
rDev
+33.4%
look: 4 | smell: 4.5 | taste: 4.5 | feel: 4.5 | overall: 4.5
Really enjoyable. Not too over top on hops. Definitely present. My overall impression is high due to the balance and clean finish. For 8.3 percent extremely drinkable, but never before you get behind the wheel. Great with a garlic dish or just stand alone.
256 characters
Elevation 83 from Oceanside Ale Works
3.35
out of
5
based on
28
ratings.