Forschungsbrauerei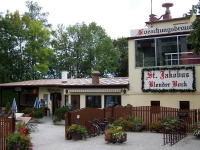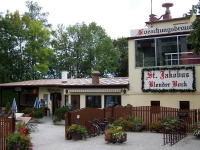 PLACE INFO
Type:
Brewery, Bar, Eatery, Beer-to-go
Unterhachinger Straße 76
München
, 81737
Germany
+49 89 6701169 |
map
forschungsbrauerei.de
Notes:
No notes at this time.
Added by BeerAdvocate
HISTOGRAM
View: Beers | Place Reviews
Ratings: 11 | Reviews: 9
Reviews by petemoss14:
4.03
/5
rDev
+2.5%
vibe: 4 | quality: 4.5 | service: 4 | selection: 3.5
Located on the southeast fringe of Munich (S-Bahn 6 to Perlach), in a suburban part of town with seemingly no other draw but a great little brewpub (of course, what else does one really need).
A -- Situated on the corner of a main street and the railroad track, high hedges do their best to maintain an intimite, beer garden atmosphere. Outside seating for a few hundred. Though I visited on a Thursday afternoon, when their were probably only about 20 or so patrons, I imagine the garden to get fairly packed on pleasant evenings. Inside, there were a couple small, cozy, wood-paneled rooms. The brewhouse is adjacent and the beerworks can be seen from the outside thanks to large windows.
Q -- Sampled the Blonder Bock on this day, and it was really delicious. Creamy and nectar-like. Available in .5L krugs only before 4pm. After that, strictly Liters.
S -- Servers were friendly enough, and the two of them were more than able to handle the needs of the 20 or so patrons.
S -- The menu has two brews of interest. In addition to the Blonder Bock, there's also the Pilsissimus, a helles.
F -- Didn't sample anything from the rather limited menu.
V -- A bit pricey (3.70 euro for a half liter) but considering you're getting a high-quality craft brew, not unreasonable.
Bottom line, definitely worth going out of your way for.
1,349 characters
More User Reviews:
4.41
/5
rDev
+12.2%
vibe: 4.5 | quality: 4.75 | service: 4 | selection: 4.25 | food: 4.75
4.06
/5
rDev
+3.3%
vibe: 4.25 | quality: 4.25 | service: 4.25 | selection: 4 | food: 3

3.45
/5
rDev
-12.2%
vibe: 3.5 | quality: 4 | service: 3 | selection: 3 | food: 4
A little out of the way (had to take two trains, then walk a little) but worth visiting. Ordered sausages with bread (tasty and only 5,80 Euros) then sampled a Munchner Dunkel (5.%) and a St. Jakobus Blonder Bock (7.9%). Service was kinda slow but it's a chill place which would have been better with a group. I was solo but still had a relaxing time. Above average beers for Munich at this spot. Also you can buy 1L bottles to take home. I wasn't blown away so I didn't buy a to-go but the Blonder Bock was tasty.
514 characters
4.13
/5
rDev
+5.1%
vibe: 4 | quality: 5 | service: 4 | selection: 3.5 | food: 3.5
edit 2017-08: Back open, new owners, but still awesome!
Apparently, this is still closed. Normally, it would open a week or so after Ash Wendesday, so it should have been open a couple of months by now. Word is that Herr Jakob is trying to sell it.
I'll sorely miss this place if it goes away. I've had some great times here, particularly opening night four years ago. Not an empty table in the place, of course, but quickly had an invitation to sit with a group. It turned out they were friends since childhood, and had gotten together for a reunion. What a memorable evening. And, of course, the Sankt Jakobus was always more than worth the ride on the S-Bahn and short hike (or slightly shorter, if the gates at the Bay-Wa were open).
739 characters

3.89
/5
rDev
-1%
vibe: 4 | quality: 4.5 | service: 4 | selection: 3
This is a little "brewpub" located on the fringes of Munich, but still less than 20 minutes away.
A tip for getting there quickly is to walk along the main street from the S-Bahn and look for a gate in front of an office building. Sometimes it's open and sometimes it's not, but apparently it's kosher to walk along the sidewalk next to the building. This sidewalk will take you directly to the brewery and will cut your walk in 1/2.
There's a normal sized open-air garten surrounding the building with tables/umbrellas and an optional tent since there really isn't much much natural shade. There's also a patio and an indoor hall area that I didn't really explore much.
We were there on an early Sunday afternoon in May and while not packed, it was still doing good business.
There are two beers on the menu, the St. Jacobus Blonder Bock (a copper colored bock) and the Pilsissmus (export). Myself and another BA both ordered the Jacobus and really enjoyed it while my wife went for the export. I only had a few few sips of it, but I recall it being good, and fairly hoppy for an export. She definitely loved it, though. I'm marking the selection down as there are only 2 options...but know that they're both excellent.
Most people were ordering food, although we had just eaten and skipped out. The food seemed to be the standard fare, and per the season they had a white asparagus (spargel) menu as well. Prices were normal for the food. Beer was marked up a little, but considering the "micro-brew" nature of the place, that should be expected.
This is a great stop just because it is so unique and the wonderful beers are something you're unlikely to ever have outside the establishment. Pair this with some other nearby suburban trips as we found that to be ideal.
Edit: This place closed in 2011 and re-opened in 2013. In addition to their previous two beers, they now have an organic dunkel and two rotating seasonal beers. On my 2013 visit those were a kellerbier for summer and a weissbier. The dunkel and kellbier were up to par with their others and they give me an additional reason to return. I also noticed that their Nurnberger brats were VERY popular and looked delicious although we had (again) eaten before arriving.
2,239 characters
3.03
/5
rDev
-22.9%
vibe: 3 | quality: 3.5 | service: 3 | selection: 2.5 | food: 3
Arrived about 9pm on Sunday for dinner and drinks.
They close at 10 on Sunday, so they didn't seem too excited about us showing up late.
I had intended to try both the Pilsissimus and St Jokobus Blonder Bock so with limited time I was looking for a 1/2 L. From the waitress the best I could tell was they were out of 1/2 mugs and wanted to know if it was ok to serve 1/2 L in a L mug.
So I was able to try the St Jokobus Blonder Bock and it was a nice beer with a good flavor.
Then I tried to order the Pilsissimus and I'm still not sure if they were out or what the situation was but I wound up with another 1/2 L of the St Jokobus Blonder Bock.
Food was average at best, had the pig knuckles
Not sure if they take credit cards but were unwilling or closed out by the time we were paying at 10pm, but wound up paying cash.
I'm assuming it was the late hour but they certainly didn't welcome us with open arms.
917 characters
3.9
/5
rDev
-0.8%
vibe: 4 | quality: 4.5 | service: 4 | selection: 3 | food: 4
Wonderful place, and a MUST visit when in Munich for a few days!
Get the S6 suburban train from any of the central Munich stations in direction of Kreuzstrasse, get of at Perlach, which takes about 25 minutes from Hauptbahnhof. At Perlach, walk through the station building, then immediately turn left and walk along a narrow footpath through the trees, parallel to the railway track. At the next road, turn left again over the railtrack, then almost immediately turn right down a footpath leading into a small modern apartment complex. Walk right through the conplex to the next road, turn right again, back over the railway track, and you will see the brewpub opposite, adjacent to the rail track. Will take you 10 minutes.
Small attractive beer garden with about 25 tables and also a cosy 'stube' with several rooms and bar serving area. Closed MONDAYS and in winter months - check web pages for details.
We went a Tuesday mid-day, and the Beer Garden soon filled up with locals on the sunny day, many arriving on bicycles - making a very pleasant atmosphere.
Two beers are available - Pilsissimus at 5.2% and St Jokobus Blonder Bock at 7.5% and both were first class, though more costly than average, but well worth the extra (€4.20 for the Pils in May 2009)
We had a marvellous four hours here enjoying the beers and conversation with locals, and good service from the staff. We ate here, and the food was good, though not a huge choice. Being a warm sunny day it was easy to keep drinking the St Jakobus and not want to leave. Though we knew about it next morning!!
High recommended and easy to find, and worth the short train trip out of the centre. If you have the Partner 3 day ticket for the central area, that covers the journey to Perlach.
JohnW May 2009
B'ham UK
1,785 characters

4.39
/5
rDev
+11.7%
vibe: 4.5 | quality: 5 | service: 4.5 | selection: 3.5
Went out of my way to try this place on a Germany visit, and was very happy I did. I highly recommend you do too.
I fell in love with the Blonder Bock. What a fantastic beer! If I could have access that here in the states, it'd be just about all I'd ever drink. Sure it's ABV is up there, but hey, that's part of the beauty of it. I rated Forschungs only a 3.5 for selection in my review, but that's the beauty of this place - only two bier choices! They nailed both of them, so why waste time with many others that may be inferior? My friend ordered the Pils, and I'm sure I tried it and it was also very good, but the Blonder Bock kept me from remembering it later.
My only regret was that we had a train to catch that night in Munich, so I couldn't stay very long. After downing a litre of the Blonder Bock, I was able to buy a second stein "to go" filled with another one. Let me tell you, that's all I needed that night, and came home with the best souvenir of my trip.
981 characters
4.08
/5
rDev
+3.8%
vibe: 4.5 | quality: 4.5 | service: 4.5 | selection: 3 | food: 4
Forschungs is easily reached after a 10-minute walk from the Perlach S-Bahn station. Approaching the pub, it does not look at all like a cozy little German place, but more like an airport control tower or something. Once inside, though, welcome to Deutschland! (There's a good-sized biergarten along the front and left, but I ventured in on this chilly day. Also, you can see the brewing equipment visible through the windows of the place in a glassed-in area on the right of the building.) Inside the Stube you'll first find a room with tables in the center and back, a service bar to the right, and a Stammtisch to the far right. Further to the left lies another room with 6 more tables, each seating 6-8 patrons. And if busy times require it, yet another room beyond this room can be opened to seat more imbibers. The whole place has plenty of dark wood paneling 2/3 the way up the walls, with big-ass, heavy beams supporting the ceiling. The tables are all solid, light-colored wood, sanded smooth by years of use. Hop vines decorate over the bar area and doorways, and there are a bunch of old, ceramic mugs and bottles perched on shelves along the walls. A few old, carved signs with inscriptions and sayings add to the old-world charm of Forschungs. I had a tasty platter of Würst and Kraut to go along with my Bier. They only offer 2 Biers, but both are quite well made, and served in heavy ceramic mugs by friendly, helpful staff. A half-litre of Pilsissimus started things off, followed by a Maß of St Jakobus. The day was blustery and the St Jakobus was tasty, so I just had to have another Maß. I felt great after that! Forschungs is a great little place, a little secret even amongst the local population. I will definitely return...
Zum Wohl!!
overall: 4.08
atmosphere: 4.5 | quality: 4.5 | service: 4.5 | selection: 3 | food: 4 | $
98
1,854 characters

3.86
/5
rDev
-1.8%
vibe: 4 | quality: 4 | service: 4 | selection: 3.5
A not too long S-Bahn ride and a 10 minute walk through windy suburban streets brings you to this great place. Very cozy. Delicious beer. We didn't eat there but I was told the food is very good. It's off the tourist track but that's part of it's appeal, it's real everyday modern Germany. And the place is modern as Germany goes, it seems much less than 400 years old.
The atmosphere is mostly small groups of folks at big tables sitting around talking while drinking ceramic mugs of wonderful beer. No one seems to mind that you are outsider. No TVs, just people and beer.
If you have a train pass, why NOT go? The pils-a-whatever is one of Munchen's best beers.
671 characters
Forschungsbrauerei in München, Germany
Brewery rating:
3.87
out of
5
with
9
ratings