Pixel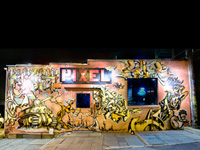 PLACE INFO
Type:
Bar
107.5 Dryden Rd.
Ithaca
,
New York
, 14850
United States
(607) 277-7529
// CLOSED //
Notes:
No notes at this time.
Added by bultrey on 03-30-2006
Ratings: 10 | Reviews: 10
Reviews by prandolph:

4.44
/5
rDev
+1.4%
vibe: 4 | quality: 4.5 | service: 4.5 | selection: 4.5
This is a great beer bar, disguised as a club. Ignore the Hong Kong action movies on the big screen, and grab a spot at the bar. The ambiance is a little more New York City than Ithaca, but cool nonetheless. A new 24-tap system is chock full of stuff you won't find elsewhere in Ithaca, let alone your favorite place. Jim, the owner & frequent bartender, is knowledgeable and friendly, and is happy to recommend. I've always stuck with the drafts, but he's got a bunch on bottle as well.
Aside from the college-kamikaze-shot-crowd, this place is not to be missed in Ithaca!
576 characters
More User Reviews:

4.38
/5
rDev 0%
vibe: 3.5 | quality: 4.5 | service: 4.5 | selection: 4.5
Ok, before moving here, and when I first got here, most people told me to go to Chapter House when they found out I like beer. After being here a little while, it was not hard to realize that for people who like high quality beer, Pixel is WAY better than Chapter House. The selection is not as extensive as some bars, but the owner (who is also the main bartender) selects the beers based on his own taste. He gets a lot of really good brews that Chapter House doesn't even touch because there is not a big enough market for them (eg., Ithaca Superfriends AND Ithaca Brute 2010 on tap).
My only complaint about the place is that once it gets to be about 10:30-11:00ish, the music starts and it gets kind of clubby. I just go before that though and enjoy a quiet dive bar with good beers and good conversation.
811 characters

4.5
/5
rDev
+2.7%
vibe: 4.5 | quality: 4.5 | service: 4.5 | selection: 4.5
So this is the third time that I have reviewed Pixel: the first two were victims of site troubles, let's hope this one sticks.
Pixel is a concrete building in an alley that is covered with graffiti: it doesn't really have windows either. When you walk in it is basically one room, with a dance floor in the middle and the bar on the right side. The bar only has about two stools. Behind the bar is a couple of large screen TVs. On the back wall Pixel projects old movies all the time, which I think is neat. For big sporting events they sometimes halt the movies and project the game. On the left side are a few tables with chairs, and in the right corner there are some comfy couches and chairs. There are folding chairs and stackable chairs in that corner too, so if you ever want to sit there shouldn't be much of a problem. All around Pixel there are old school arcade games, and in the corner with the couch there is a little TV with an original Nintendo hooked up to it. I haven't actually played any of the games, but it's always nice to have options.
I've seen various kinds of parties and events happening here, so I assume it is possible to either rent Pixel out or simply schedule a party there, but you would have to provide the food.
On weekends there are DJs that play Pixel also.
Pixel has about 25 taps that rotate pretty regularly, and you can find a list of them at Pixel's website. Some of the highlights on my last visit were Ithaca Brute and white gold, Brooklyn black chocolate stout and the Manhattan project and sly fox raspberry reserve. There are always a couple beers on tap here that are new to me, which is something I appreciate. The beers range from 4-7 dollars and are generally served in appropriate glassware. Most are in pints, but the bigger and higher ABV beers are in smaller tulips.
As far as I can tell there are only about 10 bottles to choose from; a few standard euro lagers, trappist beer, Ithaca Excelsior! series and Brooklyn Black OPS. The OPS is 20 bucks, which is what it costs at most stores.
The service at Pixel has been excellent every time I've been there. Even when it was packed one night and there was only bartender, he was definitely hustling to get drinks for everyone.
The last time I visited my buddy and I sat at the bar and the bartender was more than happy to chat with us a bit, and we never waited at all for a new beer. Normally before 8pm it is happy hour, which is by one drink get one half off. On my last visit I was there before 8 but for some reason they didn't have happy hour; I said I was disappointed, and the bartender gave me a token for a free drink on my next visit before I left (I had done some damage to my bank account there that night also).
Pixel definitely has a neat vibe to it; kind of an underground club feel that still manages to be friendly. Also, I think they have the best selection in town; they get all of the limited releases. Overall I really like Pixel, it is definitely the best bar in College Town, and maybe in Ithaca as a whole. Check it out.
Oh yeah, they don't serve food at pixel so either come full or be hungry.
3,130 characters
4.36
/5
rDev
-0.5%
vibe: 4.5 | quality: 4.5 | service: 4.5 | selection: 4
This is a super cool/hip place in Collegetown. Its a little off the main street but easy to find, just look for the graffiti covered building.
Big open bar area with a movie playing on one wall and a projected drink/tap list behind the bar (first time I've ever seen that).
Great tap list, lots of varied stuff. They had the Ithaca Ten on tap as well as Arcadia Loco Cocoa and quite a few other harder to find beers. Definitely a place that knows good beer.
I went with some friends who knew the barstaff/owner so it was great to chat with the people on the other side of the bar about the beer business and what its like to run a beer bar. Very friendly down to earth people that enjoy beer as much as anyone else.
There is no food here but its such a great place to just relax and hang out. They have a Barcade sort of thing going on as well with some old arcade games in one corner. Another bar I wish I lived closer to!
929 characters
4.5
/5
rDev
+2.7%
vibe: 4.5 | quality: 4.5 | service: 4.5 | selection: 4.5
All supped up and looking for a beer before hitting the long windy poorly lit road back-a-Bing. Yeah, I know, the obvious choice is that place up on the hill, and I'll get to it or not, but first something something. In an alley just past the Subway, hidden, kind of, all graffitied up outside, and what goes on down that back way there I don't want to know. Not so scary really but makes your heart race just a bit on approach.
"Now, uh, Jane, a little while ago you said I was pixilated. Do you still think so?"
"Why, you've always been pixilated, Longfellow..."
Big room, comfortable and strangely loungey. Past the couch and chairs just inside the front doors, nearly a dozen 2 seat tables running the wall in sets of 2 and 3, and a giant wall of projection screen madness to the rear. Star Trek robot chicken just now with a DJ spinnin' nearby (vit vit vit vit vit vit). A little nook up front on the other side holds 5 video games. Beyond there, a straight black wood slat topped bar with a light trim lip seats a dozen. Three tiered shelving of booze on the barback, with mixins & fixins on the counter, glassware below, and a tower of 12 taps at each end of the bar. A big lit projection board above displays the tap selections on one side, and spins bottles, martini and cocktail selections on the other. Bottled selections in a glass front cooler on one end of the bar, and another one down on the other end behind the bar. Curvy cone lighting above the bar with color changing lightbulbs, tracks and spots.
2 dozen taps, some New York State goods (Ithaca White Gold, Apricot Wheat & Cascazilla, Ommegang Witte & Hennepin, Brooklyn Lager, Genesee Cream Ale), regionals (Sly Fox Royal Weisse, Wachusett Blueberry, Allagash White, Smutty Pumpkin, Harpoon UFO, DogFishHead 60 Minute IPA), someone else's regionals (Lagunitas Sirius Ale, Bear Republic Racer 5, Stone IPA), and imports (De Koninck, Houblon Chouffe, Delirium Tremens, Lindemans Framboise, Jever Pilsener, Franziskaner Weisse, Guinness), and a cider (Strongbow).
Also, 2 and a half dozen or so bottles, roughly 1/3 of them micros (Ommegang Rare Vos & 3 Philosophers, DogFishHead Festina Peche, Anchor Steam, Sierra Nevada Pale Ale, Magic Hat #9, Victory Hop Devil, Abita Turbo Dog, Rogue Mocha Porter & Dead Guy Ale, Flying Dog K-9 Cruiser Winter Ale), and the rest a mix of imports, some better than others (Orval, Westmalle Dubbel, all 3 Chimays, La Chouffe, Delirium Nocturnum, Duvel, La Fin Du Monde, Hitachino Nest Ginger, Lindemans Kriek & Pomme, Newcastle, Stella, Negra Modelo, Red Stripe, Sapporo, Red Stripe, Heineken, Amstel Light, Corona), although no BMC.
Was eyeing up a second beer when I saw "cask Ithaca Double IPA" go by on the big board. What the hell? That wasn't there before and I didn't see a, oh, down there on the end of the bar. Yeah, that's me. Nicely timed, they've just started doing every Thursday casks.
Beers were clean and tasty, and the folks here were friendly. Good scene, good vibe. When atop the hill in Ithaca...
3,030 characters
4.34
/5
rDev
-0.9%
vibe: 4.5 | quality: 4 | service: 4.5 | selection: 4.5
A great place that stands up to the Chapter House for best beer in college town.
This relatively small bar has an electronic feel with half a dozen old school video games, a live DJ, and a projector playing movies on the wall. It's energetic, but not fake feeling.
The 24 taps of beer seem to be moving well, and the college crowd that I've mostly seen there is suprisingly accepting of craft beer enjoyment- there is a good selection of Belgiums, as well as beers from across the US. Every bartender I've talked to was friendly and willing to talk about the beer and there drink specials (flashing on a TV on the wall) which are worth a look, if only for a unique touch to your night.
Not the greatest place to review beers, or sit and talk quietly with friends, but a higher energy place to go and enjoy some great brew.
831 characters
4.18
/5
rDev
-4.6%
vibe: 3 | quality: 4.5 | service: 4 | selection: 4.5
No smoking in New York rocks ! Got there around 9:30pm on a Friday. Got 2 seats at the bar. Ordered St. Bern 12 off tap...then a DT followed by Maredsous Dubbel. Pranqster offered as well. Great Belgian selection that night. Tasted friends Avery IPA....sooo fresh.
11pm the mixed drink crowd hit hard ...that still is 70% of the nightly take. It's definately a college scene but the owner himself though wants to see the beer crowd grow and keg turnover per him is high.
There are growler specials during the week.
521 characters
4.3
/5
rDev
-1.8%
vibe: 4 | quality: 4.5 | service: 4.5 | selection: 4
My husband and I stopped in here on a day trip to Ithaca.
An impressive selection of 24 taps, with prices ranging from $4 to $8. Several Belgians, such as Maredsous Dubbel and St. Bernardus Abt 12, as well as a respectable selection of local and national craft beers, including Dogfish Head 90 Minute IPA.
We were in there on a Monday and it was buy one, get one half price, so we found the price very reasonable. The owner, Jim, talked with us for a long time about beer, Ithaca, beer distribution, and a variety of other topics.
The atmosphere is half bar, half coffee shop, with art exhibits on the walls. Very close to campus - and worth the walk up the hill from downtown.
688 characters
4.64
/5
rDev
+5.9%
vibe: 4.5 | quality: 4.5 | service: 4.5 | selection: 5
Since the last review Pixel has tripled their draft lines (now at 24) and have embraced the craft beer selection. While the clientèle boasts a large number of the mixed drink/martini variety there is an ever growing craft beer crowd that they have responded to rather enthusiastically.
On as last visit a good selection of their draft lines were pouring a range of Belgian ales. Even though I always tell myself I should know better I ended up trying more than just a few - it was a worthwhile tasty treat. They rotate the lines at a decent pace so its likely with each visit there's something new to try (unless of course you're in their nightly). They have a good bottle selection too ranging from more mass produced beers, all the way to brands such as Delirium or Chimay.
Both the owner (Jim) and the likely culprit behind the bar (the ever-famous Maxx Pixel) are very friendly and are always willing to chat with you about beer, bar culture, or whatever else might be on your mind. There's often random videos being shown on one of the wall, and late at night you can generally find DJ's spinning underground hip-hop, trance, ambient, and a whole host of things that aren't in the mainstream. It's a bit off the beaten path (a down an alley in College town), but it's well worth taking a trip to for good beer, good people, and something a little out of the ordinary.
1,379 characters
4.16
/5
rDev
-5%
vibe: 4 | quality: 4.5 | service: 4.5 | selection: 3.5
Pixel is tucked into an alley off Dryden Ave. in the Collegetown neighborhood of Ithaca, just a block or two from the famous Chapter House. For those of you who like Barcade in Brooklyn, this place should serve as an admirable substitute. In fact, Jim, the owner, has tons of friends in Brooklyn and visits Barcade on a regular basis. He told me it's one of his favorite bars.
You can see the influence, as Pixel has about 16 arcade games (most of which are more modern games than those at Barcade), and a very industrial feeling atmosphere, with lots of exposed cement, metal tables, etc. When you walk in, you are on one side of the room, with a wall to your left and a divider to your right, behind which are most of the arcade games. Straight ahead are several tables, couches, chairs, all situated to face a large screen TV, which, when I was there, was showing random cartoons, music videos (sans sound), and other weird shit. In fact, at one point they were playing a Bjork video on the screen with Kanye West music playing over the sound system. "That's how we roll here," says Jim. To the right of the table area is the "second" half of the room, which includes the bar (seats about 10), bathroom area, what looks to be storage for sound equipment (they have DJs spin on a regular basis), and the aforementioned arcade area toward the front of the room.
Pixel boasts 8 beer taps, and about 20 bottled beers. There are some macros mixed in (PBR, Heineken, Red Stripe, Corona in the bottle), as well as those in-betweeners (Magic Hat #9, Blue Moon on draft, Hoegaarden in the bottle), but overall there is a definite slant toward craft brew. I had a Hennepin and Otter Creek Stovepipe Porter on draft when I visited, and both were fresh and tasted great. Some of the other decent draft selections included Ithaca's DIPA (there will always likely be an Ithaca beer on draft), Long Trail Ale, and Rogue Dead Guy. Standout bottled selections included Arrogant Bastard, Otter Creek Copper Ale, Rogue Mocha Porter, Middle Ages Impaled Ale, and Wolaver's Oatmeal Stout. Don't exactly remember the prices, because nothing seems expensive to me coming from NYC, but I think pints were around $4, except the DIPA, which understandably was $6 per pint. FYI -- on the Pixel website all the beers are linked to their profile on Beer Advocate, good or bad. There is a really nice list of top-shelf liquors and a creative mixed drink menu, as well. No food was being served when I went, but earlier in the night they serve a couple types of gourmet flatbreads, such as fig and goatcheese, I'll have to try one sometime.
Overall a nice addition to the area, and I can see this becoming popular with the more "alternative" crowd at Cornell and Ithaca College, as well as with locals who want to zone out with a couple of good beers. I was there during Cornell's spring break, so it was dead, but I know for a fact this place gets crowded already on Friday/Sat. nights during the school year, so beware, unless that's your thing.
If you go, ask if Jim the owner is around, and tell him you heard about the place on BA. He's quite a friendly guy, and will likely be happy to chat with you about beer and whatever else.
3,219 characters
Pixel in Ithaca, NY
4.38
out of
5
based on
10
ratings.