G.G. Brewers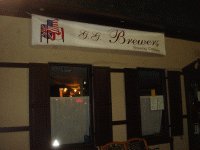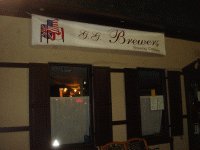 Brewery, Bar, Eatery
282 North Keswick Ave.
Glenside
,
Pennsylvania
, 19038
United States
// CLOSED //
Notes:
Reviews: 12
Reviews by GnomeKing:
2.35
/5
rDev
-29.2%
vibe: 1.5 | quality: 2.5 | service: 3 | selection: 2 | food: 2
The air upon first walking in was stale, funky, odd, like a basement. The ceiling -- and the mood -- were low.
There were five beers on tap, but one of the items on the chalkboard was just the place's light beer with rasberry flavoring added, and another was some type of bourbon and beer mix.
The dark IPA was a mush of indistinct flavors, unfocused and perhaps a bit unplanned.
But then the light beer comes and, damn, it's pretty good. It's how you'd want a TV commercial "lite" to taste, with all the beer ad adjectives like "crisp," "refreshing," and "smooth" fully applicable.
When the food arrives, things again turn bad. My girlfriend labeled the quesadilla "cafeteria food" for its blandness and lack of creativity. Boring white flour. Loaf chicken. Cheap, gooey cheddar cheese. And nothing else.
Does this place survive solely on unsuspecting customers wandering in from the Keswick Theater across the street, hoping for a brew and a bite before or after a show? We were there at about 5:30, when the Keswick was dark, and the only other patrons were two apparent regulars (go figure) and an already buzzed couple who spilled a drink, announced that they on a first date, shouted for the Yankees during a Phillies-Padres game, and left after ten minutes.
1,269 characters
More User Reviews:
2.14
/5
rDev
-35.5%
vibe: 2.5 | quality: 2.25 | service: 1 | selection: 3
The one good thing I will say is about the bartender. She was very good. The beer I had was mediocre. However where this place loses all of its points is with its miserable owner. We came to sample his various beers. When we inquired about a possible flight of the beers, the bartender says the owner offers them when he feels like it. When she went to ask, she came back and said he didn't feel like it. He lost our business permanently. Our next stop at Forest & Main was 110% better.
486 characters
3.54
/5
rDev
+6.6%
vibe: 4 | quality: 3.5 | service: 3.5 | selection: 3.25 | food: 4
For years, before going to a show at the Keswick Theater, I would go to the conveniently located Keswick Tavern right across the street. That way I could have a few drinks and a bite to eat and be at the venue within 10 seconds. Little did I know that right down the street, not even a stone's throw away, was this little microbrewery.
A very small, one room place, with a bar that seats maybe 8-10 people, and a few tables strewn about. It gets busy, and thus quite cramped in here, but despite that, the service is relatively good, friendly staff that is attentive as possible during busy hours. A small selection of decent microbrews with some rotating brews. Food was very tasty. Easy on the wallet. Not necessary something to go out of your way for, but still a great place to hang before shows at the Keswick.
816 characters

2.88
/5
rDev
-13.3%
vibe: 3 | quality: 3 | service: 3 | selection: 2.5 | food: 3
Finally our entertainment travels take us to Glenside for a show at the Keswick Theater. This gave us the opportunity to check out G.G.'s which is located directly across the street from the theater.
A very small place with an eight seat bar along the left wall and approximately a half dozen tables scattered around. This place maybe seats 25-30 people tops. Nothing wrong with small and quaint but this isn't it. Gives me that finished basement feel and if I had a place like this in my house I would be stoked but it's not in my house, it's a place I am supposed to feel warm, welcomed and invited to and I didn't get that feeling at all. Too many TV's for such a small space....including the one on the wall that was sounding off right into my left ear.
Four house beers on tap, a light, a red, a stout and a smoked rye. Hmmm...OK, so it is a small place with limited space to have 8-10 house beers so...have a few guest taps then, uninspired here.
Being a table of six beer geeks we all went for either the rye or the stout. Both were ho-hum at best, uninspired here too.
We all order food and the theme continues. My quesadilla appetizer is bland and lacks any creativity. In fact, I think it was microwaved. The boring, white flour tortillas were lifeless and lacked any grill markings or browness of being done in a pan. As my main dish I opted for their signature chicken salad sandwich on multi grain bread. This is a different chicken salad that is rather dry and not swimming in mayonnaise, which I like. Overall the sandwich is pretty good, if a bit small. Then the side....potato chips. Now, don't get me wrong, I am a chip FREAK. I mean, I live in the hotbed of the snack food industry with multiple chip producers near my home. So, a nice handful of Grandma Utz's or maybe Middleswarth kettle cooked....Oh no, a BAG, yes bag, of freakin' LAYS! Really? Lifeless, mass produced, trucked in from out of state chips to accompany my "gourmet" sandwich....LAME!
Our server was pleasant enough but not very attentive, My wife struggle for a glass of water and never got a refill and one of our party NEVER got the water she asked for. How can you not be attentive to a party of six people (who are usually generous tippers) in a place that is smaller than a single wide trailer?
Downtown Glenside seems so inviting, cute and attractive what happened here? This place must survive solely on unsuspecting visitors and out of towners looking for a convenient place for some grub and a few pints before or after a show at The Keswick. I hate to bash places, Lord knows brewing and the restaurant industry is tough work and people have jobs and are trying to earn a living here....but, it is a very uninspired, lifeless and rather dull place. Next time our travels take us to Glenside I think the near by Union Jacks or another local restaurant will see our business.
2,878 characters
3.88
/5
rDev
+16.9%
vibe: 4 | quality: 3.5 | service: 4.5 | selection: 4 | food: 3
G.G. Brewers
Drove down Easton Rd. and parked about a block up the road. Walked past the Keswick Tavern on the corner, Theatre across the street and plenty of little stores all around. Walked into the tiny brewpub, bigger than I was expecting but probably only able to hold 30 people. A few tables and about room for 8 people at the bar. The little corner where the dartboard is is a little cluttered and so was behind the bar. Kegs lined the wall by the bathrooms. The 2 bartenders were very friendly and so was the 1 patron we all talked and it was a friendly feel. The owner Gerry came out to tap the Hop Attack, gave me a sample, and after I ordered a pint he held a little toast (awesome) Although he was busy running about.
I ordered the Fish & Chips which were good but a smaller portion than I was hoping for. I had 2 beers, Hop Attack and Sir William Pale Ale. The Hop Attack was delicious, the Pale Ale went down quickly.
Overall- Very comfortable, friendly people, and good beer. I'll definitely drive back out here. I'll try to shoot for Wed. cause there's a Happy Hour at 4pm with $3 meals.
1,105 characters

4.1
/5
rDev
+23.5%
vibe: 4 | quality: 3.5 | service: 4.5 | selection: 4.5 | food: 4
I'll try this again... My wife and I went here the weekend before Halloween. Odd the little town was closed to kids trick or treating and it made the area closed off and very dead (no business)Across from the Keswick theater there is GG Brewers and it stayed open lucky for us. Anyway we were greeted by the brewmaster. As we walked in a small seating area was to the left with the bar straight ahead of us to the right side of the room. My wife and I sat at the bar and got a sampler. Ooh there were a few goodies that I did review but got deleted so I really can't review them again. There were two that especially stuck out. The stout and the Rye in your eye. The rye to me was very unique. A kind of smoke character to it and very fruity. I would love to try it again.
We made small talk with the waitress. She was very helping and chatty. She told us they will be expanding and adding more beers to the list, how she got here job etc.
I didn't really get a bad vibe at all from this place very clean and a warm friendly atmosphere with good beers.
1,055 characters
2.5
/5
rDev
-24.7%
vibe: 2 | quality: 2 | service: 3 | selection: 3 | food: 2
Wow...I don't even know where to start with this place. I was pretty excited to check it out since I am a homebrewer and comb the area for new beers/brewpubs to try out. I was going to a show at the Keswick so it was the perfect stop beforehand for beers and some appetizers. This place looks exactly like someone's basement. The main problem I had with the place was that it has SO much potential but no thought at all went into the atmosphere. There was a dirty old vacuum cleaner in the bathroom. There were kegs and junk along one wall, which could have easily been hidden behind a curtain or something. Furniture was awful, bad lighting, and the place looked dirty. It's VERY small inside so it should be darker with different lighting, since there's little space for a private conversation.
As for the beer - well it was average. We tried every beer except for the "light" versions, since the regular 7% beers weren't very tasty. The best beer I had was the Hop Attack. Service was ok, but the bartenders were completely overwhelmed and knew nothing about the beers. The biggest shock was when the bartender partially filled a pitcher with beer and used that for drafts instead of pouring a fresh one from the tap. ?? My girlfriend had to send her beer back because it was room temperature and flat. Horrible and inexcusable. There were about 20 people in the place and the 2 bartenders couldn't even handle that crowd.
Food was really bad. Pot stickers weren't cooked right and the coconut shrimp just tasted like a coconut cake. Stick with the beer or a glass of wine if you have absolutely nowhere else to go. I gave this place a shot but I wouldn't go back.
It's too bad - for a few hundred bucks and a little more effort into atmosphere and this place could be decent. They need to get rid of the clutter and improve on the food - offer customers a chance to try the beer and hire a knowledgeable staff who can handle a crowd when there's a show across the street!
I hope it gets better - great location and could be very successful with some effort.
2,065 characters

3.43
/5
rDev
+3.3%
vibe: 4 | quality: 3.5 | service: 4 | selection: 2.5
An attractive place for sure with ample dark woods and a modest green and crimson tone that suggests stereotypes of a warm pub. The brass lighting and the ceiling fan also brought an element of sophistication and warmth to the joint. A small place to say the least with a bar for about 8, tables for 15 and a ledge bar running along one wall. 30 people tops? Not big at all.
Service was plentiful as there were seven people here on a Saturday night. After the other group left, there were just the three of us. The bartender was all over us! So, all things considered, the service was great.
The beer was all right. The oatmeal stout was the most drinkable, but the apricot weizen seemed off or rushed. Only three beers on today which we made our way through in a round.
Nothing to write home about, but worth a try if you know you'll be in the neighborhood.
861 characters
3.74
/5
rDev
+12.7%
vibe: 3 | quality: 4 | service: 4 | selection: 3.5
Went there tonight before heading over to a show at the Keswick. Strongly recommend their Smoked Rye beer. Their Hop Attack was also favorful. A nice hole in the wall with better than average beers. Very small, but very friendly. Attentive staff. Smoked Rye was pooring slowly, so had a Hop Attack, a little more than mildly hoppy ale, while waiting for the Smoked Rye to settle. I would be happy with either brew at any non-beer geek establishment. Nothing fancy, but quite pleasant. Nice that it was smoke free, although most of PA seems to be moving in this direction.
571 characters
3.55
/5
rDev
+6.9%
vibe: 3.5 | quality: 3 | service: 4 | selection: 4 | food: 3
I had been meaning to check out this place ever since it opened. I believe it was sometime last Spring. But last night I had tickets for a show at the Keswick Theatre, which is across the street, so I drove up early enough have a few and grab a bite.
The inside of the restaurant/brewpub is very small. My entourage and I were lucky enough to get a table. Altogether we tried all of the their beers on tap. On my own I had the Oatmeal Cream Stout, Apricot Stout, and a Nut Brown Ale. The quality of these beers were less than professional but I was grateful that there was a brewpub in my general area.
The staff seemed very enthusiastic and I could tell that they were still trying to create a buzz about their homemade beers. We rated the food as average but the prices were reasonable.
I wish this place the best of luck. I want it to be a success but it's not quite there yet.
889 characters

3.86
/5
rDev
+16.3%
vibe: 4 | quality: 4 | service: 4.5 | selection: 3
I enjoyed my visit at G.G.'s The "Keswick Village" neighborhood has changed a lot since I was last there; funky little shops and bars and everything looks real nice. It's a hole in the wall, for sure, a few tables and maybe 6 or 8 stools at the bar. The works is tucked away in a big closet toward the back; no windows into it, either. They somehow manage to get live music in there on occasion.
Gerry was behind the bar and took the time to chat with me about his background and brewing interests. He cautioned me that note taking was not allowed as an over enthusiastic beer hound got on one of his server's case about her lack of knowledge about the beers. He was looking for technical information and berated her for not knowing the details on what she was serving. She got very upset and I guess it was a bad scene. So, those of you with alts-heimers, lock the impressions of your visit away in your memory 'cause you can't write it down as you go! G.G. was serving four beers, all of which were fine. The 2 lighter items, a pale and a top fermented pils, were the newest and tasted fresh and refreshing. I think these guys will pick up steam into the fall and this will become a very popular place to go.
1,212 characters
3.9
/5
rDev
+17.5%
vibe: 4.5 | quality: 3.5 | service: 4 | selection: 4 | food: 4
My wife and I visited G.G. Brewers after the Brandywine Valley Craft Brewers Festival. It was early on a Saturday night.
Atmosphere: The restaurant is small (seating for no more than 25) and SMOKE FREE! For that alone, they get points. The restaurant reminds me of a small pub.
Quality: Overall quality was high, service, food and drink were all good. We also had the opportunity to speak with the Brewmaster/Owner and share our thoughts on his creations.
Service: Service was friendly and efficient.
Selection: They started with three brews on tap but soon offered a fourth beer, in my opinion it is their best, the Hop Attack.
Food: We ordered a cheese and fruit plate and watched others order the tilapia. Wide array of selections.
The place is very inexpensive and management is trying to find its way. Stop by and give them honest feedback, as they seem receptive to it.
881 characters
G.G. Brewers in Glenside, PA
Brewery rating:
3.46
out of
5
with
0
ratings