7 Wives Saison
| Sonoran Brewing Company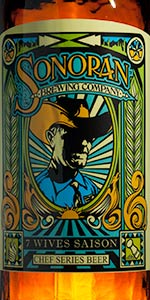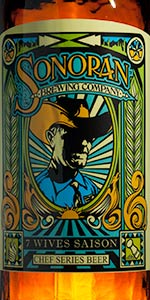 BEER INFO
Brewed by:
Sonoran Brewing Company
Arizona
,
United States
sonoranbrewing.com
Style:
Saison / Farmhouse Ale
Alcohol by volume (ABV):
5.20%
Availability:
Limited (brewed once)
Notes / Commercial Description:
No notes at this time.
Added by Phelps on 04-15-2012
This beer is retired; no longer brewed.
HISTOGRAM
Ratings: 11 | Reviews: 5
Reviews by DavoleBomb:

3.68
/5
rDev
+3.4%
look: 3.75 | smell: 3.75 | taste: 3.75 | feel: 3.5 | overall: 3.5
Poured into a tulip.
3.75 A: Nearly clear golden yellow color. Three fingers of frothy/foamy white head. Retention is pretty good and a few whisps of lacing are left.
3.75 S: A lot going on in the nose. Flowery with a huge herbalness. I don't know what wheat berries or fennel pollen smell like, but I have to assume that they contribute to the herbalness. Pink peppercorns, corriander, and orange come out well. The mesquite syrup adds a peculiar, though welcoming, aroma to the mix. Despite the million adjuncts, it comes off closer to a normal, super herbal saison, than a Frankenstein monster. This brew is proving to give good usage to the 0.25 increments as the nose on this falls squarely between 3.5 and 4.0.
3.75 T: Like the nose, this is herbal foremost. Flowery and earthy underneath. Light pepper, corriander, and orange. Mesquite flavor shows up again. The other stuff, well, I dunno what it's doing. My only complaint is that this is a little too bitter. I'm fine with dry saisons, but I want a soft bitterness from them. Still, good taste overall.
3.5 M: Lighter body. Good moderate carbonation, but it isn't spritzy or creamy, which is what I like in a saison. Super smooth. Good enough here.
3.5 D: Overall it's a good brew. There's a lot going on and for the most part it works well, but it doesn't "wow" me in any way.
1,343 characters
More User Reviews:
2.7
/5
rDev
-24.2%
look: 3.5 | smell: 3.5 | taste: 2 | feel: 3.5 | overall: 2.5
3.62
/5
rDev
+1.7%
look: 3.5 | smell: 4 | taste: 3.5 | feel: 3.5 | overall: 3.5
Big thanks goes out to micstache for this one as an extra in a recent trade! Thanks man! Served from bottle into a Mikkeller oversized wine glass. Poured a hazy pale golden yellow-orange with a two finger white head that subsided to one finger very slowly. Maintained decent lacing throughout the glass. The aroma was comprised of sweet malt, earth, spices, fennel, subtle berry, pepper, and citrus. The flavor was of sweet malt, citrus, pepper, earth, spices, and subtle fennel seed. It had a light feel on the palate with high carbonation. Overall this was a pretty decent brew. Wow, there was a lot of interesting things going on in this one. I have never had some of these things added to a brew before, but I can give credit for giving it a try at least once. All the aspects that were supposed to be present were there, but I don't know how I feel about them being in a beer. While interesting, this would have done well with some more balance as it was very earthy and spicy throughout. Worth trying at least once.
1,023 characters
3.75
/5
rDev
+5.3%
look: 3.75 | smell: 3.75 | taste: 3.75 | feel: 3.75 | overall: 3.75

3.27
/5
rDev
-8.1%
look: 3 | smell: 3.5 | taste: 3.25 | feel: 3 | overall: 3.25
I'd describe the color as a brownish golden rather than a shade of amber. A stingy foam with a slight carbonation. A little oiliness in the mouthfeel. Herbal scent. Starts out sweet with fruit and presents a puzzling array of flavors with resins and honey. Tangy and spicy.
This has more bizarre ingredients than a fruit cake. One that stands out more is the fennel. I can't imagine what wheat berries do to a beer. Fruity and malty with a modest touch of the Belgian yeastiness. I wouldn't say it tastes much like most Saisons, however. No noticeable hops. Drinkable though not to my taste. From the 22 oz bottle bought at AJ's Fine Foods in Chandler.
653 characters

3.98
/5
rDev
+11.8%
look: 4 | smell: 4 | taste: 4 | feel: 3.75 | overall: 4

4
/5
rDev
+12.4%
look: 4 | smell: 4 | taste: 4 | feel: 4 | overall: 4
​7 Wives Saison is the first of Sonoran's Chef Series, made in partnership with Jeremy Pacheco, Executive Chef at Lon's at the Hermosa Inn in Paradise Valley. Chef Pacheco came up with the name for his brew as a way to pay homage to famed cowboy artist Lon Megargee, who founded the Hermosa Inn and had the distinct fortune (or misfortune) of being married seven times. The magic number also appears in the ingredients list -- seven adjuncts from local sources made their way into the beer. These include: wheat from Chef Pacheco's family farm in Marana, green peppercorns from Singh Farms in Scottsdale, whole fennel and fennel pollen from LON's Garden and Peoria local Bob McClendon, mesquite syrup from Cotton Country Jams
locally produced orange and coriander.
The result is a brew that is as gorgeous as Megargee's seven wives must have been. Bright and honey-hued, the brew shimmers in the sunlight under a wispy layer of pure white. The clarity of this brew is flawless -- you could make sepia-toned sunglasses out of it.
Of the ingredients that have made their way into this brew, the peppercorns and fennel are the most prominent in the aroma. Sweet and light, the nose showcases sugary canned pear syrup mixed with slightly musty cereal grain and spiced with dashes of black pepper, licorice and orange pith.
7 Wives is the first saison made by an Arizona brewer. Brewmaster Zach Schroeder used a mix of two slightly different farmhouse-style yeasts in creating this brew, which lend their own flavors that work very well with the earthy, peppery adjuncts. Fennel is big here, as is coriander which has added a nice floral quality. Citrusy orange peel grips the back sides of the tongue with pithy bitterness while very subtle, almost-not-there carbonation tingles the rest of it. It's altogether light on the palate and quaffable -- great for refreshment on a summer day -- but layers of flavor are also there for exploring.
Arizona's beer catalogue has long been bereft of a quality Belgian brew, but Sonoran has filled that void, and filled it through an impressive integration of all things local, from chefs to ingredients to artwork. The intense focus on the community and the aspects that make Arizona unique would make the brew incredibly appealing even if it didn't taste good. The fact that it does is just a bonus.
2,351 characters

3.75
/5
rDev
+5.3%
look: 3.75 | smell: 3.75 | taste: 3.75 | feel: 3.75 | overall: 3.75

3.45
/5
rDev
-3.1%
look: 3.5 | smell: 3.5 | taste: 3.5 | feel: 3 | overall: 3.5
Poured a cloudy very pale yellow with a little white head.
The smell was fruity, lemons and apricots.
The taste was like the smell and a little bitter.
The mouth feel was pretty thin with low carbonation.
Overall I wasn't that impressed. Although this was my first saison so it might just not be my favourite category of beer.
330 characters
7 Wives Saison from Sonoran Brewing Company
Beer rating:
3.56
out of
5
with
11
ratings