Prototype Stout
| Weston Brewing Company & O'Malley's Pub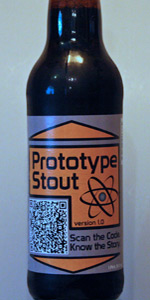 BEER INFO
Brewed by:
Weston Brewing Company & O'Malley's Pub
Missouri
,
United States
westonirish.com
Style:
Irish Dry Stout
Alcohol by volume (ABV):
not listed
Availability:
Rotating
Notes / Commercial Description:
No notes at this time.
Added by zeff80 on 03-28-2011
Reviews: 7 | Ratings: 19
3.26
/5
rDev
-8.9%
look: 4 | smell: 3 | taste: 3.5 | feel: 3 | overall: 3
A: Poured a one finger english toffee colored head that settled to a thin cap around the edges. Color is a midnight black. Lacing is standout.
S: Subdued nose. I felt it necessary to submerge my nostrils to pick up on the scent. I do detect hints of chocolate, espresso beans, and vanilla. Pleasing, but fleeting.
T: Toasted malt backbone, cocoa, toffee, almond paste, vanilla.
M: Carbonation is balanced. Slightly sticky at first, but quickly fades to watery passivity.
O: I want to be a hater. Version 1.0? Let's hope for an upgrade.
★
541 characters
3.35
/5
rDev
-6.4%
look: 4 | smell: 1.5 | taste: 4 | feel: 3.5 | overall: 4
The beers that come out of Weston never get the best of ratings, in fact no alcohol that the small town produces ever gets reviewed to highly (i.e. McCormick), but how I love going to O'Malley's and having a few of the locally brewed beers.
A couple of months ago when I was there I had a sampler and out of the six beers I tried this Prototype Stout really stuck out. It was creamy and had a very strong chocolate taste that would rival Young's stout. I decided to take home a couple of pints which was labeled with a very cool industrial feel label
S: When poured from the pint bottle the malt and chocolate really caught the nose, but a bit of a metallic sent was mixed in, perhaps from a bottle disinfectant.
A: The Stout was a pure black with a large tan head which left a good lacing.
T: The taste was not quite as chocolaty from the bottle. The hops really take over the tastebuds along with the roasted grains, but the chocolate came in for a long-lasting aftertaste.
Overall a fairly smooth stout which is hard to pass up when pitted against the rest of the Weston line-up.
★
1,098 characters

3.41
/5
rDev
-4.7%
look: 4 | smell: 3 | taste: 3.5 | feel: 3.5 | overall: 3.5
Poured into a standard pint glass. The beer is espresso coffee black, with a dark tan head that slowly dissipates to a thin layer. Sticky lacing. The beer smells like bitter chocolate and a milky-cocoa note. The taste profile includes bitter chocolate, roasted malts, a dry cocoa note, and a bitter hop presence. The mouthfeel is medium bodied with a dry, slightly smokey finish.
Overall, this beer was better the second time I had it. It's a pretty solid stout all the way around.
★
483 characters

3.45
/5
rDev
-3.6%
look: 4 | smell: 4 | taste: 3 | feel: 3.5 | overall: 3.5
Bottle probably 18 months old at this point.
A: Pours almost pitch-black with a mid-sized thick medium brown head. Fades fairly slowly, leaving considerable lacing behind.
S: Creamy roasted malt and caramel. A bit of char and chocolate mainly.
T: Char up front with some caramel. A little bit of sweeter chocolate and then pretty much nothing but char and smoke bitterness in the finish.
M: Pretty thin, I'm guessing this is a fairly weak ABV like most irish dry stouts.
O: Halfway decent irish dry stout. A little too much char and smoke for it, overpowers the rest of the beer. I'd put this roughly on par with a regular guinness at best.
★
647 characters

3.68
/5
rDev
+2.8%
look: 4 | smell: 3.5 | taste: 3.5 | feel: 4 | overall: 4
Poured from a bomber into a stout glass. About a half finger of head, which rapidly disappears to a ring around the edge with a wisp of foam in the center. Light lacing. Color is black and thick, a flashlight does not pass through.
Aroma is mild at first. Malt and chocolate. After a few sips the aroma grows stronger.
Flavor is roasted chocolate with a touch of oats. Reminds me of a breakfast cereal from my long-lost childhood. Very consistent and remains in the mouth for a few minutes.
I have reviewed other beers by Weston and have not been impressed. This brew is different. If I locate another bottle, I will buy again.
Label says Version 1.0. I don't know if that means they plan another, or if it is just marketing hype.
★
734 characters
3.85
/5
rDev
+7.5%
look: 3.5 | smell: 3.5 | taste: 4 | feel: 4 | overall: 4
A - Poured out an opaque, jet-black color with a small, tan head of sudsy foam. It left some sticky patches of lace.
S - It smelled of roasted malt, chocolate and some oats.
T - Nice chocolate flavor with a good roasty backbone. There is a touch of bitter oats with a little hop punch.
M - It was crisp, sharp and smooth. A medium bodied stout with a dry finish.
D - This is probably the best beer I've had from Weston. Well done.
★
442 characters
3.88
/5
rDev
+8.4%
look: 4 | smell: 3.5 | taste: 4 | feel: 4 | overall: 4
Pours an effervescent mahogany/black with 2+ fingers of rocky mocha head. Insane lacing & good head retention
S: Charred grain & faint chocolate notes, plus iron
T: Charred grain/baker's choclate & a touch of iron & woody hops up front. Carob & black currant notes once warm, mixing in with some more woody hops which contribute dyness, more iron too & touch of caramel too. Finishes with iron, dark fruit notes & a touch of cocoa
MF: Medium bodied, fairly silky
This is easily the best beer I've had from these guys, a nice stout
★
534 characters
Prototype Stout from Weston Brewing Company & O'Malley's Pub
3.58
out of
5
based on
19
ratings.