Brew Labs #4 Amber Lager With Habanero Pepper And Mango
| Weston Brewing Company & O'Malley's Pub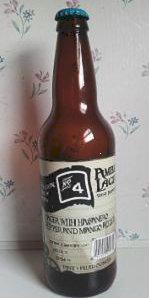 BEER INFO
Brewed by:
Weston Brewing Company & O'Malley's Pub
Missouri
,
United States
westonirish.com
Style:
Chile Beer
Alcohol by volume (ABV):
not listed
Availability:
Limited (brewed once)
Notes / Commercial Description:
No notes at this time.
Added by hwwty4 on 07-23-2011
This beer is retired; no longer brewed.
Reviews: 9 | Ratings: 29
4.03
/5
rDev
+8.6%
look: 4 | smell: 3.5 | taste: 4 | feel: 4.5 | overall: 4.5
Thanks to Aguirre for this one!
a: khaki like head. amber colored with light reddish tones.
s: some hops and dry hay sweetness. some spiciness might be coming through too.
t: starts out like a typical lager but the habanero flavor comes through quickly. some tropical fruit sweetness at the end.
m: I enjoy the spiciness in this one but I can see a lot of people not. smooth drinking for a chili lager.
o: cool beer but not for everyone.
★
443 characters
4.01
/5
rDev
+8.1%
look: 2.5 | smell: 4 | taste: 4 | feel: 4 | overall: 4.5
Pours amber with a pinky of cream colored head. Some lacing & head retention
S: Peppery notes, a touch of breadyness & some butterscotch & then mango
T: Red & black pepper, caramel & pears, then a touch of mango sweetness up front. Caramel, apples, mangos & apricots & serious chile heat as this warms, a touch of pineapple hiding here as well. Finishes with nice pepper heat & touch of orchard fruit & mango
MF: Medium bodied, subtle carbonation, some real warmth derived from the chiles
Easily the best beer from these guys, hopefully these guys may be hitting some sort of stride... Great drinkability for the style
★
623 characters

3.89
/5
rDev
+4.9%
look: 3.75 | smell: 4 | taste: 4 | feel: 3.5 | overall: 3.75
Grabbed a bomber for $4 @ Randall's
The beer pours a clear orange-amber with a loose off-white head that dissipates quickly with minimal lacing. The nose is relatively fruity and sweet, predominantly a slightly tart mango aroma that incorporates more pepper as it warms. The beer drinks with mango sweetness and a bit of grain upfront and quickly transitions into building heat from the habanero. I'm pleasantly surprised by how well the mango and habanero work together; it reminds me of how well these flavors work in a mango salsa. There are definitely distinct mango and pepper in the taste. The mouthfeel is light-medium bodied, effervescent, fruity/sweet upfront with a bold, lingering (but nonintrusive) heat from the habanero. This isn't a ghostface (obviously, wrong chili), but reminds me of a slightly amped-up jalapeno beer (minus the fresh cut pepper taste jalapeno beers tend to possess). It's definitely drinkable and would pair very well with the right meal. Personally I'd have liked to see ramped up tropical hops (to add a bit more bite in the finish) or possibly letting this beer ferment out a bit more so it has more of a dry, warming finish. This is definitely worth a try for the price and ingenuity.
★
1,225 characters
3.88
/5
rDev
+4.6%
look: 4 | smell: 3.5 | taste: 4 | feel: 4 | overall: 4
I was glad to see this sitting in the cooler at my local. With as much as I enjoyed the first offering of the Pepper Ale quite a bit. Here's hoping that this one hits the spot too.
Poured a 22oz into my Tripel Karmeliet tulip. This beer pours a burnt caramel with a massive 3.5 inch head that leaves just a little lacing down the sides of the glass. The head fades into a nice 1/2 inch top all the way around the glass. Good start. The nose is interesting. I don't pick up much pepper heat. There is a little ancho smoke with caramel and mangos. The nose is a bit sweeter then I had expected. Caramel and toffee with just a little bit of sweet breads. The malt backbone really shows its biceps in the nose. The flavor is a different story completely. There is the heat that I like so much in the original, maybe even turned up a notch or two. Major pepper heat. Where did the backbone go? Just a little caramel and once again the mangos just hang around in the background. Honestly, it complements the heat really well. Adds just a little fruity sweetness to offset the heat. For as amber as the color is, I thought the mouthfeel would be a bit fuller. I'm glad to announce its nice and light. Just like #2, this could well be a regular in my fridge lineup.
★
1,260 characters
3.85
/5
rDev
+3.8%
look: 3.5 | smell: 3.5 | taste: 4 | feel: 4 | overall: 4
Orangey and mostly clear with a decent head and so-so lace.
Aroma is muted but pleasant. Caramel malts, bread and toast, sweet mango are notable. There's not a whole lot of pepper, but it's detectable.
Caramel and bready malts dominate the flavor. Mango is detectable again, but not especially forward. You can just taste a nice fruitiness though. Peppers aren't real noticeable with each sip, but there's a light burn that starts to catch up with you after about half a glass.
Body is light to medium and quite drinkable.
I have to say that this is a very good pepper beer. Now I haven't tried many "habanero" pepper beers, and generally habaneros tend to be a bit high on heat for me, but this beer came out very well. I think it deserves a high overall score, and thus I'm giving it one. It could improve a little in the nose, maybe up the mangos a little, and perhaps have a bit more head and lacing, but really, they did an excellent job on this one. I will certainly buy this one again.
This makes an excellent barbeque beer. You can cook with some, and enjoy the rest. Or you could open a bomber and give out samples to your friends. Most non-craft beer geeks will probably think of "cave creek chili beer" when you mention a pepper beer. Nothing could be further from the truth. This is a well done, balanced pepper beer that I suspect most people will enjoy.
It also reminds me of Rogue chipotle beer, in that it's well balanced with the pepper heat, and I'll certainly be having it again.
Great job on this one!
★
1,532 characters
3.78
/5
rDev
+1.9%
look: 4.25 | smell: 2.5 | taste: 4.25 | feel: 4.25 | overall: 4
22OZ bomber, no bottling date (but if this was truly brewed only once, and the earliest review is dated in 2011, then perhaps it is about 4 years old). Good carbonation. Pours a cloudy, amber color, with a nice off-white head that lasts. Not much aroma, but after taking in a few breaths I can smell the alcohol. Very nice mouth-feel: creamy and well balanced. The taste is solid, something like a quality ale, and amazingly there is a subtle but distinctive 'bite' I feel at the back of my throat (which must be from the habanero flavoring). Overall, this a beer that is easy easy too drink, and for $4 a bomber, well worth it to try a 'chili style' beer. Furthermore, this is a beer I would gladly buy and drink again.
★
721 characters
3.75
/5
rDev
+1.1%
look: 3.5 | smell: 3.5 | taste: 4 | feel: 4 | overall: 3.5
High carbonation, decent hops & lacing. Amber color.
Faint smell, smells caramel malty. Not enough though.
Taste is mellow caramel malts and a touch of mango fruitiness followed by a peppery hot kick on the back end. Not too hot though. Really good. I like spicy foods and this is right down my alley.
Pleasant peppery flavor remains in aftertaste. This one is actually quite drinkable for a pepper-infused beer. I'd have no problem having another, although I probably couldn't do a six-pack without some unpleasant burn in my stomach.
★
538 characters
3.66
/5
rDev
-1.3%
look: 4 | smell: 3 | taste: 4 | feel: 4 | overall: 3.5
Ok, so I have a love/hate relationship with chile beers. I love spicy food. The hotter the better, but I have yet to find a chile beer that is over the top good. I've had Weston's other version of a chile beer, guess I'll give this one a try.
I don't see any bottle dating. Poured into a Nonic Pint.
A- Pours a clear very deep golden color with hints of orange and amber with 3 fingers of thick foamy off white color head that recedes at a medium rate and does not appear to leave any lacing.
S- Not exactly the most aromatic beer. Some spicy peppers. Not getting much of the mango. Bready, yeasty notes.
T- Ahhhh, theres the Habaneros. Spicy right up front, again not getting too much in the Mango dept. Just hints of sweetness. There is a bready base to this beer underneath the spicy flavors.
M- Medium drinking body with a moderately low amount of carbonation.
O- I think I like this one better than the other Chile Beer offering Weston has to offer. Maybe the habanero peppers are balanced out a tad by the mango sweetness, and the mango flavor has just faded. Overall, a decent offering.
★
1,099 characters

3.58
/5
rDev
-3.5%
look: 4 | smell: 3.5 | taste: 3.5 | feel: 4 | overall: 3.5
I poured a bottle into a pint glass.
Appearance- Golden amber color with a fingers worth of off white head. Fair amount of thin lacing.
Smell- Bready malt with notes of habanero pepper.
Taste- Normal lager flavor with a hint of pepper. I'm not detecting much mango flavor, just a light sweetness at the finish.
Mouthfeel- Medium bodied and smooth. Decent amount of carbonation with a very light of peppery burn lingering on the tongue and in the throat.
Overall- Interesting beer. Not bad but I would have liked to taste a little more mango.
★
547 characters
Brew Labs #4 Amber Lager With Habanero Pepper And Mango from Weston Brewing Company & O'Malley's Pub
3.71
out of
5
based on
29
ratings.