Weston Brewing Company & O'Malley's Pub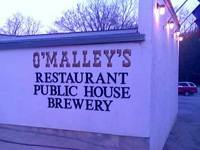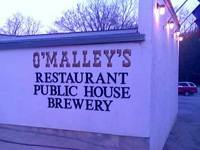 Brewery, Eatery
540 Welt St
Weston
,
Missouri
, 64098-1242
United States
(816) 640-5253 |
map
westonirish.com
Notes:
MilwaukeeCrusher from Wisconsin
3.59
/5
rDev
+1.1%
vibe: 3.5 | quality: 4 | service: 3.75 | selection: 3
Driving along the river to see Amelia Earhart's birthplace, I see a sign that says this way to Weston. I remember there was a brewery there so I stop and get a flight. It is too early yet to do a tour, but the beers were satisfactory to good. The history of the place was neat as well as the city, so if you find yourself in the area, it is worth a stop. A flight was only $6.
Apr 01, 2013
Ragingbull from California
3.55
/5
rDev 0%
vibe: 3.5 | quality: 3 | service: 4 | selection: 4 | food: 3
Living just across the Missourri River I have had the opportunity to visit Weston several times and always stop in for a beer or some food as long as they are open. The atmosphere varies as there three very different "bar areas" that you can eat/drink in. The restaurant upstairs has a rustic feel to it with wood floors and a a little bit of a dark atmosphere in the evening. Its bright in a "colonial" kind of way during the day with natural lighting from outside. There are also two "underground" bar areas. The first you come to is down a long tunnel and opens up to a small and dark area. There has been/is smoking in there when I visited so its not really my speed. The deepest underground area is very cool. By far its the most impressive of the three areas and is worth the visit to Weston to see it. Cool moist stone atmosphere is very unique and not many places have the ability for such an area to be a bar. The beers are different in each of the bar areas, or so I have been told and it seems that is true from my experiences. I have had some good food and some average food. There are some good beers and some average beers. My most recent visit really pushed me into a new appreciation for this place. I would actually go by myself or with my wife, whereas before it was just a "tourist attraction" for out of town friends.
May 29, 2011

mikennat from Missouri
4
/5
rDev
+12.7%
vibe: 4 | quality: 4 | service: 4 | selection: 4 | food: 4
We enjoy visiting this place for eating and drinking. The food selection is good. We like how there is pub food in addition to other offerings. My wife says the crab cakes are some of the best in the area. I am a fan of the bangers and mash. We are familiar with the Weston beers because we live nearby, but having them fresh is the best. We like to eat outside when the weather allows because the inside upstairs dining area is very cramped. It is a difficult trek to the bathroom between the tables and chairs when the dining room is full. Weston is a great town, and I recommend trying this restaurant while visiting.
May 05, 2011
kwdavis from Belgium
3.25
/5
rDev
-8.5%
vibe: 5 | quality: 3 | service: 3 | selection: 3
On my first trip to O'Malley's I only visited the restaurant upstairs. This is easy to do because if you are not familiar with the place there is no way to know that the bar is underground. However, I returned with some friends and we visited the bar area. A gentleman was playing the acoustic guitar and singing Irish drinking songs to a crowd of about 50 people. The beer selection is standard for an Irish pub and I felt the prices were average. The overall atmosphere made the experience drinking a pint with friends 50 or so feet below ground was a unique experience. Also, the acoustics were great and though it is a little difficult to get around the staff did a good job of keeping up with demand.
Feb 17, 2010
lush1 from Ohio
3.03
/5
rDev
-14.6%
vibe: 3 | quality: 4 | service: 1.5 | selection: 3 | food: 4
Was working in St. Joseph and had a free evening so went and checked this place out one saturday night. Weston seems to be a neat little town, but one where they are making sure the place always looks quaint and rustic. As a result it has narrow streets and it's hard to find. When I finally I did, I was very happy and excited to see a nice and ample parking lot.
I then walked and was planning on going to on the 5 o'clock tour, even thought the time was only 5:03pm I was told the tour had already left and there was no way I could join it was already too late.
Dinner was very good, had the Bangers and Mash with the Rasher spread both were very tasty and enjoyable, as well as very reasonably priced. The beer was pretty good, it consisted of 5 brews, a stout which was very good, and a British Pale Ale which was also very refreshing. There seasonal fall beer was a nice beer nothing outstanding but very tasty. They had 2 lighter beer, a cream ale that was okay and a light ale that was also okay.
The only really bad part about the whole experience was the service. I was with a group of 3, and we were seated right away which is nice. But after that we had to wait 10 minutes before a waitress even stopped to give us water and then say she would be back in a minute to take our order. Meanwhile other groups that came in after ours were seated and had drinks in front of them. After another 7min a different watiress came up and asked if we had been helped, and took our order. It took awhile for the drinks and food to arrive but when it did it was very good.
Would probably go back again but the lousy service makes me hesistate before deciding. Overall can recommend it but have to caution all that it's not a must visit.
Aug 02, 2009
KCHopHead from Missouri
2.95
/5
rDev
-16.9%
vibe: 5 | quality: 3 | service: 2.5 | selection: 2.5 | food: 3
A C - 2.95 is deceptive because I love this place...
I put atmosphere as 5.0 because at the right time this could be one of the most fun and interesting palces to have a pint as you've ever been. Go on a Saturday night when a band is playing. If you go just about any other time you will be dissapointed.
Don't go for amazing beer/food/service. Go to have a good time and enjoy the show. O'Malley's beer is very average. They do have a Drop Kick Ale that is not reviewed yet that is probably their best if it is not a seasonal.
The fact that this is an old speakeasy is pretty cool. You get to a small building that is near the restaurant and you begin your jorney down a small tunnel. First you get to a stone pathway that leads you into their Sunday/downtime bar that is usually close during busy hours. You keep going down and you reach a decent sized room with darts and a bar. You go down even further to be greated by loud Irish bands and tons of people pounding and singing. The bottom room is two stories and each table overlooks the stage where beer is not the focus, it is the entertainment.
Check their website for a Saturday night and give it a try.
Jul 15, 2009
Dansting from Kansas
3.25
/5
rDev
-8.5%
vibe: 4 | quality: 3 | service: 4 | selection: 2 | food: 4.5
I visited on a Friday afternoon for lunch. The place looked like a very old restaurant (which it probably is) that was located in the same building as the Weston Brewing Company. We sat in the main dining area. The place wasn't crowded, and our service was pretty good, which was good since it wasn't crowded. They only had one beer on tap, O'Malley's Cream Ale, and it was good. The food was pretty solid. If in Weston antiquing or whatever you'd do in Weston, I'd recommend stopping by for a good beer and really good food.
Mar 03, 2007
hoffman from Nebraska
3.2
/5
rDev
-9.9%
vibe: 4.5 | quality: 3.5 | service: 3 | selection: 3 | food: 2
To bed my curiosity I drove to Weston, MO while in KC for the weekend to check this place out. Located on a street corner in the antique (and, in a hasty generalization, estrogen) captial of Missouri. The building is not at all impressive from the outside. The area is quasi-difficult to navigate, as there are separate unmarked doors for the resturant and bar. The bar is located some 50 ft underground in an old lager fermenting cave. As atmosphere goes...it is pretty tough to beat drinking a beer while sitting in an old fermentation cave. Many irish pictures, poster, and paraphenalia adorn the walls. And the trek down below to the bar area is very nice. There is no actuall bar, if you want to drink you sit at a table. This idea is fine, I guess, although I like the bar if I am having a beer or two. It is also fine if you have...oh say...A WAIT STAFF! There was only one person working in the entire bar which could seat probably 150-200 people. She was in charge of making sandwiches (turkey, corned beef, and ham, the only food available by the way...oh and nachos, yea the kind in the plastic container like you would get at the ballpark) bartending and waitressing. The 12 people in the bar who all ordered sandwiches within 5 minutes of eachother were keeping her pretty busy. The selection is allright, no macro on tap, and smithwicks, Guinness, O'malley's creame ale, Schlafly Scotch Ale, Bass, Woodchuck Cider, Boulevard Wheat and Pale, there were also your standard imports and Macros in bottle form, Amstel, Heinekin, Rolling rock, AB products etc.
The prices suck...four dollars for a pint in a small town like this is ridiculos. The food is priced pretty high as well for what it is. This place has tons of potential if someone could figure out how to make a go of it here serving really good beer and even decent food.
In short, if you are in Weston stop here. If you are looking for a way to waste some time in KC drive out and check it out for the ambiance. If you are in search of great beer...don't get your hopes up.
May 27, 2006
Weston Brewing Company & O'Malley's Pub in Weston, MO
Brewery rating:
3.26
out of
5
with
592
ratings