Dismiss Notice
L'Ours
| Le Trou Du Diable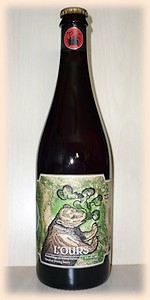 BEER INFO
Brewed by:
Le Trou Du Diable
Quebec
,
Canada
|
website
Style:
American Wild Ale
Alcohol by volume (ABV):
6.50%
Availability:
Rotating
Notes / Commercial Description:
No notes at this time.
Added by Sammy on 01-05-2014
Reviews: 13 | Ratings: 64
4.09
/5
rDev
+6.5%
look: 3.75 | smell: 4 | taste: 4.25 | feel: 4 | overall: 4
Poured from a 750ml chilled bottle into a tulip. Assemblage #10.
Colour is hazy straw yellow with a head that fades from semi aggressive to a fine lace after a minute of so.
Nose is funk, oak and some citrus.
Taste is lemon zest, stable funk, slight leatheriness, saison yeastiness. Mild acidity. Mild sourness.
Thin body with dry finish.
Overall I like this beer but I like saisons in general.
★
399 characters

4
/5
rDev
+4.2%
look: 4 | smell: 4 | taste: 4 | feel: 4 | overall: 4
A: Poured into a tulip to a pale yellow that's slightly cloudy topped by a dense two finger tan head that retains well with some lacing
S: Smells of oak, horse blanket and band aids with a little sourness
T: Taste is oak and band aids with some rye spice. Horse blanket comes in at times as well as some lemony tartness. More funky than sour and there's some rye spice. Slightly medicinal at times from the band aids. Swallow is more funky barnyard and horse blanket with some lingering pale malt sweetness and rye.
M: This one is on the lighter side of medium in body with carbonation that is pretty much perfect and a dry finish
O: Overall this is a pretty good beer with nice flavors and complexity. I'm not sure how much this one will change with time but I think it has some potential. Definitely not a lot of sourness but it does bring the funk.
★
862 characters
4.2
/5
rDev
+9.4%
look: 4 | smell: 4 | taste: 4 | feel: 5 | overall: 4.5
750 mL bottle. Pale body. Yellow. Big white head. Bright tropical hop aroma. White wine. Lemony tart aroma. Less tart in the flavor, though. Lemony again. Mild tropical hops. Wheat grain flavor. Light body. Very bright and drinkable. Really pleasant saison.
★
270 characters
3.81
/5
rDev
-0.8%
look: 3.75 | smell: 4 | taste: 3.75 | feel: 3.75 | overall: 3.75
750ml bottle, 'assembly' #16, at 6% ABV. An apparent blend of sour beer aged in oak, and a young Saison, if my French doesn't totally suck, of course.
This beer pours a hazy, yet bright medium golden yellow colour, with two fingers of puffy, finely foamy, and mildly bubbly off-white head, which leaves a bit of thin high-flying cloud lace around the glass as it gently settles.
It smells of sour pale orchard fruit (lemon, green grapes, and white grapefruit zest, mostly), musty wood, tame cheesy funk, some soft graininess, and a suggestion of bristling alcohol cold heat. The taste is bready, grainy pale malt, white wine lees, more musty and gritty barrel woodiness, free-range, and subtly funky yeast, a twinge of dirty horse blanket, ethereal peppercorn mill dust, over-aged lemon peel, and a still understated hint of burbling booze warmth.
The bubbles are quite low-key in their plain and unassuming frothiness, the body on the light side of yer typical middleweight, and generally smooth, the funk not exactly bringing da noize at this particular juncture. It finishes trending dry, the malt petering out, while the wood, fruit, and yeast gear up for another go.
Overall, a pleasant enough sour brew, the 'guest' barrel-treated component just about right for its 20% stake. Funky as it needs to be for those sorts of fans, and agreeably drinkable for the rest of us who are not. Worthy of trying out, just to see what these hep cats are going to do next.
★
1,472 characters

3.76
/5
rDev
-2.1%
look: 3.5 | smell: 3.75 | taste: 3.75 | feel: 4 | overall: 3.75
It looks very refreshing in its hazy golden straw hue. A fizzy, tightly knit white head rises quickly with plenty of carbonation elevating it to the top but falls nearly as fast.
Tart, pinchy lemon peel comes out of the glass with a zing. Funky, earthy, Orval-like goodness is all around. Band-Aid phenolics are layered in between. A bit of crackery malt manages to pull through. Undertones of peach and apricot make the nose extra enticing.
Lemon zest comes with a refined tartness. Its edges are phenolic, crackery, and a bit watery. Green grapes come through the middle. Following suit with what's around, peach and apricot are stripped of much of their sweetness and come in the form of their tart skins.
Its feel is really what stood out to me. It's void of the snappy, pronounced, extra dry tartness I've come to associate with the general category of sours. It's rounded and soft and this is where I see its barrel aging really shine.
A soft, rounded and pleasantly tart lemon forward American Wild Ale is how I would sum this up. I really enjoyed its balance and subtle complexity in flavors. Mind blowingly unique and in your face? No, but a great sour on a humid summer's night.
★
1,194 characters
4.09
/5
rDev
+6.5%
look: 4.5 | smell: 4.25 | taste: 4 | feel: 4 | overall: 4
Hoppypocket, cheers man. Hazy lemon gold with a big, thick and frothy white head. Dry musty funk, light spicy yeast and fruity phenols, and light orchard fruits on the nose. Dry funky brett and orchard fruits, a little spicy yeast. Very light lime sourness, dry finish. Medium body, strong carbonation (bottle gushed). Love a dry funky wild, this one is pretty nice.
★
366 characters
4.18
/5
rDev
+8.9%
look: 4 | smell: 4 | taste: 4.25 | feel: 4.25 | overall: 4.25
Bottle: Poured a hazy golden color ale with a medium size foamy head with good carbonation but minimal head. Aroma of tart notes with light dry funky ester is quite nice and well balanced overall. Taste is also a great mix between some tart notes with some oak notes also perceptible and light funky ester finish. Acidity is well balanced and doesn't disrupt the overall balance. Body is about average for style with good carbonation. Great balanced and great complexity makes this a criminally underrated beer.
★
513 characters
4
/5
rDev
+4.2%
Thanks to Marc for the bottle!
This was an unexpected surprise. I thought this was a basic strong ale, but in fact it was a tasty, well-balanced sour. Hazy golden-yellow pour, with a good firm white head that retained well and laced the glass nicely. There was some odd funk in the aroma upon opening the bottle, almost diapery, but after pouring, that faded, and more of an earthy, lemony aroma came out. In the taste, candied lemon peel, earthy barnyard funk, candi sugar, wet wood, notes of floral spice. Mild tartness, just enough to get the salivary glands working. Well-balanced mouthfeel, medium body. Very nice overall.
★
628 characters

2.5
/5
rDev
-34.9%
Assembly #5
Smell of lemon, yeast, orange peel. Seems to be a good sour beer.
First sips are disapointing. Flavorless, mineral, hint of lemon. Barely sour and low carbonation. Very fresh however. The worst assembly so far.
★
222 characters

3.7
/5
rDev
-3.6%
look: 3.75 | smell: 3.75 | taste: 3.75 | feel: 3.75 | overall: 3.5
Sampled at VT Brewfest. Believe it was on tap but could just as likely be from the bottle.
A-My notes are thin and near gibberish... I believed it poured somewhere near orange.
S-Funky, tart, spicy. More barny, funkified yeast than sour. Just a little bit of wood. Generic fruity sweetness.
T-Spice from the yeast. Signature rye flavor. Funky yeast that has the easy to describe as 'barny' flavor. Little bits of wood. Mild sweetness.
M-Medium bodied with a quick finish. No alcohol. Softer carbonation.
O-Wouldn't mind another go at this beer. Probably missing much of the intricacies hiding here.
★
604 characters
3.56
/5
rDev
-7.3%
look: 4 | smell: 3.5 | taste: 3.5 | feel: 3.75 | overall: 3.5
A: Pours a slightly cloudy pale apricot with 5 fingers of fluffy white head with an abundance of lacing.
S: Yeasty tangy bread, lemons, light funkiness, mineral notes and wet hay and wood.
T: Taste follows the smell with dank funkiness, lemon rind, yeasty bread, wet hay and light oak.
M: Moderate and high carbonation
O: An interesting take on a saison with funky wild notes, but probably not something I would reach for again.
★
436 characters

4.2
/5
rDev
+9.4%
look: 4.5 | smell: 4.5 | taste: 4 | feel: 4 | overall: 4.25
Thanks again to Jones153 for the bottle.
Hazy golden orange colour, 2 fingers of white head, dense and quite fluffy, tons of lace as well. Smell is funky and bretty, lots of barnyard like funk, horseblanket, musty fruits, lemon and apple, subtle oak, a bright fruityness is always there as well. Tatse is full of brett up front, lemon and wet hay, funky barnyard flavours, vibrant and bright fruity flavours, with just a touch of oak. Light-medium carbonation, lightish body, dry feel. I really enjoyed this, a big fan of the special offerings from these guys, something I would gladly have again many times over.
★
614 characters
3.93
/5
rDev
+2.3%
look: 3.75 | smell: 3.75 | taste: 4 | feel: 4 | overall: 4
Bottle shared with Sammy and Liam.
Beer is cloudy yellow in colour, with a small white head.
Nose contains a slight funk, with some brett. Light fruit.
Taste contains a nice yeast flavour, a bit spicy. Light fruits and a dry finish. A very slight tartness. Nice fruity finish. Light. Nice stuff.
Medium bodied, moderately carbonated.
Overall, good stuff for sure.
★
368 characters
L'Ours from Le Trou Du Diable
85
out of
100
based on
13
ratings.