Blanche De Shawi
| Le Trou Du Diable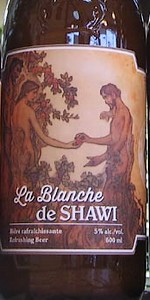 BEER INFO
Brewed by:
Le Trou Du Diable
Quebec
,
Canada
troududiable.com
Style:
Witbier
Alcohol by volume (ABV):
4.80%
Availability:
Year-round
Notes / Commercial Description:
No notes at this time.
Added by Sammy on 06-02-2007
Reviews: 8 | Ratings: 47

3.4
/5
rDev
-6.6%
look: 2.5 | smell: 3.75 | taste: 3.5 | feel: 3 | overall: 3.25
Veiled straw color with a low amount of activity. Slightly foamy white 2 finger head, lasting around 5 minutes, with weak legs. Flavors of fresh lemon, coriander, flowery spices, sweet grains, wheat, faint herbal spices. Oily medium body with perfect zesty carbonation. Medium strength finish with a faint lingering sweet wheathy and corny feel, a little yeasty, and a nice lemony feel. The freshness is disappointing, from a slightly too thick and oily body. Overall this is an okay craft. The flavors are alright, nothing special, the smell is very pleasant, but it lacks a lot of freshness, while the intensity is nice. I think its a miss from Trou du Diable.
662 characters
3.99
/5
rDev
+9.6%
look: 3.75 | smell: 4 | taste: 4 | feel: 4 | overall: 4
Almost translucent beer! With nice carbonation and a 2-inches head that disappear quickly but with nice lacing. Smells of wheat and yeast mainly, smells really good but I can't tell what it smells like other than a witbier! Nice smooth taste, nice hoppy taste for a witbier. It's not the best I ever drank but it's a pretty solid one!
335 characters
3.48
/5
rDev
-4.4%
look: 3.5 | smell: 3.5 | taste: 3.5 | feel: 3.25 | overall: 3.5
Bottle: Poured a light yellow color ale with a medium size white foamy head with good retention and some lacing. Aroma consists of wheat malt with light spicy notes with some coriander clearly identifiable. Taste is also dominated by some wheat malt with light sweet undertones and sight refreshing spices including coriander. Body is about average with good carbonation. Well done but doesn't really stand out from the pack of witbier out there.
448 characters
3.93
/5
rDev
+8%
look: 4 | smell: 4 | taste: 4 | feel: 3.75 | overall: 3.75
Bottled June 18, 2013
Beer is cloudy blonde, with a small to medium white head. Head fades fairly quickly, leaving just a rim.
Smell contains coriander and orange pretty strongly. I seem to get a bit of nutmeg as well. Wheat, lemon.
Coriander is the more prominent flavour. Also some orange, lemon and nutmeg. Crisp wheat. Nice and flavourful, seems quite traditional to me. Good.
Medium bodied, very strongly carbonated. Refreshing, but the bubbles are too intense.
Overall, quite good. I do rather like wits, but I still can't understand the low ratings for this beer. It is not amazing, but is certainly good.
617 characters

3.71
/5
rDev
+1.9%
look: 3.75 | smell: 4 | taste: 3.5 | feel: 3.75 | overall: 3.75
Pale hazy yellow, ring of white head, some lace left here as well. Smell is wheaty, spice and banana, bubble gum, yeasty, clean crip malts. Taste is earthy, spice and yeast, fruity, banana with a medium bitterness, fruity finish as well. Medium-high carbonation, medium bodied. Nice stuff here, not exactly a witbier, more in line with a hefe but still nice.
358 characters

3.75
/5
rDev
+3%
look: 4 | smell: 4 | taste: 3.5 | feel: 3.5 | overall: 4
Appearance: It has a nice cloudy pale straw/yellow color to it. It has a nice thick white head that dies down slowly and leaves some nice lacing.
Smell: The aromas definitely give out hints of bready yeast, oranges, coriander and wheat malts.
Taste: Like the aromas, it has some bready yeast, coriander, citrus/lemon zest and some wheat malts.
Mouthfeel: It has a low/medium carbonation with a nice overall balance and feel.
Drinkability: It's a very smooth drinkable beer accompanied with good flavors and aromas.
519 characters
3.9
/5
rDev
+7.1%
look: 3.75 | smell: 3.75 | taste: 4 | feel: 3.75 | overall: 4
600ml bottle. A whole lot of Garden of Eden imagery on the label. Is 'Shawi' the local dialect's diminutive for the city of Shawinigan? And I know they're Francophone, but fucking up the 'palate/pallet/palette' thing still seems sort of egregious on this label.
This beer pours a cloudy, yet still rather bright medium golden straw hue, with two fingers of puffy, chunky off-white head, which leaves a few specks of sudsy islet lace around the glass as things sink away.
It smells of crisp, edgily grainy wheat malt, semi-sweet coriander, subtle orange rind, yeast, and sturdy earthy hops. The taste is more sort of sweet, indistinct orchard fruit, with some unexpected red grape tossed in for good measure, a hint of Belgian-style yeast, a touch of wispy black pepper, a leavened grainy wheatiness, and understated earthy, weedy hops.
The carbonation is pretty sedate, yet not quite dead, the body medium-light in weight, and mostly smooth. It finishes off-dry, the fruitiness still rather prominent, while the grain lingers on unloved, and the yeast and spice lazily peter out.
A tasty, zesty version of the style, most elements pumped up to a certain degree, but thankfully not the booze. Man indeed does not live on bread alone, so give it a go should you get the chance, this fruit ain't all that forbidden.
1,316 characters
3.13
/5
rDev
-14%
look: 3.5 | smell: 3 | taste: 3 | feel: 3 | overall: 3.5
Modiale 2007. Cloudy creamy, promising by view Sour in aroma, oh one like that. corriander, and orange peel. Bit creamy. Drinkable, but sour. Above average carbonation and light mouthfeel.Their beers are more or less convential, not offensive but nothing unique.
262 characters
Blanche De Shawi from Le Trou Du Diable
3.64
out of
5
based on
47
ratings.