La Grivoise De Noel
| Le Trou Du Diable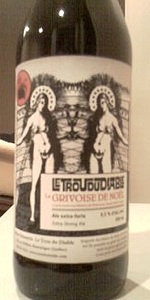 BEER INFO
Brewed by:
Le Trou Du Diable
Quebec
,
Canada
|
website
Style:
Belgian Strong Dark Ale
Alcohol by volume (ABV):
7.50%
Availability:
Winter
Notes / Commercial Description:
No notes at this time.
Added by eat on 12-20-2009
Reviews: 36 | Ratings: 87

4.04
/5
rDev
+6%
look: 3.5 | smell: 4.5 | taste: 4 | feel: 3.5 | overall: 4
Pours a very light brown, transparent ruby notes, minimal soapy head, no retention to speak of, looks a lot like a glass of coke. Smells of cinnamon, yeast, fig, dark fruit, licorice like sweetness, banana, earth notes and alcohol. Palate of cinnamon, malt, bread, dark fruit, medium bitterness and sweet candy like notes round this out. Syrupy mouthfeel, sticky, very aggressive carbonation that I found hard to get past, medium to heavy weight. Drinkable and I would try this again for sure, the carbonation and stickiness take away from this but its still pretty solid.
★
572 characters
4.05
/5
rDev
+6.3%
look: 4 | smell: 4 | taste: 4.5 | feel: 3.5 | overall: 3.5
from a 500ml brown bottle bought at Peluso. A very nice label indeed ! very apealing.
Nice brown colour with a beige head. The nose is spicy with a hint of yeast. Nice mouthfeell, with some spices, nice malt, sweet, the alcool is not that present albeit its 9,5%. nice clean finish.
Overall a nice strong dark ale.
★
316 characters
4.12
/5
rDev
+8.1%
look: 3.5 | smell: 4 | taste: 4.5 | feel: 3.5 | overall: 4
Hazy, dark copper body with a thin, off-white head. Molasses, sugar cookies, slightly spicy cinnamon and nutmeg tones; rye; roasted grain in the aroma. Graham crackers and cinnamon dominate the taste; nice mild malt backbone; strong hop bitterness combined with a strong alcohol warmth showing up at the end. Medium-body; sharp and dry finish.
An interesting and tasty spicy holiday beer. Uneven in some areas yet the bottom line is the taste, and this beer pretty well nails this with loads of holiday flavors.
★
512 characters
4.12
/5
rDev
+8.1%
look: 4 | smell: 4.5 | taste: 4 | feel: 4 | overall: 4
Grabbed this at City Beer Store for 9.99 (500ml bottle). Not seeing a bottle date anywhere but I suspect it's this year's batch.
Pours a medium copper color. Foam formation was modest, very light tan, and only partially retaining. Scant bit of lacing clings to the glass. An inviting array of aromas reminiscent of the holidays. Gingerbread cookies, fruitcake, cinnamon, and dried apricots all making their presence known. As the beer continues to breathe I'm also picking up some caramel/toffee notes. Spicy gingerbread cake flavor upon the initial sip with snickerdoodle cookies, raisins, toffee, all making an appearance. Cinnamon candy, too. Modest body and carbonation bordering on medium-high. Definite warming sensation from the alcohol but this adds to the holiday cheer in my opinion.
Overall this is certainly a tasty brew and reminds me of spending a day in grandma's kitchen while she bakes up some delicious sweet and spicy holiday treats.
★
956 characters
4.15
/5
rDev
+8.9%
look: 4 | smell: 4 | taste: 4 | feel: 4.5 | overall: 4.5
500ml bottle poured into a Chimay goblet.
A: Pours a deep ruby red. The lively, off-white head retains well enough, though it does settle after a little while. Lacing is small and spotty.
S: Rich malty base of blackstrap molasses, bread pudding, and fruitcake. Black licorice. Yeasty with some light fruity scents. Spicing complements it all very nicely.
T: Bread pudding and licorice. Fruity esters of pear and perhaps a touch of banana. Yeasty and spicy. Malt complexity begins to pull through mid-palate with layers of fruitcake, honeyed bread, molasses, caramel, and more. As in the nose, the spicing is very well integrated and plays a supporting role. It melds together nicely, so it's tough to distinguish exactly what's at play, but it tastes as though there's some cinnamon, nutmeg, and perhaps even cardamom. Sweet finish leaves lingering tastes of bready desserts and mixed spices.
M: Very full, rich, and creamy in the mouth. Thick-ish body. Ample carbonation supports the mouthfeel well in that it allows the beer to feel rich and decadent without seeming overly heavy. Great mouthfeel.
O: Now this is a Christmas beer I can really get behind. Rich, deep, and complex with a spicing that's incorporated perfectly. Drink this beer for some holiday cheer.
★
1,274 characters
4.17
/5
rDev
+9.4%
look: 4 | smell: 4.5 | taste: 4 | feel: 4.5 | overall: 4
The label (a very nice one, I might add) lists the style as Extra Strong-Ale. No production date but it must be recent. Translated description: "Inspired by Christmas beers, this beer, refermented in the bottle, possesses a very complex but always agreeable taste thanks to it's little spiced-candy side."
Great cloudy, copper coloured beer with a frothy off-white head, receding to a solid layer across the surface which sticks around until it's all gone. Almost no lacing.
Crackers, candy, apple cider, wheat, yeast, light Belgian spices. Very nice. I originally gave it a 4 but the smell really opened up as it warmed.
It tastes like it could be a legitimate Belgian ale (as in...brewed in Belgium). Complex and warming, this is definitely a great winter beer. The taste is a bit acidic with quite a lot of warming alcohol (to be expected at 9.5%), though not an overpowering amount. Wheat, candy and a nice spice mix. The finish is dry and bitter.
Awesome feel, I noticed right as it entered my mouth. Creamy medium body with a sparkling moderate carbonation which pairs well with the flavour.
Quebec is known for their true-to-style Belgians and Le Trou du Diable ranks right at the top along with Unibroue and Dieu du Ciel. This isn't the most conventionally drinkable beer, but it isn't supposed to be. This is a sipper meant to be enjoyed by a fire on a cold winter's night and consumed as such is extremely drinkable. I would definitely buy this again and highly recommend checking out this or any of their other beers. I can't wait until they start bottling regularly.
★
1,586 characters
4.17
/5
rDev
+9.4%
look: 3.5 | smell: 4 | taste: 4.5 | feel: 4 | overall: 4
Certainly not a style of beer I would typically gravitate towards however I was pleasantly surprised.
Look: Amber, camel co lour with a head that quickly subsided.
Smell: Fruity, cherry and plums
Taste: Strong cherry taste with malty notes
Feel: Light carbonation, dry
★
272 characters

4.19
/5
rDev
+10%
look: 3.5 | smell: 4.5 | taste: 4 | feel: 4 | overall: 4.5
The beer pours a reddish mahogany brown with mild haze. The head is small and beige and fades to a ring of bubbles after a minute or two. The initial aroma is a tad boozy, but once I took a sip and stuck my nose in closer for a better smell, the alcohol presence blends into the mix of sweet malt, Belgian Christmas-y spicing and earthy yeast. Nutmeg, peppercorns, cinnamon, cookie dough, honey, gooey caramel, wood, raisins, figs, dates, candied plums and overturned earth. It's warm and sweet. Kinda makes me think of eating fresh snickerdoodles and oatmeal raisin cookies next to a Christmas tree. It really just oozes Christmas in a Belgian-style ale way without getting cloying or overly spiced like many Christmas beers. More of the toasty, bready malt notes come out as the beer warms. The taste is similarly strongly holiday-ish - sweet, spiced and earthy/woody - without pushing any one note too hard. More honey flavor comes through than expected. It's a warm, rich beer. Lots of malt flavor. There's an unexpected hoppiness and a mild chalky note in the finish. Mouthfeel is smooth, though there is a bit of booze lurking around the edges. It's mostly just warming, though. I had no real expectations with this beer, and happily, it turned out to be one of the best holiday spiced ales that I've tried.
★
1,313 characters
4.22
/5
rDev
+10.8%
look: 4 | smell: 3.75 | taste: 4.5 | feel: 4.25 | overall: 4.25
Nice amber-red color with a beautiful creamy head, lots of carbonation. Fruity and sweet smell, some bread notes and some spices too. Really sweet in the mouth with a banana taste, dark fruits are present too. Very nice beer with an interesting flavor profile
★
259 characters

4.3
/5
rDev
+12.9%
look: 4 | smell: 4 | taste: 4.5 | feel: 4 | overall: 4.5
Bottle dated Nov 2011. Thanks to BlogueDeBieres for the chance to try this one. Cheers!
Very pretty, bright, deep red amber color with a short-lived light tan head that leaves a slick of bubbles on the surface and a very light coating of lace on the glass.
Fruity esters on the nose - banana and a bit of spicy licorice along with some stone fruit and toast.
Malty and sweet flavor of brown bread, raisins, hard candy, and a touch of spice. Licorice, cardamon and a bit of black pepper all line up for attention. However, the spices are well integrated with the malt. This doesn't seem like a spiced beer so much as a unique whole creation of its own type.
Medium body that is not too heavy but just light enough to give the beer a sense of finesse. The carbonation seems a bit fizzy but perhaps contributes to the sense of lightness, keeping the palate from bogging down.
Overall this is a great sipper and amazingly pretty and lithesome for the abv and amount and variety of flavor it packs. After we have had summer weather the past few weeks, it is helping me deal with the arctic blast that decended on us today. Merry Christmas, whenever it is!
★
1,156 characters
4.43
/5
rDev
+16.3%
look: 3 | smell: 5 | taste: 4.5 | feel: 3.5 | overall: 4.5
2012 vintage (bottled Oct. '12), lightly chilled 500 ml bottle into shaker pint.
Look- Clear amber-brown with a soapy three fingers of foam that settles fairly quickly,
Smell- Molasses cookies, cinnamon, vanilla, candied fruits, eggnog/nutmeg, rice pudding with raisins, slightly woody background. Wow, a Christmas beer that actually smells like Christmas! Normally this would be a 4.5, but they really hit this one spot-on for the theme.
Taste- Similar to the nose, although not quite as complex. Malty, rich fruity character that could be interpreted as either a barleywine or Belgian strong dark, significant toasted/caramel malt, the grains are bold and distinct. Fresh brown bread, mild Belgian ester character, maple and molasses, cinnamon, bread pudding. Aftertaste is quite dusky/dry spices, nutmeg again, light sweetness, tastes like spiced sugar cookies, reminds me of cinnamon gumdrop candies. Lingering toasted brown bread. This is no everyday beer, but it is certainly the most comprehensively Christmas-y beverage I've ever consumed.
Mouthfeel- Full body with carbonation that lightens without being prickly, fairly smooth, chewy. Abv well hidden. Cleaner than expected finish, surprisingly easy drinking.
Overall- Well, first off I want to say that I'm deeply saddened by not being able to finish the bottle. What with the number of days I'm in Quebec, the number of beers I'm trying to sample, and the amount of alcohol I'm willing to consume in one day, I simply couldn't finish the 500 ml bottle. It's a shame, particularly as it's growing on me as I sip. I imagine that this beer was a happy accident- whatever the brewers were aiming for, they may have devised the perfect Christmastime beer. Get it, keep it, cherish it, but above all, drink it!
★
1,774 characters
La Grivoise De Noel from Le Trou Du Diable
85
out of
100
based on
36
ratings.