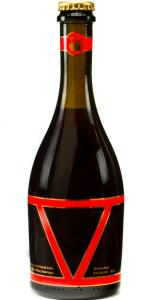 BEER INFO
Brewed by:
Le Trou Du Diable
Quebec
,
Canada
troududiable.com
Style:
Scotch Ale / Wee Heavy
Alcohol by volume (ABV):
9.00%
Availability:
Limited (brewed once)
Notes / Commercial Description:
Claymore scotch ale aged in Jack Daniels barrels.
5th anniversary brew.
Added by SFLpunk on 02-13-2011
This beer is retired; no longer brewed.
Reviews: 10 | Ratings: 16
3.36
/5
rDev
-12.3%
look: 4.5 | smell: 3.5 | taste: 3.5 | feel: 2.5 | overall: 3
Thanks to hoppypocket for getting me this.
Poured from a 500ml. bottle.
Appearance: Pours a dark auburn body with 2-3 fingers worth of light tan head. Next pours also give it more foam. Thick coating around and all around very nice.
Smell: Hits those nice whiskey notes while retaining some beer character. Not the most intense aroma but good.
Taste: The Jack Daniels is apparent from the first sip but the carbonation makes it hard to pick out other flavors (more on that below). As it warms, strong malt, tinges of wood and some peat make it through. Whiskey is well balanced and compliments well from what i taste.
Mouthfeel: Way too much carbonation. Impedes the ability to properly assess the body. It takes over an hour before it finally settles down and i can get some creamy feel come through. Not entirely pleasant.
Overall: The over carbonation kills the enjoyment of this brew. Thankfully i was patient enough to wait it out and let the beer shine through a bit to reveal its potential otherwise it would have scored a lot lower.
1,046 characters
3.03
/5
rDev
-20.9%
look: 3.5 | smell: 3 | taste: 3 | feel: 3 | overall: 3
Bottle: Poured a deep copper color ale with a large foamy head with OK retention and minimal lacing. Aroma consists of light wood notes with some sweet malt notes and some light warming alcohol ester. Taste is more subtle mix then anticipated with light notes of wood, caramelized malt and some alcohol. Body is about average with good carbonation and some apparent alcohol. I was expecting a bit more character with more malt coming through then the final results achived.
473 characters

3.71
/5
rDev
-3.1%
look: 4.5 | smell: 3.5 | taste: 4 | feel: 4 | overall: 3
Special beer for the 5th anniversary of this brewery.
Nice package... lets see what is inside!
Beer is brown color with some reddish note. Very nice looking. The head is actually creamy looking. Very inviting. Aroma is medium to light intensity. I get some fresh fruits, some cinnamon too. Very complex. Slightly sugary (caramel notes). It could be more intense in the smell. On the taste, the complexity of this beer shows. This is typically a TDD beer, its their signature. Taste wise it is so complex I'm not able to detect different stuff. It does taste good 'tho. Full body beer... Sipper. Very robust too and lots of flavor. This is too pricy, but very good.
666 characters
3.93
/5
rDev
+2.6%
look: 4.5 | smell: 4 | taste: 4 | feel: 4 | overall: 3.5
Beautiful hazy ruby-coloured body with an awesome looking cream-white head. Great retention and lacing. Wicked bottle design.
On the nose: lots of alcohol, grain, dust, oak, char, sweet malt, a bit of funk and a little whiskey.
Very oaky brew. Mostly dark flavours; tobacco, char, oak, bourbon, grain, vanilla. I'm left wanting more sweetness here to balance things out. Still a bit hot on the alcohol (needs more age). Bourbon comes out on the finish.
Medium body with light carbonation.
Nice sipper but could use more malt and age. Wish I had another one of these to put away for a while but Peluso, where I picked this one up, only received two cases and were limiting purchase to one per customer.
708 characters

3.78
/5
rDev
-1.3%
look: 4 | smell: 3.5 | taste: 4.5 | feel: 2 | overall: 3.5
Little anecdote: This beer's gorgeous bottle cost 4$ (each bottle, custom made) to TDD.
A: Deep hazy brown color with really good amount of beige head. The head is creamy looking, has really good retention and ok lacing.
S: The smell is something I've never smelled in a beer, really different. Definitive peat smoke in this mixed with a little weird mint smell. Super strong vanilla as well as oak. Some evident caramel, molasses and maple syrup. Some booze.
T: You can really easily get the whisky notes in this. Strong tastes of peat smoke, vanilla, oak, leather, almonds and buttery esters. If the goal of this beer was to make it taste the closest possible to whisky, well they succeeded. A little bit of maple syrup and cinnamon. There seems to also be quite a lot of hops for a scotch ale (which isn't much compared to IPA's) in the form of quite strong earthy hops and lightly citrus-like. Not as sweet as one would think with quite a good amount of wood tannins giving a really nice long aftertaste. No alcohol in sight. Really interesting.
M: Medium body with WAY too much carbonation for a beer like this. This is a serious let down here. I expected something very heavy, sticky and low carbonation, which would have been much better for this beer. Gets a bit bigger as it warms up, still not what I'd want.
D: Quite easily drinkable considering the ABV. The wood tannins is what slows it down (but also what makes it interesting).
1,447 characters
3.8
/5
rDev
-0.8%
look: 4 | smell: 4 | taste: 3.5 | feel: 4 | overall: 4
Good sample given to me by Le Trou Du Diable crew at their Volo event. Aged in Jack Daniels whiskey cask. Smoked malt, some bourbon, easy drinking. Pretty good for the style, though not as smokey as it could be. Above average mouthfeel.Darkish colour.
251 characters

4.07
/5
rDev
+6.3%
look: 3.5 | smell: 4 | taste: 4 | feel: 4 | overall: 4.5
Light mahogany, dark red in light, thin soapy head at edges, light lace. Smell is dominated by Jack Daniels, oak, woody malt, a sort of musty presence, slight dark fruit, cherry but lots of bourbon oak. Taste of vanilla, bourbon, oak, malt, sweet sugar notes and a maple presence comes and goes. Light syrup mouthfeel, very smooth, fairly high carbonation that works well with the oak. Very drinkable brew, great use of oak, ABV well hidden, would revisit this again gladly.
474 characters
4.08
/5
rDev
+6.5%
look: 4.5 | smell: 4 | taste: 4 | feel: 3.5 | overall: 4.5
Well packaged 500ml bottle, shared by eat - thanks man!
Pours a robust dark red with a finger of creamy head, leaves spider web lacing down the glass.
Nose is loads of vanilla, fruit cake, oak, peat, bready malt and a good dash of smoke.
Taste is let down by the lighter than ideal body but the barrels did a good number on what is probably just an alright base beer. Earth and tobacco, plum, vanilla, brown sugar, oak, bready malt, hints of the JD, touch of cocoa. Nice dry finish, hides the ABV very well. As I said, a little on the light side of the body but a fine beer nonetheless.
589 characters
4
/5
rDev
+4.4%
look: 4 | smell: 4 | taste: 4 | feel: 4 | overall: 4
Thanks to Colin for sharing this sexy bottle. This is a combination of the rather unsexy (but solid) claymore scotch with JD barrels.
Beautiful mahogany pour with a finger of bubbly light tan head that leaves a few lace spots. Decent retention for a barrel-aged beer, though it does eventually drop to a film. Good nose - peaty scotch notes mingle with a spicy woodiness, brown sugar and a dash of vanilla - which is exactly what you'd expect. Flavour starts off quite dull - mostly passable scotch ale maltiness - before exploding in the finish. Lingering and HUGE vanilla, spicy oak... mm, it's beautiful and reminds me why I like barrel-aged beers. What's not apparent is the Jack, but that's fine by me - it's the oak I love more than anything. Smooth body with a moderate carbonation.
Could probably do with another year or two in the cellar, and it would be great if they used a better base beer, but otherwise, nicely done.
932 characters

3.81
/5
rDev
-0.5%
look: 5 | smell: 4 | taste: 3.5 | feel: 4.5 | overall: 3.5
Thanks to freud for this one! $15.99. Beautiful painted 500mL brown glass pry-top with a big red Roman "V" ("5") on the front and a red five-pointed pitchfork on the back.
Pours with lots of frothy head a-top a deep reddish mahogany, crystal-clear body. Great retention on the light tan head.
Smells bright and sparkly with lots of caramelized woody malt. Toasted American oak/vanilla notes creep forward.
Palate is juicy with lots of Jack Daniel's presence. Whiskey soaked cherries come to mind. Some smokey malt lays underneath a slick layer of American whiskey flavor. Long-ish finish.
Notes: A tasty, albeit pricey brew that probably should have stayed in my cellar for a couple years.
701 characters
V from Le Trou Du Diable
3.83
out of
5
based on
16
ratings.