Ed Boudreaux's Bayou Bar-B-Que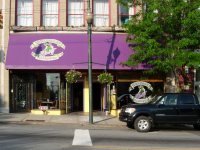 PLACE INFO
Type:
Bar, Eatery
48 Biltmore Ave
Asheville
,
North Carolina
, 28801
United States
(828) 296-0100
// CLOSED //
Notes:
No notes at this time.
Added by GCBrewingCo on 04-13-2006
Ratings: 10 | Reviews: 10
Reviews by wcudwight:
4.3
/5
rDev
+7.2%
vibe: 3.5 | quality: 5 | service: 4 | selection: 4 | food: 4.5
Wow, I really liked this place. Looks like a nice BBQ joint would, with a bar in the back left hand corner. Great location as it's next to Barley's Taproom. Brew kettle on the left hand side, but I believe it's only for looks. Just a few taps, but they are carefully thought out. 90 min and Bigfoot Barelywine were two that stood out. A very extensive bottle selection. An added bonus is all beer is served in the proper glasswear at room temp. I paid 10$ for a 10oz. servings of 90min and Bigfoot. Seems pricey to me. Food is great and ranges from typical(but very tasty) BBQ to funky vegitairian dishes that are popular in Asheville. They also have a BBQ sauce bar that has some excellent sauces. I highly recommend this place. Yet another fine place to drink and dine in the wonderful city of Asheville NC.
809 characters
More User Reviews:
3.95
/5
rDev
-1.5%
vibe: 4 | quality: 4 | service: 4 | selection: 4 | food: 3.5
Conveniently located next to Barley's taproom, this is a good place to keep in mind on those days when the taproom is packed (which I'm guessing is a lot of days). The place has a very informal, laid back vibe, with a good size dining area and modest size bar in the back on the left. The latter area was where I perched on a Saturday evening after learning that there would be a considerable wait if I wanted to sample the pizza at Barley's. The beer selection here was pretty decent, with roughly 15 selections on draft (one local stout was on nitro), which this day included Founder's Double Trouble and Victory prima pils, along with a considerable numnber of local beers from Pisgah and Wedge. They also have a modest size bottle list, which included a number of imports and stuff from Stone and Rogue (by way of an example - I seem to recall around 30 selections broken down into micros, imports and high abv. stuff). Service was pleasant, with both my beer order and food coming quickly after ordering.
Prices were reasonable I thought, though a bit puzzling. A dozen of their "enormous wings" was priced arond $15 and $16, and most of the bar-b-que platters were close to $20, with a rack of baby back ribs going for $22. On the other hand, my bar-b-que nachos were a very reasonable $5.95, and had a decent amount of pulled pork. The meat was prepared well (though was nothing outstanding), though the drizzle of warm cheese wiz was unexpected (the menu refers to the chips "smothered" in cheese.... they weren't smothered and it's debatable whether the yellow goo on my chips qualifies as cheese).
In any event, this was a very laid back, easy to appreciate beer bar, and was just what I was in the mood for after my brief stop at Barley's and long drive down from Baltimore. I'd go back in a heart beat.
1,817 characters

4.05
/5
rDev
+1%
vibe: 4 | quality: 4 | service: 4 | selection: 4 | food: 4.5
My wife and I had a very enjoyable dinner here to celebrate her birthday last week. The location is awesome, right next to Barley's and across the street from Hannah's and down the street from The Orange Peel.
It was mostly empty on a Thursday night and the service was pretty fast and friendly. The beer selection on draft was about a dozen, about half of which were local products. I had a Catawba Valley Firewater IPA and a Pisgah Equinox. There were bottles too but I didn't check that out. My wife had a turkey club and I went with the brisket platter, which was an overwhelmingly strong choice. I have been to a lot of great BBQ places and this was just a shade off the very best. With fries and mac and cheese I was in heaven. If a barbecue fan, this is the place in Asheville.
For what we ordered, the bill seemed very reasonable. I would definitely recommend this for dinner or lunch. For pure drinking, Barley's, Hannah's or the Mushroom provide more beer.
970 characters

3.59
/5
rDev
-10.5%
vibe: 4 | quality: 4 | service: 3 | selection: 3.5
I stopped into Ed Boudreaux's with my wife while visiting Asheville. Boudreaux's is a BBQ restaurant with a decent lineup of local beers on tap. It's mostly made up of tables but there's a moderately sized bar in the back corner.
They had nine beers on tap. Most were locals including Pisgah, Wedge, French Broad and Highland. I went with a Pisgah Pale Ale and I thought it was fantastic. I think they had bottles as well. We didn't eat but the menu looked good and the smell was fantastic.
Ed Boudreaux's isn't a beer destination itself but it makes a great stop on any Asheville pub crawl.
594 characters
4
/5
rDev
-0.2%
vibe: 4 | quality: 4 | service: 4 | selection: 4 | food: 4
I've been here a couple times. Thought I had reviewed it, but like a previous poster I guess not. Ed's is right next to Barley's, and above the old Highland Brewery space. Complete with one of the tanks coming up through the floor. Around 6 different beers on tap, but an extensive bottle list. The food is pretty descent I normally get some type of sandwich as there's better BBQ to be had in Asheville. The atmosphere is pretty laid back, kind of a dark bar feel. Both times I've been there they've had live music. Overall it's a pretty good place especially if Barley's has a crowd.
585 characters
3.7
/5
rDev
-7.7%
vibe: 3.5 | quality: 4 | service: 4 | selection: 3 | food: 4
I visited here last here and I swear I reviewed this place, but upon further investigation, it appears that I have not. I will base this review off of two reviews last year.
Pretty small place if I remember correctly. The sweet smells of bar b que and hickory smoke greeted me as I entered the establishment. I love those smells. Wood fired pizza and hickory smoke cant be beat.
I sat at the bar and had a BBQ sandwich. The cool thing about this place is that they have a BBQ sauce bar. There are little tuns of BBQ sauce, maybe six different types. Range from sweet to jalapeno spicy. My favorites were on the spicy end but the Jamaican style sauce was good as well. The sandwich was tasty but nothing too mind shattering.
A nice joint overall. I chose lunch and was the only one in the place so the atmosphere was dead. I have stopped by on Thurs night or so and it looked pretty cool.
Beer selection was around 5 or 6 beers. Next door at Barleys there are atleast 30. Good food, beer is next door.
1,006 characters
4.22
/5
rDev
+5.2%
vibe: 4.5 | quality: 4 | service: 4.5 | selection: 4 | food: 4.5
The last time me and the wife went up to Asheville, she picked this place to stop in and eat. I had honestly never heard of it before, so did not know what to expect when I went inside, boy was I suprised. First off this had to be the least crowded place in Asheville, which was just awesome. Big brew tank right as you walk in, all wooden seats, tables, and floor boards, gave it a real old time feel. Bar was in the back left corner and was a normal size. HUGE projection screen straight agaisnt the back wall, with the Braves gave on when I was there and nightly live music. Atmosphere was awesome, nice and laid back, very chill place. They had about 6-10 beers on tap, and it was a broad range. Some local, some Import, some randon high grav, a nice little mix. There had to be about 100 bottles though. Great beer menu listing them all by category. Had some bottles I had not even seen in the southeast before, which was a pleasant suprise. Food was excellent, sandwiches, and south bar b que. Gotta love. Prices were very reasonable, especially for the asheville area. Overall this was an excellent place, and a nice little retreat from downtown. I would definatly recommend giving them a try the next time you are in the area.
1,234 characters
4.14
/5
rDev
+3.2%
vibe: 4 | quality: 4 | service: 4 | selection: 4.5
I had been to Barley's many times and never gave this a chance even though it's right beside it. Went here with a group of people when I visited my sister and enjoyed it. Definitely a BBQ place type of feel. Wide open and spacious with wooden floors and the like. Huge selection of bottled beers. I actually tried my first Dale's here as well. Not many beers on-tap but from what I saw they were all quality. I hope to come back soon and try their food, as I heard from many people that it was great. From what I did get to experience this place is one to come back to.
569 characters
4.13
/5
rDev
+3%
vibe: 4 | quality: 4 | service: 4 | selection: 4.5 | food: 4
This place was a pleasant surprise since it doesn't really advertise that it's a beer bar. There were 7 or 8 beers on tap, all craft, and the bottle selection was huge. The bar manager mentioned that he was a beer geek and handed me a beer menu that had well over 100 beers listed. Everything from 750's of Allagash Curieux to 22oz bombers of Yeti Imperial. I also saw several Belgians, British and German beers listed. The food was good, but a little overpriced. Service was excellent. One strange thing about this bar is that they served 10.5 oz glasses for draft beers over 8.5% . Yet, you could order a 22 oz bomber of Yeti and was allowed to have the whole bottle yourself. Go figure. Still, this is a cool place for BAs to check out, if only for the bottle selection.
773 characters

4
/5
rDev
-0.2%
vibe: 4 | quality: 4 | service: 4 | selection: 4 | food: 4
Ed's is directly beside Barley's and most people would skip it not thinking about the beer selection that might lurk inside.
Ed's is a BBQ joint with several food offerings and a plethora of sauces with at least one to suit every taste. The place has 7 drafts and I quit counting at 75 craft bottled offerings. The 7 drafts were well chosen and competitively priced. The food was very, very good, but did not have a predominant flavor since the sauces are utilized to make the meal whatever is desired.
The beer quality seemed very good and the server may have let the cat out of the bag by saying that it may eventually become a brewpub. In fact a tank sticks through the floor near the entrance. Perhaps the Highland space once it vacates?
I'll go back, good food, nice atmosphere and good beer. What could be better?
828 characters
Ed Boudreaux's Bayou Bar-B-Que in Asheville, NC
4.01
out of
5
based on
10
ratings.