Granite City Food & Brewery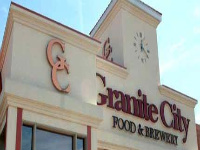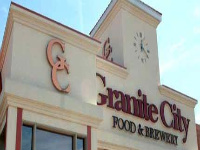 Brewery, Bar, Eatery, Beer-to-go
1701 Village West Pkwy
Kansas City
,
Kansas
, 66111-1879
United States
(913) 334-2255 |
map
gcfb.net
Notes:
Recent ratings and reviews.
| Log in to view more ratings + sorting options.
Ratings by joemetric:

More User Ratings:

Reviewed by Olesjm from Kansas
3.5
/5
rDev
-5.9%
vibe: 3 | quality: 3.5 | service: 3.5 | selection: 3.5 | food: 4
The brunch is decent and relatively inexpensive. The beer isn't the best micro brewed beer out there but I've never had a below average beer. They are keeping up with the jones' in the brewery and do occasionally release an experimental. All in all a decent enough American restaurant and brew pub.
Jan 02, 2021

Reviewed by MickeyD from Kansas
3.79
/5
rDev
+1.9%
vibe: 4.5 | quality: 3.75 | service: 4.25 | selection: 3 | food: 4
I really like this place alot. Most of the time we go here before a Sporting KC game and have a few beers. they really only have their won beers on tap and most are decent. The thing with their selection is that all of there beers lack a good heariness to them. Little smell small taste but not bad. I like their stout, bock and wheat the most.
Mar 24, 2013
Reviewed by Mebuzzard from Colorado
3.18
/5
rDev
-14.5%
vibe: 3 | quality: 3.5 | service: 3 | selection: 2.5 | food: 4.5
Cookie cutter atmosphere here. I went during lunch on a Sunday and found that they had a brunch buffet. To me that screams impersonal. But, it wasn't too loud and they had the playoff NFL games on the few TVs. Ok...I love football.

Clean place with bar up front on the left and seating areas to the right. Entry way leads right to the soda station...with its ice sink open, exposed to dirt blowing in from outside (it's KS, yes the wind blows). Kind of a bad spot for it.

Bar had 6 of it's own regular beers, plus two of their 'special' beers...with no tap handles. I asked for the specials....only one was pouring..the Batch 1000 (an under performing DIPA). Their list of beers seems pedestrian for the beer lover, but 'not bad' for regular folk.

I looked around and saw that i was the only one with a beer...at least in the dining side of the place. Hmmf.
Food was nice, I had the Cuban Sandwich and it was tasty. The price this wasn't bad, but other menu items were high (meat loaf for $15!)

Service was present. Nice, but just barely. Two staffers didn't know what their beer was.
An OK place, but if you want beer, go elsewhere....even Old Chicago
Jan 17, 2011
Reviewed by Durge from Connecticut
3.93
/5
rDev
+5.6%
vibe: 4.5 | quality: 4 | service: 4.5 | selection: 3
I only had time to stop in here quickly after flying into Kansas City airport. Stayed for only about 15 minutes and had one IPA which I enjoyed. This is a huge and very contemporary (about 3 years old) establishment which obviously invests heavily in their food business. The decor is that classic stone and timber look with the big handsome rocks and subdued lighting, pretty classy I guess if you like that sort of look, and it clearly beats a lot of other possibilities when it comes to beer joints. The entire area around this place is loaded with restaurants and other businesses. This place apparently features live music on occasion and they also have great happy hour prices, only $2.50 for my 16 ouncer! The bartender was very friendly, talkative and informative about the place and the beers. The one thing that bothered me a little was that they only had four beers on tap. They had an IPA, a stout, a light lager and a bock. The bartender said their bock was probably the best of the four but I had the IPA and rated it a solid "B" for good citrus hop action. But it just seemed underwhelming for this giant brew pub to have only four beers on tap. They do brew numerous other styles during the course of the year fortunately so things do rotate for some variety. I didn't have a chance to try the food but the bartender suggested that it was one of the better places to eat and it was a nice atmosphere for dinner, a place you could bring a date, or the family, for an informal but nice meal. There were a couple TV's at the bar. I guess this is a chain, a cut above most in its classy look but still comfortable for the casual diner and/or beer fan. Recommended.
Feb 03, 2009
Reviewed by zeff80 from Missouri
3.6
/5
rDev
-3.2%
vibe: 3 | quality: 4 | service: 3.5 | selection: 3.5 | food: 3.5
This place is located at the south entrance of The Legends, a huge strip mall built near the Kansas Speedway. The atmosphere is fairly bland. It's not ugly or offensive, but it looks like a fairly new chain brewpub. The beer was pretty good. Nothing exceptional and I'd like a few more options (just 5). The service was okay. The server kept comparing their beers to common macros. For example, he compare their light lager to Bud Light and Miller Lite. He also compared their Maibock to Killians, which isn't even close to the same style. No big deal since I knew better. It also bothered me that the beers weren't listed anywhere. Unless it was by the bar and I didn't see it. The food recieved mixed reviews at our table. I liked my burger while an order of soup was largely disappointing. Overall, it's an okay stop. A pint is just $3.50 which is reasonable, but the food was overpriced.
Jul 31, 2008
Reviewed by giblet from Ohio
4.45
/5
rDev
+19.6%
vibe: 4 | quality: 4.5 | service: 5 | selection: 4 | food: 4.5
visiting kc and i had to try this place. very comfortable place to get a beer and some food. i sampled three of the four beers on tap. they brew them on premises so it should be very fresh. all three beers were very good. service was excellent the waitresses were on the ball, the bartender was very pleasant to be around - thanks charlie. the food was very good. if i was in the area longer i would like to try a lot more off of that menu. i am happy to hear there is a new one coming to my home state.

giblet
Jul 15, 2008

Reviewed by jjayjaye from New York
4
/5
rDev
+7.5%
vibe: 4 | quality: 4 | service: 5 | selection: 3 | food: 4
I've visited two Granite City locations. The beer is reasonable and the food is good. I've done the Sunday morning brunch buffet in KS a couple of times on business trips. Granite City gets a gold medal for their imaginative approach to distribution. My understanding is that they do the brewing in a northern midwest state then ship the wort in specially designed tank trucks. By doing this they get around laws regarding state to state distribution... because the wort isn't alcohol yet. They pipe the wort from the trucks into the brewpubs using large hoses, like the ones on firetrucks or on aircraft refueling trucks. The wort is pumped into the fermentors and the process is completed "on site". How cool is that?!?

Anyway, they are franchise chains so the facilities in KC MO and KC KS were very similar. They both had large and very comfortable bar rooms and separate dining area tables. One thing that both brewpubs enjoyed were excellent staffs. The people make these places shine.
Feb 03, 2007
Reviewed by jazappi from Kansas
3.65
/5
rDev
-1.9%
vibe: 4.5 | quality: 3 | service: 4 | selection: 4 | food: 3
Had there IPA was very nice. There stout needs a little work. They do give you samples of each beer before you buy. Service is good right now. They have it stepped up a notch, because it is new. Food is okay tasting, but reasonable pricing. Nice to have right up the street from me. Staff is very friendly and will try to talk you into there beer club. Not a bad deal if you like the beer there. Also would be a good place for a date night, they have a good selection of food for both the wife and I.
Oct 18, 2006
Reviewed by stangbat from Kansas
3.65
/5
rDev
-1.9%
vibe: 3.5 | quality: 4 | service: 3 | selection: 4 | food: 3.5
Granite City brews their beer somewhere in Iowa (I can't remember where) and the wort is shipped to the restaurant for fermentation. So don't expect to see a full fledged brewpub when visiting.

I had their IPA, so I can't comment on any other beers. It wasn't bad, but it wasn't anything special. They give you a generous sized glass, however it was served very cold with no head. This really hurt my initial impression of the beer. However, once the beer warmed up, it definitely came alive and the hop aroma was noticeable.

According to their literature, most of their beers have an OG around 1.050, so don't expect anything too extreme.

My food was good and the service was not bad. I thought the prices were reasonable: $30 for two meals, a beer, and dessert. I'd go back again. May not exclusively for the beer, but the beer definitely won't keep me away.
Jun 22, 2006
Reviewed by grumpy from Missouri
3
/5
rDev
-19.4%
vibe: 3 | quality: 3 | service: 3.5 | selection: 2.5
I thought I should put in a brief review of this place, since there are none. This can't be an exhaustive review, however, as we didn't try the food.

This addition to the Granite City chain is located in the huge Legends/The Crossing/Kansas Speedway/Cabella's mall, shopping universe-plex. Probably not a good thing from the standpoint of it being extremely crowded, with parking hard to come by on Friday nite. The entire area was insanely packed, and there is obviously a lot of spill-over business from place to place.

The atmosphere is kinda cool – in a comtemporary, chain sort of way, if that's possible. Lots of stonework, and trendy fixtures. A bit sterile, but still attractive.

As stated, we didn't sample the food, but it looked like typical pub grub. I would guess it's average for a brewpub. Sort of reminded me of Applebee's, or any number of other chains.

The beer – well, it was a tad better than I expected, but beer geeks will not be terribly thrilled with the selection or quality. On the plus side, their "pints" are 22 ounces. I will review three of the beers under the Beers category.

Bottom line: This place is a good addition to the void and nothingness that exits between the KC metro area and Lawrence. Guys can guzzle drinkable beer while the other half shops, and you can do a mini-pubcrawl between there and the Yardhouse down the street. A million patrons on a Friday nite can't be wrong. This megaplex must have been needed.
Jun 20, 2006
Granite City Food & Brewery in Kansas City, KS
Brewery rating:
3.48
out of
5
with
1502
ratings