Bourbon Barrel Cryptical Imperial Stout
| Starr Hill Brewery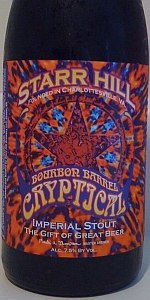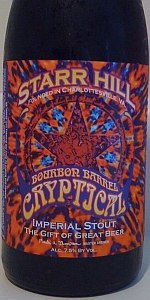 BEER INFO
Brewed by:
Starr Hill Brewery
Virginia
,
United States
starrhill.com
Style:
American Double / Imperial Stout
Alcohol by volume (ABV):
8.80%
Availability:
Rotating
Notes / Commercial Description:
No notes at this time.
Added by Thorpe429 on 03-30-2011
HISTOGRAM
Ratings: 39 | Reviews: 10


4.12
/5
rDev
+0.7%
look: 3.5 | smell: 4 | taste: 4.5 | feel: 3.5 | overall: 4
Sat on this one for a while, aged in the beer fridge.
Dark, opaque black pour with 1/2 finger dark khaki head. Not much lace nor retention.
Bourbon nose is not overpowering, but yields a nice boozy aroma. Coffee and toasted malt underneath that, but this is really dominated by the bourbon.
Bourbon sweetness walks all over the tongue. I get chocolate malt and dark roast coffee behind that. Nice malt backbone. Nicely hopped finish with tart bite of slightly dark chocolate. Just a hint of citrus hops over the top of the dark chocolate.
Feel is a bit on the thin side for the rich flavor here. Was hoping for a bit more body.
Overall, a nice find and a steal at the price.
681 characters
3.75
/5
rDev
-8.3%
look: 4 | smell: 4 | taste: 4 | feel: 2.5 | overall: 3.5
Apparently this was made once and due to extenuating circumstances, wasn't discovered until over a year later, at which point it went on shelves.
A relatively high pour yielded cola-colored suds, which resolved into finer bubbles ranging from tan to dark brown. The surface memory is incredibly fine and complex. Body is opaque black-brown.
Nose is intense- oak, some hops, and a bit of bourbon. Some licorice as well.
Taste is remarkable-- full of licorice, and remarkably bitter for something that has been oaked and aged this long. Some of this comes form hops as well. Heavy, coffee-type malt evaporates with alcohol warmth.
Mouthfeel is a bit thin-- could stand to be thicker to support the bold taste.
It's been a long time since I tried Cryptical, so I can't compare the Bourbon Barrel one to that. Still, it's pretty darn good (if you can find it). Apart from being a bit thin, it's a dry yet bold imperial stout.
926 characters
4.53
/5
rDev
+10.8%
look: 5 | smell: 4.5 | taste: 4.5 | feel: 4.5 | overall: 4.5
Poured from a 750 mL bottle, acquired this early during the summer (so aged about 4 months), into a tulip style glass
A - Pours a very dark brown/almost black with a nice brown head with good retention. Significant lacing.
S - The bourbon smell is prominent (quite boozy!) with noticeable, sweet hints of chocolate and perhaps toffee in the background.
T - Bourbon is the predominant flavor with malts and chocolate being secondary flavors in the stout base. Nice balance in the taste, I'm glad to see that the bourbon doesn't overwhelm.
M - Carbonation level is medium and it's medium bodied. I was expecting a little bit of a fuller body, but it is a really smooth drinking beer with no noticeable alcohol burn (which is a huge plus considering how boozy it smells).
Overall, this is a really well-done beer. I enjoyed the fact that it smells and tastes like bourbon, but wasn't overly harsh or boozy (in the taste/feel at least). I like it more than the regular Cryptical and the bourbon-barrel comes highly recommended!
1,029 characters
4.42
/5
rDev
+8.1%
look: 4 | smell: 4.5 | taste: 4.5 | feel: 4 | overall: 4.5
Eliminated from the Maine Old Boars Hockey Tourney on 06AUG11, Artied2 and I retired to our hotel for some late-night liquid encouragement. Found it in a large bottle of Cryptical. Artie actually opted for some real bourbon, while I got the Bourbon Barrel Imperial Stout! Win-win!!
Poured into a shaker pint, this one was a deep, rich, dark brown bier. Had a wispy, tan head, mostly just some meandering trails across the surface and some rim action. lacing was a little lax, though still present. Aroma? Top-shelf! malty, with some caramel, molasses, licorice, and a hint of bourbon. Mmmm! This was fairly smooth down the hatch, and medium in body. Could have been fuller, for the style, though.
Verrry nice flavor! Choco and roasty notes mix with some coffee, more molasses and licorice, some black currant, along with the still-present smidge of bourbon. This one went down real well, I must say!! Washed away the aches and pains of our hockey misfortune. Lovely bier, indeed!! Thnx for the bier, Bro!! Prosit!!
4.43 rDev +11.5%
look: 4 | smell: 4.5 | taste: 4.5 | feel: 4 | overall: 4.5
1357
1,099 characters
4.03
/5
rDev
-1.5%
look: 5 | smell: 4.5 | taste: 4 | feel: 3.5 | overall: 3.5
Poured from a 750mL bottle into a St Bernardus goblet.
A: Pours semi-viscously with about a finger of creamy head with surprisingly retention. Utterly opaque and almost black. Good looking stout. Ridiculous lace.
S: It's surprisingly boozy considering the ABV, but I guess that's the bourbon shining through. Smooth, sweet, and really enticing. Chocolate in the background, with a hint of coffee.
T: Not unduly great. It lacks depth of flavour. Weakish stout base with strong bourbon notes that are the best part of the beer. I've had normal Cryptical (on-tap) and I think it was better; perhaps because the barrel aging sort of kills the dry hopping. Hops are present in this version, but mainly on the aftertaste. Hmm, the hoppy aftertaste may change my opinion of this beer. A bit spicy, as well, and a nice balance to the alcoholic bourbon-ness that monopolises the maintaste. Right on the line between a 3.5 and 4.0.
M: Smooth, not much carbonation, slightly spicy-tingly on the end. Not cloyingly sweet or overdense, but not light or spritely either.
O: A good example of a standard barrel-aged imperial stout. I quite liked it, but it's not really special. I bought this bottle at the brewery, and it was $20, which I find inexplicably expensive. So. Good beer, would drink again, but completely not worth the cost. Recommended, with that caveat.
Notes: "Starr Hill's Bourbon Barrel Cryptical is an Imperial Stout style beer that packs a wallop of dark malt flavor. The beer weighs in at 7.52% ABV and has flavors of liquorices and anise spice. Cryptical is dry hopped with American Hops to balance out the full body with a floral aroma."
1,652 characters
3.95
/5
rDev
-3.4%
look: 4 | smell: 4 | taste: 4 | feel: 3.5 | overall: 4
A: A finger of latte colored head. Super dark. Impenetrable brown-black.
S: Coffee and chocolate. And bourbon. Not very strong, but nice.
T: Bourbon. Coffee and chocolate. Sweet malts. A little caramel.
M: Smooth and creamy. Nice, but not that great.
O: Nice. I like it. The mouthfeel is disappointing, but all around a good beer. I'd have another, but $20 is a little pricey; despite that, I recommend it.
412 characters

3.3
/5
rDev
-19.3%
look: 3 | smell: 3 | taste: 3.5 | feel: 3 | overall: 3.5
A: Poured compliments of Starr Hill's head brewer at Rustico in Arlington. Semi translucent brown pour with a slight light brown head. Not a ton of retention or lacing.
S: Certainly getting oak and whiskey scents, not bourbon though. Some sweet vanilla and malts present as well.
T: The taste is not overpowering, but nicely balanced. Whiskey faintly mixes with roasted malts and a familiar vanilla taste. A warming boozey sensation wraps it up.
MF: A little on the light side. It seems to have retained its carbonation nicely though.
O: Glad I came out for it. Wouldn't get it again though.
595 characters

3.88
/5
rDev
-5.1%
look: 4 | smell: 3.5 | taste: 4 | feel: 4 | overall: 4
From 03/27/11 notes. Had at a local DC RB tasting.
a - Pours a dark brown color with one inch of off white head and moderate carbonation evident.
s - Smells of light bourbon, vanilla, oak, roasted malts. Bourbon is there but is very light.
t - Tastes of bourbon, oak, vanilla, chocolate, roasted malts, caramel. More bourbon in the taste than the smell; a step up from the nose.
m - Moderate carbonation and medium body.
o - Overall a really nice bourbon barrel aged beer; I think this is one of the best beers I've had from Starr Hill. Would have liked more bourbon in the nose like the taste, but still very good. Would like to have again.
646 characters

3.9
/5
rDev
-4.6%
look: 3.5 | smell: 3.5 | taste: 4 | feel: 4.5 | overall: 4
Consumed at a recent DC area tasting. Served in a SAVOR snifter.
Pours a very dark brown color, bordering on black. Initial pour yields a quarter-finger head, which then disappears almost immediately. The nose is surprising at first, bringing forward a large number of hops. THere is also a bit of bourbon and some booze. Nice roastiness there as well. The flavor melds the hops, roast, and bourbon better than the nose, creating a nice and cohesive whole. Mouthfeel is really smooth and the bourbon plays a really nice role. A nice beer with plenty of promise.
564 characters
Bourbon Barrel Cryptical Imperial Stout from Starr Hill Brewery
Beer rating:
4.09
out of
5
with
39
ratings