Whiter Shade Of Pale
| Starr Hill Brewery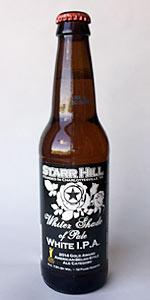 BEER INFO
Brewed by:
Starr Hill Brewery
Virginia
,
United States
|
website
Style:
American IPA
Alcohol by volume (ABV):
7.00%
Availability:
Summer
Notes / Commercial Description:
No notes at this time.
Added by Phillyz on 06-12-2013
Reviews: 15 | Ratings: 111

3.5
/5
rDev
-10.7%
From a bottle, pours clear bubbly straw yellow.
Nose is very herbal, flowers, pineapple, lemon, tea leaves. The flavor is lemon tea, like lipton, floral hops, a little honey, orange, lavender. They are trying to combine two styles (Belgian Wit and IPA), but I think this counter acts the positive qualities of each style, taking away from the overall total package of the beer.
★
380 characters
3.97
/5
rDev
+1.3%
look: 3.75 | smell: 3.5 | taste: 4.25 | feel: 4 | overall: 4
12oz brown bottle, sample from the brewery.
Thin lacing but it stays, hazed golden amber hue. Smells like a Witbier with some hoppiness to it, expected. 1st sip you know its 7% abv, bit kiss of warmth. Spicy palate, somewhat hefty hop bitterness. Just enough malt girth to keep all of this together. Peppercorn, wild herbs, nutty yeast, plum fruitiness, & bready malt is the story of this brew.
Sip after sip this one really grows on me. 2014 Gold Medal Winner at GABF, can't debate the judging there.
★
504 characters

4.55
/5
rDev
+16.1%
look: 4.5 | smell: 4.5 | taste: 5 | feel: 3.5 | overall: 4.25
The Bottle Backlog here at Chez Woody continues to cycle through as things appear seemingly out of nowhere. I have no idea where this one came from, since there is no price sticker on it. That means that it was probably dropped off by tone77 before he fled south for the winter.
From the bottle: "2014 Gold Award American-Belgo-Style Ale Category World Beer Cup Gold Award".
The cap reads, "Pry Off" & so I did. I even had a Starr Hill glass on-hand, so I was ready to pour, although gently. A swirl in the glass raised a finger of dense, French Vanilla-colored head with great retention. I cued up Procol Harum for musical accompaniment as I stuck my snout into the glass. I often rail against Black/Cascadian IPAs because I feel like the dark malt gets in the way of the hops, but not so in its polar opposite, the WHite IPA. Instead, the yeast enhances the hops and adds a complexity in the bargain. Here, the pine & grapefruit notes jumped out at me, along with a black pepper spiciness and a papery mustiness! Oh, my. I held it up to the light to see that the color was Yellow-Gold (SRM = 4 -5) with NE-plus quality clarity, enabling me to see into the future. It is supposed to warm up over the weekend! Of course, this all acted like a homing beacon for the Gelt Gang (Midas, Mammon & Croesus), who stopped by for a taste. The kitchen at Chez Woody is a busy place! Mouthfeel was medium, at best. I am not going to pick at nits, but it was dangerously close to being thin. The taste was fantastic! The yeast just helped to brighten the pine-citrusiness of the hops while bringing a peppery spiciness to the mix. If only some brewery would begin to CAN white IPAs, I would be set. The yeast, coupled with the hops, dried it out to the point that it was just this side of gaspingly dry. It was as dry as a white wine, or perhaps champagne, given all of the CO2 bubbles in evidence. Phew! Yes!
★
1,899 characters

4.04
/5
rDev
+3.1%
look: 4.25 | smell: 4 | taste: 4 | feel: 4.25 | overall: 4
Served on draft. Clear golden orange body with a fluffy white head. Aromas of piney hops, some citrus, clove and yeast esters. Bitter, grassy hops up front followed by a slight orange peel character. Faint clove/yeast notes, but it certainly drinks more towards the IPA spectrum than the Witbier. Nice and refreshing.
★
317 characters
3.58
/5
rDev
-8.7%
look: 4 | smell: 3.5 | taste: 3.5 | feel: 3.5 | overall: 3.75
Poured from a brown 12 oz. bottle. Has a golden color with a 1/2 inch head. Smell is of citrus, pine, spices. Taste is pine up front, citrus follows, good malt balance, a touch of spices. Feels medium bodied in the mouth and overall is a refreshing and satisfying beer.
★
269 characters
3.99
/5
rDev
+1.8%
look: 3.75 | smell: 4 | taste: 4 | feel: 4 | overall: 4
A solid white IPA- refreshing on a summer day, but hoppy enough with herbal tasting hops to keep your interest up. Not quite as "white", either in appearance or flavor as many others of it's ilk, but if it tastes good, who cares, right? The head does collapse almost immediately, though. Herbs and citrus with a crisp, dry finish and a touch of honeyed grapefruit sweetness. Certainly a pleasant beer, and one I'd drink again.
★
426 characters

3.78
/5
rDev
-3.6%
Poured a clear orange body with one finger head and a minor lace ring.
Aroma mixes citric hops with yeast and clove spicea and there is also hints of tropical fruit sweetness.
The yeast in the beer smoothes it out and there is a balance between citric, mostly orange, hops/flavors with some spice and touches of sweetness possibly coming from tropical fruit flavors or sugary malts.
By the end of the beer, the hops seem to take over so mostly I get a soapy hop taste that finishes real dry and almost sours as beer warms up.
Not a bad beer but the two styles didn't really mesh and it was a chore to finish this bomber.
★
620 characters
3.92
/5
rDev 0%
look: 3.75 | smell: 3.5 | taste: 4 | feel: 4.5 | overall: 4
Poured from a 12 ounce bottle into a Teku glass. Bottled on 13 July 2015.
3.75/3.5/4/4.5/4
Pale and effervescent white golden.
Smells like Belgian yeast. Citrus peel, white pepper, and cloves. A bit thin.
It doesn't taste thin, though, not at all! Rich and smooth and robust, the hefty mouthfeel is complemented by a strongly-flavored maintaste. Lots more Belgian spice and white pepper here, with lemony hops and a candyish/tropical sweetness in the background.
It's an interesting beer, and a worthy BIPA, but I'm not sure the overwhelmingly Belgian-forward flavors do the beer any favors. I was in the mood for something a tad more hoppy and less yeasty. Still, it can scratch a particular itch.
★
698 characters
4
/5
rDev
+2%
look: 4 | smell: 4 | taste: 4 | feel: 4 | overall: 4
A: This poured a clear gold with moderate white head.
S: It smelled like floral and citrus hops, with some sweet honey malt.
T: It tasted like bitter floral and lemon zest, with sweet honey. It had a clean bitter aftertaste.
M: It was somewhat thick with moderate carbonation. Decent body.
D: This was a very nice IPA, and the witbier character played nicely with it (similar to A Little Sumpin Sumpin). Solid scent and taste, and the body was good enough. The finish was smooth too, so it was easy to drink. Well done brew.
★
524 characters
4.15
/5
rDev
+5.9%
Appearance: Medium clarity, yellow, white head with solid lasting power, but only slight lacing (3.75)
Aroma: Pineapple hops and assorted fruity wit esters. (4.25)
Flavor: Slight dose of hop bitterness, definitely still an IPA. Sweet wheat malt, peppery Belgian yeast, piney hop flavor. (4.25)
Mouthfeel: Medium-light body, solid carbonation, refreshing with a slight hop bitterness lingering (4.00)
Overall: A very solid "White IPA". Great for the summertime.
★
465 characters

3.79
/5
rDev
-3.3%
look: 3.5 | smell: 3.75 | taste: 4 | feel: 3.25 | overall: 3.75
A: mildly cloudy, but still able to see through, yellow. Carbonationis visible sustaining a thin head, good lacing.
S: wet cardboard, some floral notes, lemon zest
T/M: earthy start leading to some pineapple notes from a combination of slight lemon tastes with an earthy dry bitter taste. The dryness is not powerful, but does slightly overtake the citrus, which does not completely fade.
O: initially I wasn't struck by this beer, but the more I tasted it, I noticed more complexity. On the other hand, the combination of the wit and IPA just never quite worked for me. So, the taste was interesting, but not enticing.
★
619 characters

4.07
/5
rDev
+3.8%
look: 3.5 | smell: 4 | taste: 4.25 | feel: 4 | overall: 4
A: Lighter, and mildly transparent gold in color .There is a two finger frothy head.
S: Smells like a classic IPA, a strong hop presence, with a little tinge of Belgian Wit added in. I also smell spicy esters as well as fruity esters.
T: The wheat malts give it a softer, more delicate taste, but the hops take over with an aggressive flavor.
M: Once again, the wheat malts make for a smoother mouth feel, but then the hops take over. This beer has a nice, medium body.
O: This is a great beer. I am not keen to drink Belgian Wits, but this is bomb. Drink it in the summer!
★
588 characters
3.65
/5
rDev
-6.9%
look: 3.5 | smell: 3.5 | taste: 3.5 | feel: 4 | overall: 4
Hazy pale golden glow with about a finger and a half of solid bright white head. Subdued nose of floral and citrus hops with a bit of belgian with fruity influence.
Pretty tightly flavored beer in all the right places. A little spicy up front with delicate citrus and floral flavors throughout. Wheat adds subtle sweetness along with a creamy mouthfeel that allows for crisp carbonation that doesn't break up the medium sized body. Finishes with an almost minty presence as the wheat and hop flavors collide and a delicate bitterness that builds with each sip. Raw leafy hop flavors faintly linger in the mouth. A very nice beer with well blended flavors that are very tightly nit and that go together well. Clean and refreshing enough for a wit beer lover and hoppy enough to appease the hop head. Alcohol barely detectable but it is a bit pricey.
★
849 characters

4.1
/5
rDev
+4.6%
look: 4 | smell: 4 | taste: 4.25 | feel: 4 | overall: 4
Pours crystal clear and golden in color with a 4 finger head, in my weizen glass, that becomes chunky as it recedes, leaving plenty of sticky lacing.
Banana and clove dominate immediately after the pour, but later on, it's very hop forward, with woodsy pine almost obscuring the banana clove aroma of the wheat A bit on the musty/earthy side.
The tart wheat/kicked up hop combo gives a taste of grapefruit and pine with a peppery backbone, rounded out by sweet malts with spiced citrus. Bitter early, but mellows out nicely in the end.
Medium to medium+ in body. Rather smooth overall with a rather light bite of carbonation. Rather syrupy and retentive. Lightly warming.
Different and unusual at first, becoming a bit odd, but still interesting in the middle, and pleasing and well rounded in the end. A great beer!
★
828 characters
4
/5
rDev
+2%
A- semi cloudy, hazy golden yellow. Moderate bone white head that didn't last long and left minimal lacing.
S- citrus (grapefruit), piney hops, herbaceous.
T- tart, citrus (lots of grapefruit and a little lemon).
M- well balanced. Light to medium body. Silky.
O- a solid brew. Would recommend and have again!
Cheers!
★
322 characters
Whiter Shade Of Pale from Starr Hill Brewery
87
out of
100
based on
15
ratings.