Livery Rooms, The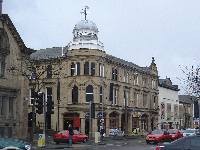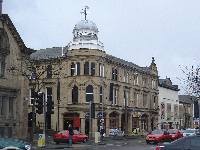 Bar
89-97 North Street
Keighley
,
England
, BD21 3AA
United Kingdom
+44 (0)1535 682950 |
map
jdwetherspoon.co.uk
Notes:
Reviews by TheLongBeachBum:
TheLongBeachBum from California
3.8
/5
rDev 0%
vibe: 3.5 | quality: 4 | service: 3.5 | selection: 4
The 10:19 Northern Trains service from Leeds arrived bang on time at Keighley. Alighting onto a wet and drizzle laden station platform at 10:39 mean that a group of 11 seriously thirsty Tykes needed some immediate respite from the drizzling rain and cold.
The group decision process was bumbling and non-committal as we all huddle in the cold rain but the answer was simple, "J D Wetherspoons", love 'em or hate 'em, they always seem to have a knack of being there when you need them, and a few of them open early, as does the one in Keighley which (thankfully) opens at 9am, so off we went to the first Stop of the Day, the JDW Livery Rooms.
Once Livery Stables, it then became the headquarters of the local Temperance Society. After standing empty for a few years, the Grade II Listed Building has benefited from a £1.7M sympathetic refurbishment and now stands proud on the corner of North Street and Albert Street, about 5 minutes walk from the Train Station, if that. The interior is bedecked with dark wood and light colored carpets interspersed with wall décor and pictures that reflect the local heritage.
Up to 10 Cask Ales are on offer at any one time, and the beer range during my visit was certainly interesting and did not fail to provide something for everyone, only two of the Beer Engines were bare. I opted for the Marston's Burton Bitter, an old favorite not seen for some 10 years or so, but it failed to inspire, though I'm sure that's more down to Marston's rather than the Livery Rooms as its condition was very good. However, the range was varied, and several of our group went for the Dark Star Espresso Stout, I got to chance to try that, quite the Caffeine charged start to the day I have to say! Aside form the Cask Ales there is a limited selection of bottle beers from several countries also available. Prices were good and comparable for the area I noted.
Serves the usual JDW Menu but its nice to know that there is somewhere where you can get a half-decent meal during a days drinking, this is certainly not the case in many of Keighley's other Pubs as we found to our cost later in the day. The toilets are clean and spacious; so often filthy pissers are tolerated and I don't see why, but I do respect any establishment that continues to treat it customers with some home comforts when it comes to the WC's. That said, I think JDW's dropped the ball in this establishment, the wide opened out interior means that the Non-Smoking area is soon filled with the awful gaseous effluent from the "separate" Smokers area, thankfully this will all soon be a thing of the past, but for now it is a negative for me, especially if I was eating here.
Overall though, this is another trusty dependable JDWetherspoons that doesn't seem to excel in any particular area, but neither does it fail to perform or disappoint. It does differentiate itself from other Keighley establishments because of the fact that it opens at 9am every day and holds one of those horrid things called a Child Certificate and serving a varied but JDW inspired range of hot & cold food for most of the day. It supports all of this with a solid portfolio of upto 10 well-priced Cask Ales. A superb place for an early (pre-11am) start and a good place to try something different before embarking on a pub crawl of Keighley and drowning in Timothy Taylor's.
Last Visit: Saturday 8th April, 2006.
Apr 27, 2006
Livery Rooms, The in Keighley, GB2, United Kingdom
Place rating:
3.8
out of
5
with
1
ratings