Albert Hotel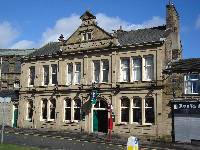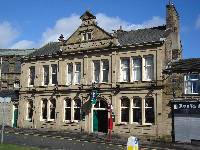 Bar
Bridge Street
Keighley
,
England
, BD21 1AA
United Kingdom
+44 (0)1535 602306 |
map
Notes:
Reviews by TheLongBeachBum:
TheLongBeachBum from California
4
/5
rDev 0%
vibe: 4 | quality: 4 | service: 4 | selection: 4
By the time we left the Burlington Arms our Keighley Pub Crawl had gained a few new members, who had decided to meet up "en route" and we had swelled into a serious rampaging group by this time. A short walk round to the Albert Hotel was accomplished in minutes, and it was great to meet up with fellow Tyke and BA BSF, who was sporting a rather bruised nose from his (no doubt drunken) exploits in Belgium a week earlier.
The Albert Hotel is probably Timothy Taylor's most distinctive and impressive looking establishment. A turn of the (19/20th) Century building it is well situated in the Town Centre on Bridge Street, in fact it sits in front of the small roundabout cum traffic delta of Oakworth Road and North Street. The imposing, clean, unfettered Ashlar Stone Victorian façade is a classic; the two storey building has 5 sets of separate window bays each framed with modest pilasters, the double door entrance having a large stone archway. Topped off with a lovely blue slate roof and a gabled pediment that proudly states 'Albert Hotel' in a thick imposing Arial-like font.
Once inside the bar is an island affair, a peninsula that sits off to your left, rooms and ante-chambers appear to break off here, there and everywhere lending a spacious feel to the well appointed interior. Indeed it seems that the Albert Hotel has branched into corporate hospitality and has a very spacious and attractive Victorian room upstairs that caters for up to 70 people in order to do so… …damn, how come I never get to go to Conferences here!?!
The interior is nicely furbished, lots of carpet, solid wood and polished brass. Clean and tastefully decorated it is a very comfortable place to hang out. Serves Lunchtime food (though we just missed it), the back up range of English Pub Snacks helped out though. Open Fires lend warmth, often hosts Live Music events and always has Darts and Dominoes for those that want it. It has obviously been refurbished in the latter years, I don't recall seeing so much polished brass and upscale fittings, there were a few "trendies" hanging out here too during our visit, I most certainly don't recall them in years gone by!!
The highly polished bar was a magnet for our group who perused the range of Ales from Taylor's with glee. My notes are sketchy but I recall the Golden Best, Best Bitter, Landlord and Dark Mild here. Opted for a Landlord and it was top notch! So often the TT flagship brew is under-par and poorly cellared in the Free Trade, you really cannot beat it when sampled in a good TT House though. All the beers were served from Angrams sporting the dark green Timothy Taylor's handles, I really like those, lends a very professional appearance to the experience I have to say.
Service was on the ball, as our crew had expanded somewhat it started to take a while to pull Two Gallons of creamy Taylor's for each round but the chaps in here did the business. Prices were reasonable and comparable for the area.
As the saying goes "Timothy Taylor Championship Beers Refreshingly Reliable", they most certainly are at the Albert Hotel. Timothy Taylor's have owned some, well, politely put, rough pubs in their time - anyone that ever visited the Timothy Taylor Hotel will know what I mean. The Albert Hotel is most definitely at the high quality end of Taylor's estate, a solid mix of Victoriana, a gorgeous range of TT Ales properly cellared, lunchtime food, space and a little mix of the modern world to keep it up to date, those Big Screens get everywhere. It seems like some of the Old Men whom I recall sat in corners drinking a pint whilst studying the form of the Horses in the Papers have moved on, or maybe they just died off!? For me at least, the changes that I noted here never seemed to impose on the most important thing, good old Yorkshire conversation over a quality Pint of Timmie's Lan'lord with yer Mates, so I'm all for it.
Great to get back here, but it was just for the one sadly, for the next stop was the award winning Timothy Taylor Brown Cow, just t'up road.
Last Visit: Saturday 8th April, 2006.
Apr 29, 2006
Albert Hotel in Keighley, GB2, United Kingdom
Place rating:
4
out of
5
with
1
ratings