Royal Oak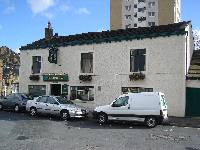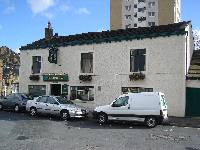 Bar
Damside, Oakworth Road
Keighley
,
England
, BD21 1QD
United Kingdom
+44 (0)1535 604084 |
map
Notes:
Reviews by TheLongBeachBum:
TheLongBeachBum from California
4.14
/5
rDev 0%
vibe: 4 | quality: 4 | service: 5 | selection: 3.5
The Royal Oak was soon to be Stop #7 and easily in sight of Stop #6 (the Brown Cow) on our Keighley Pub Crawl, so we headed downhill on Oakworth Road until we reached the cleanly presented Royal Oak. Now I have done most Taylor Pubs but not this one before, usually preferring to hit up the nearby Friendly Arms instead.
One of those low ceiling affairs, the outside really shows how low the ground floor is with its 40:60 split between the ground and first floor as well as the head lowering entrance, above which, is the classic Taylor green and gold "The Royal Oak" sign. This is the second most popular pub name (well over 500 pubs bearing the name in the 1980s). The name comes from the story of Charles II and his aide Colonel Carless hiding from the Roundhead soldiers in the Boscobel Oak, near Shifnal, Salop and avoiding detection.
Inside the bar seems like Doctor Who's Tardis, opening out left and right, the main bar is a centrally located island affair to your right that sits in the middle of the Pub. Immense amounts of wood paneling belies belief, inordinate amounts of wood quite literally litter the walls, floors, booths, bar and fittings, even the tables are of well constructed thick wood, there must be a whole Rain Forest in this place!
A solid selection of Timothy Taylor's, as is to be expected, and it is all served on form, but no Guest beers to my knowledge or memory, though I could be wrong. At the Bar we asked if they did food and noticed a hot plate inside a counter set into the Bar which was full of steaming fare, sadly though it was for the local Rugby Team….bugger, scuppered again!!! Pints of Taylor's Ram Tam, Golden Best and Landlord were the order of the day and were requested in serious quantities.
By now the rain was "siling" it down, a Yorkshire term that pulls on Danish origins and refers to a good old Cats and Dogs precipitation storm. Entertainment was provided by a few bored Dudes across the road; "Bruce's drive-through hand car wash" was completely devoid of punters on this cold rainy April Showers day in Yorkshire so it seemed that 3 of the workers decided that it would be fun to "de-bag" the 4th junior member in the Car-Wash itself……fun to watch through the windows and quite hilarious. But better was to follow. The Landlord who had seen our dribbling mouths and disappointment earlier at not being able to share in the lovely looking food on display, seemingly took pity on us. A quiet word in his ear about our friend Roy's 40th Birthday had him bring over a full piled high plate of cooked Sausages in thick gravy….free gratis, what a Star!!!! Of course, not even this act of friendship is enough for a die-hard grumpy 40 year old Yorkshireman, "wot no bread?" was the unwitting reply from Roy of the Rovers. Not to be downhearted the Landlord returned with a plate of bread rolls, Double Stars for service, soon we were all enjoying hot sausage dripping in real gravy….I have to give to top props to the management here, the staff were utterly fantastic.
I hear that it can be populated by the yoof on weekend nights, and that you may have to face Bouncers at said times, but on a cold wind festered rainy Saturday afternoon I could not find fault with the Royal Oak.
Supposedly our last Keighley stop before catching a train to Bradford, we had already cleared a Gallon of Ale but a return stop at the awesome Boltmakers Arms for a 9th Pint on the way back to the Station could not be ruled out, and it wasn't. Sorted!!! The Royal Oak, nice place, come here drink excellent Taylors and work out how many trees were used to decorate this place. Sausage anyone?!
Last Visit: Saturday 8th April, 2006.
Apr 30, 2006
Royal Oak in Keighley, GB2, United Kingdom
Place rating:
4.14
out of
5
with
1
ratings