Shepherds Rest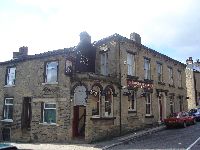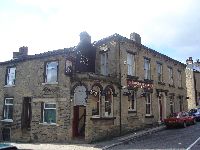 Bar
125 Bolton Brow
Sowerby Bridge
,
England
, HX6 2BD
United Kingdom
+44 (0)1422 831937 |
map
Notes:
Reviews by TheLongBeachBum:
TheLongBeachBum from California
4.36
/5
rDev 0%
vibe: 4.5 | quality: 4.5 | service: 4 | selection: 4.5
The Shepherds Rest, Sowerby Bridge was the first 'official' port of call on a truly fantastic Tuesday afternoon spent deep down the Calder Valley with some very dear friends. Alighting at Sowerby Bridge Railway Station, the Shepherds Rest is a good 10 minute walk. From the Station; once underneath the tracks & down the stone stairway exit, follow the signs for the Town Centre & the cobbled street directly opposite & to your left from the station, head up the ginnel, over the steel section footbridge & then across the backstreet & through the arched stone alleyway set into a row of Victorian buildings - then you will find yourself on the main Wharf Road that runs through Sowerby Bridge. Turn right & head out of town, up the hill, here Wharf Road turns into Bolton Brow. When you get to the fork where Wakefield Road peels off, cross over the Bolton Brow road & keep walking for a short time until you get to East Parade, it is there on the corner.
Now I have been drinking on a regular basis in Sowerby Bridge for some 12 or so years, before I left the UK at least, but I had never been here before, even under its previous owners. The Ossett Brewery now has the Shepherds Rest in their ever growing Tied Estate. Recently opened, quite literally a week or so before our visit, the immediate impression was very favorable.
Taking the entrance from the Bolton Brow roadside, you rise up a few stone steps & into an opened out entranceway with a wooden floor that echo's the pedestrian footsteps of passing thirsty Imbibers. It contains quite a bit of Breweriana, the most notable of which is easily missed, for right above the doorway there is an old stained glass "BYB" sign, a clue to the previous owners of yesteryear, Bentleys Yorkshire Brewery, don't miss it on your way out. Further in & the splendid bar is to your immediate left, lots of dark wood with a solid look to it. Two Banks of Four Beer Engines, one on each side of the L-Shaped serving area warm the heart. To the front of the bar, more dark woods, a brick fireplace & velvet upholstered seating takes up much of the back wall, as does more alcohol related art deco adverts. Set round the corner from the bar is another high quality furnished room, labeled as the No-Smoking Room. A thick Yorkshire Stone flagged floor & beefy wooden furniture are all set into a room that is light & airy, it catches the sun nicely, I wouldn't be surprised if the outside area that is visible from here is put to good use in the warmer climes of the English Summer. It is obvious that the Ossett Brewery has put some serious money into the Shepherds Rest, & it's been put to very good use, tastefully decorated with a lovely warm feel to it. One interesting piece of décor that I noted was a small polished brass plaque & photo behind a seat opposite the bar, it simply said "Ronald (Ronnie) Brown, 23-06-1913 to 04-02-2005 Who drank here Man & Boy for 70 years", quite the achievement.
Beer range was impressive, four brews from Ossett Brewery; Pale Gold (5.8% @ £1.80), Excelsior (5.2% @ £2.15), Santiam (4.3% @ £1.95) and a house beer called (surprise) Shepherd's Rest (3.9% @ £1.80), though it seems that this is just a re-badged brew that Ossett churn out on a regular basis for several of their Pubs. Guest beers included Timothy Taylors Landlord (4.3% @ £2.20), Leatherbritches Belter (4.4% @ £2.05), Moorhouse's Premier Bitter (3.7% @ £1.90) & the regular Mild was Titanic Black Ice (4.1% @ £2.00) a gorgeous dark mild. Cider was Saxon Greensleeves (7.2% @ £2.50). I started with the Ossett Santiam a light colored hoppy bitter brew & finished with a Titanic Black Ice, both were superb. Prices were reasonable & the Service was top notch.
There is a small Bottled beer range also, small cardboard placards on the table advertise these, but don't miss the chance to try to the one bottled beer that Ossett Brewery release, Old Gurner, it is primarily shipped to Japan & I'm kicking myself for not picking up a bottle of it. An impressive Wine List was also noted.
The Landlord, who seemed surprised to have Six Seasoned Beer Drinkers popping into his empty Pub on quiet Tuesday afternoon, was incredibly affable & more than willing to talk about the new venture.
I have to confess to immediately falling in love with the Shepherds Rest right from the off, it's hard not to, the quality of the refurbishment itself is cause to visit the place, but coupled with such a great Cask beer range it's a winner. Sitting in here on a quiet Tuesday afternoon, 4 days after being back in England, drinking superb Cask Ales with many great friends, chatting in a relaxed manner, it was like I never left the UK. The Shepherds Rest is a winning recipe, the best of the past mixed with all that is good today, so much so, that we broke our own rules and had a couple of Pints in here! I suggest you do the same if you're in the area.
*Highly* Recommended. Get thi sen in 'ere Lad.
Last Visit: Tuesday 11th April, 2006.
May 03, 2006
Shepherds Rest in Sowerby Bridge, GB2, United Kingdom
Place rating:
4.36
out of
5
with
1
ratings