Granges Des Belges (Distillerie De Biercée)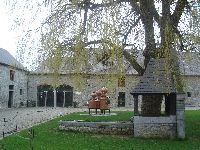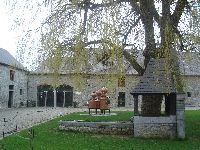 Bar
Ferme De La Cour, Rue De La Rocquette 36
Ragnies
, 6531
Belgium
+32 (0)71 50 00 50 |
map
distilleriedebiercee.com
Notes:
Reviews by TheLongBeachBum:
TheLongBeachBum from California
4.04
/5
rDev 0%
vibe: 5 | quality: 5 | service: 4 | selection: 2.5
"…and now for something completely different"
The second official Brewery Tour on the 14th Annual Wakefield CAMRA 2006 Easter Belgium Trip was actually to be a Distillery.
Set all alone on the pastoral grassy plains of Hainaut, the Distillerie de Biercée rises from the distance and is hard to miss for it's the only building out here, and it's a very large and imposing one at that. Distillerie de Biercée was created in 1946 and it is rather unique, for it is the only real fruit distillery in existence in the whole of Belgium. It produces a high quality spirit called Eau de Villée (known as the Spirit of Belgium) which is distilled from five fresh fruits including lemons as well as many high end fruit brandies, liqueurs and aperitifs. The products are all distilled to the highest quality standards from fruits and berries that are personally selected, fermented and macerated by the Distillerie de Biercée. They do not contain any synthetic flavoring, colorants, preservatives or additives.
Now all of this would seem that on the surface that it does not even qualify for BeerFly…so what the hell I am even doing boring you with all of this? Well I beg your indulgence a little further…..
Apart from the astounding buildings and out of the this World Distillery which simply has to be seen to be believed, there is a Tasting Room on Site that sells beer "infused" with its own products, alongside the regular spirits, brandies, liqueurs and aperitifs.
The "infused beers" are sold at the <<Grange Des Belges>>, which forms a corner of a huge quadrangle that is the Ferme De La Cour, the complex of buildings that is home of the Distillerie de Biercée operation. It is a huge impressive and very imposing conglomerate of buildings that surrounds a large grassed middle with trees and remnants of distillation littered all over the place, the copper colored alien looking things in the posted avatar shows merely only a small part of this.
The <<Grange Des Belges>> forms a corner and as a result is L-Shaped once inside. The entrance also forms the start of the Tour of the Distillerie de Biercée, including their first still, fashioned out of a WW2 Torpedo Tube from a sunken German U-boat. The room itself is grandiose to say the least, completely refurbished to the very highest standard which has returned it to a condition way beyond what it probably was, many tables and chairs plus an upper wooden deck inside the high roof portion of this Great Hall provides seating for well over 120 people. The modern bar sits at the end of the Barn like interior, in front of a complete copper still that has a massive copper cooling coil which sets scales impressively. The highlight for Belgium beer geeks is the stunning display of enamel Brewery Signs on display, quite literally hundreds of enamel signs from long gone Breweries and for long forgotten Beers. They cover four walls from roof to floor, and in a Barn this size that is not to be underestimated. I stopped counting at 200. All in reasonably good condition they add a wealth of intrigue and an explosion of color, all of which light up the bar area, I spent all my time here just reveling in the splendor of the enamel sign display.
The "infused beers", or rather "Mos Bieres Speciales – Onze Speciaal Bieren" available were; Blanche à l'Eau de Villée (5.8% @ €2,50) which is Titje Wheat infused with the 40% Eau de Villée, Scotch au P'tit Peket (8.2% @ €3,00) which is Silly Scotch infused with the 30% P'tit Peket and last but not least, Lambic à la Griotte (4.0% @ €2,00) which was Kriek Boon infused with the 20% Griotte. All beers infused with Distillerie de Biercée products are done so with the knowledge of the Breweries (at least so we were told), but it was hard to find out where the infusion occurs. My favorite was the infused Scotch Silly, the juniper berries really add depth and complexity to the regular Silly offering, a close second was the Kriek Boon, the Morello cherries from the Griotte added an intriguing "hot alcohol cherry" aspect to what is a regular sweet fruity Kriek. I didn't care too much for the Blanche, the lemon from the Eau de Villée was way too much and I suspect the listed strength of 5.8% was more like 10%!!, and a little harsh to say the least!!! An intriguing "infused beer" experiment and an utterly incredible laboratory to try them in.
Definitely seriously worth a trip out here (road only), the opulence and sheer class of this place is quite simply breathtaking, I have far too few words to even go into greater detail here. A simply stunning and fantastic establishment which really has to be seen to be believed. Come try the "infused beers" for sure, but don't miss the opportunity to take a Tour (€5,50) of Belgium's only real fruit Distillery at the same time. A very unique and stunning place!!
Last Visit: Saturday 15th April, 2006.
May 08, 2006
Granges Des Belges (Distillerie De Biercée) in Ragnies, Belgium
Place rating:
4.04
out of
5
with
1
ratings