Trafalgar Freehouse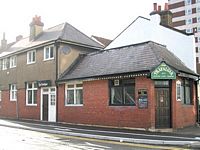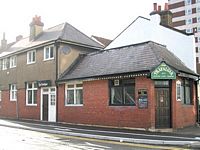 Bar
23 High Path, Merton
London
,
England
, SW19 2JY
United Kingdom
+44 (0)20 8542 5342 |
map
thetraf.com
Notes:
Reviews by TheLongBeachBum:
TheLongBeachBum from California
4.14
/5
rDev
+6.4%
vibe: 4 | quality: 4 | service: 4.5 | selection: 4
The last, but by no means least. in a long line of a dozen pubs on what was an awesome Saturday pub-crawl of London with BA RichLightWeight.
I can't quite recall the intracte and exact details of how we got here from Quinn's (see BeerFly), but suffice to say that we just made it in time for the last call and a Pint. Comprised of two buildings, the first looks like a two-storey house, the upper floor is finished with a concrete pebble-dashed scree rendering which reminded me of some council houses from the north of England. The second building extends the main building with a single-storey all brick extension. The extension has a true corner entrance with a small green sign above the door. We chose to take the side entrance which had a very simple black rectangular sign above the door with the words 'The Trafalagar'. I recognized the style of the sign as that familiar to most Bass pubs, so I am assuming that this must have been a Bass house at one time or another. You could be forgiven for completely missing this place; it really has the look of an urban house with an extension, and except for the leaded ground floor windows and just two very simple looking low key signs it is hard to differentiate this as a licensed establishment. Be careful of the frontage too, a cycle path runs right outside and past the Pub, so take care when exiting.
The inside reflects the outside; two main drinking areas are separated by a cool looking Ships Wheel. Simple pub décor, standard tables and chairs with the usual fittings, but a massive old Bass mirror dominates one of the walls and lends credence to my earlier thoughts that this may have been a Bass house at one time. Some old photos of Merton are interspersed with a special commitment to articles associated with the Battle of Trafalgar, and the great man himself Admiral Lord Nelson. The legendary victory at sea in 1805 confirmed the naval supremacy of Britain and dashed Napoleons hopes for invading England. As a result, Britain literally ruled the waves for some 100 years afterwards when they were challenged only by the Kaisers navy at the start of WW1.
The welcome was very warm, on a rather hot sticky night only a few locals were in here, so it was easy to speak to the chaps behind the bar, one of which was the Landlord I believe. We also bumped into a chap that RichLightWeight knew, a real character whose name I forget but suffice to see he was a fellow Ale-head and the night drew to a great close with much beery discussion over some great beer.
Beer range was very good for such a local; Timothy Taylor's Golden Best (nice!!), Gales HSB, Sharp's Cornish Coaster, Dark Star Mild for May with the 5th Handpump sitting idle, the brew had just run off and had not been replaced. Quality was good and the selection well priced. RichLightWeight was enthusiastic about the local Pub Grub in here and this too is great value I am told. The Gales Horndean Special Brew is a regular brew and the last cask of Horndean brewed HSB was recently tapped and sold which raised money for charity. It also seems like the Trafalgar has a very laudable dedication to Mild too, a rare treat, so I banged up the selection from 3.5 to 4.0 for that. A limited number of bottles support the Real Ales.
A real treat the Trafalgar, I loved this place, and after all the bigger, older and more famous pubs earlier in the day, twelve pubs later it was such a great finish to stop by and wrap up the proceedings with a solid Pint in a real London local whilst chatting with the Landlord and fellow punters. Superb!
Advertised as "a traditional 'local' with great beer", and that is exactly what it is. I really want to come back in here again, but with a little more time on my hands next time I hope.
As Neslon said; "England expects that every man will do his duty"
…and I expect that you should do your duty to the support of a good range of Real Ales served in a proper local, and come here if you are in the area.
Last Visit: Saturday 24th June, 2006.
Jul 08, 2006
More User Reviews:
wl0307 from England
3.64
/5
rDev
-6.4%
vibe: 3.5 | quality: 3.5 | service: 4 | selection: 3.5
Thanks to RichLightweight's kind suggestion, I took Houston-based BA Steve (Xadoor) to this back street local pub on a South London pub walk two days ago. It's pretty easy to walk to from the South Winbledon tube station, but it's located in one of the most unlikely places to find a pub--almost right in front of a local recreation centre...
The pub in itself looks like an extension of a larger, two-storey house. Couldn't see through the windows, we decided to enter from the far-end entrance, and were greeted with an utmost local feel and a simplistic interior as of several decades ago--even a bit spartan if compared with most other London pubs. Minimal-ist decor, very low ceiling, tables and side-benches arrayed almost in two lines on the sides, a TV playing Sunday afternoon dull programmes, plus the purely elderly clientele... I wonder if this pub is indeed the extension of the recreation centre right next door. Two pieces of decor deserve a mention: one is a very big wheel-like wooden-carved piece, serving to sort-of split the place into two halves--sitting area and the main bar; the other piece is a large, well-preserved Bass etched mirror, adding some nostalgic feel to this rather tranquil place.
The bar has about 5 handpumps, with Timothy Taylor's Golden Best, Gale's HSB (now brewed in Chiswick by Fuller's) as regulars and Moorhouse Black Cat as the only guest still on. Two other ales were gone, supposedly due to popularity, and the landlord assured me more good stuffs awaited me in the cellar, if I went back the next day. We had a half pint of beer each, and the Golden Best certainly wasn't at its best at all there, albeit served in its own trademark jug; but Steve's HSB tasted pretty good, making me almost forget that it's strictly-speaking a different brew now.
After the quick drink we went on to The Sultan just several blocks away, and surprisingly bumped into RichLightweight there. I must say, if doing a pub-walk in the greater Wimbledon area, this pub can be a good, "quick sit-in" stop on one's way from the Wimbledon village on to other beer places in South Wimbledon (e.g. the Sultan and Nelson Wines). One might find some good-conditioned and interesting cask ales on, and I'm sure we were just less lucky that day.
May 23, 2006
Trafalgar Freehouse in London, GB2, United Kingdom
Place rating:
3.89
out of
5
with
2
ratings