Burlington Arms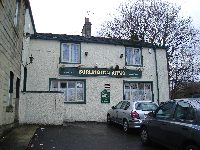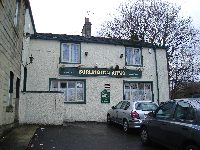 Bar
Market Street
Keighley
,
England
, BD21 5AD
United Kingdom
+44 (0)1535 603320 |
map
Notes:
Reviews by TheLongBeachBum:
TheLongBeachBum from California
3.23
/5
rDev 0%
vibe: 3.5 | quality: 3.5 | service: 3.5 | selection: 2.5
After the Brewery Arms, we headed across town fully intending to hit the Albert Hotel but rumbling stomachs needed food, it seemed from the signs outside that the Burlington Arms my come to our rescue. Sadly it did, and it didn't.
Set back from the road, a dirty white painted pebble dashed frontage is, admittedly, not much to look at it. A sign on the roadside pronounces "Cheapest Timothy Taylor Beers In Town". The entrance is to your left in the corner of the front where it meets another building. Through the doors you need to turn right and right again. The brick fronted bar is topped off with a thick wooden surface and is set against the back wall, it barely accommodates two people. The L-shaped interior is broken with a wall, and the roof is of the dark beam and cream painted plaster affair. The interior reminded me of a mix of 70's pastiche mixed with a psychedelic 50's retro feel. Odd décor to say the least, the bright red wall paper with white roses itself had me wondering if I should get my eyes checked.
Our quest for food was short, no hot food, but they did have sandwiches. However the first three or four in our group snapped up the last cling film wrapped sandwiches behind the bar. Nevertheless, the Landlord, seeing the size of our group, kindly offered to "knock up a plate of Sarnies", which he did. Good folk these Yorkshire lot. Meantime the group perused the Taylor beers on offer, Landlord and Golden Best. Nothing outstanding range wise but there were no Handpumps in sight, the Burlington is All-Electric as we say in England. This is usually the sign of death and a quick exit as nearly all Electric beer in England is Keg (ala Brewery Conditioned).
Pints in hand, and after taking over half the pub at the end of the Bar our roving party was soon joined by an old mate of mine, Gary Beckett, how "Gazza a' Moor" knew we would even be in here is beyond me, but he found us. Soon the extra sandwiches arrived on a big platter, triple decker Ham and Beef DoorStops that disappeared quickly, interesting to note how they were accompanied by free sachets of English Mustard from Wetherspoons!!
Another Taylor's Pub, probably not really worthy of a full BeerFly entry in some respects but worthy of one in others. This is a half-decent pit-stop which constitutes part of the greater Keighley Pub Crawl and should not be missed out by new visitors who have the time, because it offers a few unique pointers for the Drinker. For a start, it is an old Market Tavern, a place where many would congregate for ale before, during and after the Market Day. Nowadays that may mean a trip to the Morrison's Supermarket opposite, but I guess times change. These days it seems to attract the older drinkers, the "Old Men" as I refer to them, but it exhibits a great "local" feel, it is a dying experience to drink in such Community Pubs and always good for a laugh, you might even grab a game of Dommies with the local hustlers if you play your cards right. Also, it is a very unique and rather strange practice to see your beloved Timothy Taylor's Real Ale delivered from the Cask by noisy whirring Electric Pumps, and all at the cheapest prices in town!!!
A good enough pit-stop between the Brewery Arms and Albert Hotel, not one to go out of the way for, but something different.
Last Visit: Saturday 8th April, 2006.
Apr 29, 2006
Burlington Arms in Keighley, GB2, United Kingdom
Place rating:
3.23
out of
5
with
1
ratings