Wine Vault, The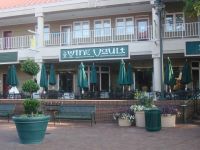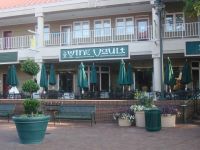 Bar, Beer-to-go
9009 J M Keynes Dr. Ste 1
Charlotte
,
North Carolina
, 28262
United States
(704) 548-9463 |
map
commercemarketplace.com
Notes:
Reviews by WAP:
4.13
/5
rDev
+18%
vibe: 5 | quality: 4 | service: 4.5 | selection: 3.5
Very nice location with an outdoor patio that always has a friendly group sitting around chatting and often has live music. There are times during the warm months that the UNCC crowd and their bottles of Riesling take over, but overall it is a good place to sit outside and down a few brews.
The staff is very friendly and helpful if not extremely knowledgeable about beer. I do think this is getting better - they are making an effort to put together a beer dinner every now and then and trying to become more beer-friendly.
The selection is decent - a large cooler of singles with a lot of macros but also quite a few craft brews. There is also a high gravity cooler with a few belgians, a DIPA or two, and a few others.
I would not say this is a beer destination, but it is a warm, friendly place if you strike up a conversation with some of the regulars or the owner.
880 characters
More User Reviews:

3.53
/5
rDev
+0.9%
vibe: 5 | quality: 3.5 | service: 3 | selection: 3.5 | food: 3.5
Well I can say I have had some cool stuff go down at that place (can't say what ;)), and the beer selection is pretty good. Pretty unique spot that I recommend going to visit. Sit outdoors if you can and enjoy the music, or wander downstairs to the basement for some privacy.
275 characters
4.43
/5
rDev
+26.6%
vibe: 4.5 | quality: 4.5 | service: 4.5 | selection: 4.25
Saturday afternoon was abnormally warm here in Charlotte and we were walking around the shops and decided to get lunch at Ninety's sandwich shop two doors down and I got a couple beers here. We sat out on the patio which was full. They have a wide range of beers including a good selection of local beers. A Hoppyum IPA and a Southern Tier Wheat were less that $5 total. I cannot think of another place here in Charlotte that has the same vibe as this place and especially not for the price. Come on a warm day and listen to music in the evening with a few buddies or a significant other. Also completely dog friendly, a nice bonus
631 characters
3.79
/5
rDev
+8.3%
vibe: 4.5 | quality: 4 | service: 3 | selection: 4
One of my Wife and I's favorite thing to do in the summer is stop at the Wine Vault for an evening drink. The have a large, open outdoor patio overlooking a manmade lake complete with ducks and geese. Often there is live music being played near-by outdoors and it's a great place to people and dog watch(if you like dogs that is).
The beer selection is good, with about 50-75 different micros and high-gravity imports. IMy last visit I had a Two Hearted Ale, Celebrator Dopplebock, and an Allagash Grand Cru. Most beers are 3-5 bucks a bottle, about average.
They also have a nice wine and cheese selection, although no food service is available.
648 characters
3.64
/5
rDev
+4%
vibe: 3.5 | quality: 3.5 | service: 4 | selection: 3.5
This was a decent stop in while I was in town last. I had never really thought of stopping in here before, but for some reason decided to check this place out. It was fairly decent, nothing to write home about or go seriously out of your way to get to. Relatively small place with a decent selection and a nice sized patio. I sat outside and had a foothills, nothing that special. Its a cool place to hang out but I really would not call it a destination for beer. Did not try the food as I wasnt hungry, but the place is ok
524 characters
2.63
/5
rDev
-24.9%
vibe: 3.5 | quality: 2.5 | service: 3 | selection: 2
The Wine Vault is located in the shopping area at the corner of University and Harris Blvd. Lots of restaurants and shops are nearby.
As I walked up to the place, there were about 30 younger adults outside enjoying wine and mass produced imports such as Heinekin and Amstel. The selection inside was more of the same. not much in the way of craft beer. Seperate cooler for high gravity beers, even though we popped the cap like a year and a half ago.
I wasnt greeted as I entered but the cashier was speaking with other patrons about some wine.
Overall, maybe a place to grab a beer and sit outside on a nice day but really nothing special. Boardwalk Billys has some good food and decent beer selection with outdoo seating as well. That was where I spent my afternoon.
778 characters

3.64
/5
rDev
+4%
vibe: 3.5 | quality: 3.5 | service: 4 | selection: 3.5
Holy Pommeroy's Wine Bar, Batman! This was part of a series of shops in a strip-type mall and the counter sat directly to the right coming in the door. A couple sat at a table opposite the counter with a bottle of wine between them, lovingly gazing into one another's eyes, when some buffoon from up PA way asked the counterman in a booming voice, "Hey, where d'ya keep the beer around here?!?" Pointing aft, we proceeded aft, past all of that pesky wine, to the back of the store where they had the beer coolers, including the separate one for the newly-added "High-Gravity Beers". The great irony was that despite their state's recently having "Popped the Cap", I was drawn to the lower-ABV locally made beers. Once I made my initial selection, we headed downstairs to a lounge area with sofas, chairs, and ottomans, where we could imbibe in beer away from the vino types.
874 characters

1.94
/5
rDev
-44.6%
vibe: 1.5 | quality: 2 | service: 2 | selection: 2
This is a Wine Bar and thus has no place on BA's website. It is frequented by preppy college kids and single adults. The most common site on their patio, which is merely a bunch of tables in the middle of the mini-mall sidewalk, is a group of frat kids sipping Corona on a hot day. I am sorry to people who like this beer but Corona is not good any day of the week, even in sweltering heat.
I hate to blatantly contradict another review but I found this place to be horrible. The beer selection is awful, the glassware is inappropriate though it is not as if the bartenders have any idea. If you drive all the way over to the Wine Vault, walk another 50 feet to Boardwalk Billy's, where they always have about 20 beers on tap and a nice handful of bottles. There are no Belgian gems on the menu but at least they have good classics like Spaten mixed in with some regional favorites. Boardwalk Billy's even has a nice big wooden deck that sits out on a lake, unlike the metal chairs on the sidewalk in front of Wine Vault, with a nice view of the parking lot.
Bottom line: Avoid the Wine Vault.
1,099 characters
3.76
/5
rDev
+7.4%
vibe: 4.5 | quality: 3.5 | service: 3.5 | selection: 4
I've been to the Wine Vault a number of times now and for those UNCC students looking for a casual and fun place to take a date during the warmer months, this is it. Mainly this is a wine store with four coolers of singles, including one exclusively now for high gravity.
All beer is opened on premise and poured at the counter. The cost is definitely cheaper than a restaurant/bar but a bit pricier than a beer/grocery story - maybe $2.00 for a DFH 60 min or $5 for some high gravity. Most botlltes do not have the price on them.
The best part of this place though the outside atmosphere. Every time we've been there, live music is out on the patio and tons of people are drinking wine or beer enjoying each others company and music, sitting and standing around. Not a rowdy group, kinda snobby in a beer advocate way. Always chill music when I've been there.
Worth the trip after dinner in the Univeristy area sometime. Wine and beer drinkers unite!
961 characters
Wine Vault, The in Charlotte, NC
Place rating:
3.5
out of
5
with
9
ratings