Mac's Pizza Pub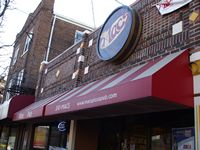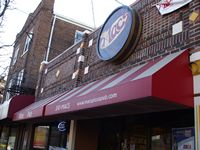 PLACE INFO
Type:
Bar, Eatery, Beer-to-go
205 West McMillan Street
Cincinnati
,
Ohio
, 45219
United States
(513) 241-6224 |
map
macspizzapub.com
Notes:
No notes at this time.
Added by BeerAdvocate on 05-03-2006
Ratings: 14 | Reviews: 11
Reviews by Urbancaver:
3.6
/5
rDev
-4.5%
vibe: 3 | quality: 3 | service: 4.5 | selection: 3.5 | food: 4
A definite college bar.... For a college bar its amazing how good the selection is in all honesty. The really nice thing about Mac's is that even on the weekends its never so busy that you can't get good service. The bottle selection is much better than their tap selection typically but nothing to write home about. It is nice to be able to get all the good local brews for very low prices. The food is good too, especially later at night when they sell pizza by the slice. Overall, definite perks for great service and having a better beer selection than your average college bar
581 characters
More User Reviews:
4.48
/5
rDev
+18.8%
vibe: 4.25 | quality: 4.75 | service: 4.25 | selection: 4.25 | food: 5
Vibe: College bar at night and game days are jam packed! Totally different vibe during the day. If you are in before 9pm you will find yourself among local regulars, college professors, doctors and nurses. At night leave it to the kids!
Quality: This is not a 5 star establishment but it does have a surprisingly good beer selection and the food is made fresh.
Selection. Local rotations from rhinegeist, madtree and mt caramel. $3 craft cans on monday and the line up is out of this world!
Tap selection is filled with your normal domestics but there are always some surprises on tap that you are sure to love!
Bottle selection is filled with your popular crafts nothing to rare but it seems to be pushing more to the geeky side every week!
Food: PIZZA is the best in the city period.
793 characters
4.23
/5
rDev
+12.2%
vibe: 3 | quality: 4 | service: 4 | selection: 5 | food: 4.75
3.95
/5
rDev
+4.8%
vibe: 3.75 | quality: 4.25 | service: 3.75 | selection: 3.75 | food: 4.25


3.98
/5
rDev
+5.6%
vibe: 3.5 | quality: 3.5 | service: 4 | selection: 4.5 | food: 4.5
A: a varied atmosphere. non students, frat guys, hipsters, CCM musicians, the whole gamut. Can get loud, but overall a pretty good time.
Q:Nothing terribly impressive, however, they provide glasses and the staff seems knowledgable.
Serv: Good and quick service would be great but they always fuck up the pour.
s:Immense craft tap and bottle selection!
F: Good high quality food. I would recommend trying their pizza and if you have time they do a 7 dollar pizza buffet on fridays
V: I went in here a couple night ago and spent less than 30$ for three people. That included drinks and food
593 characters

3.48
/5
rDev
-7.7%
vibe: 4 | quality: 3.5 | service: 3 | selection: 3.5 | food: 4
I was here once nearly a year ago, and finally made my way back with my buddy Jeff on a whim, mostly because Fries Cafe was closed for some reason at 2:30 PM on a Saturday afternoon, but it did the trick...
Atmosphere: It's definitely a college bar, but if you go in the summer in the afternoon, it'll likely be standable. It was alright, minus the fact that is totally smells like a frat house basement and bad tap lines (I swear I smelled a stale mix of vinegar and beer the whole time I was there), but they have a really nice shuffle board table, and that goes a long way with me. There's a fair amount of room and they make some pretty great smelling food as well, so for a place to kill a couple of hours, it'll definitely do and you could definitely do worse.
Quality: Meh. It's not awful, and they had a couple of decent tap selections (GLBC Lake Erie Monster, Strongbow Cider, Mt. Carmel, etc.), but mostly BMC stuff. They also had Hudy Delight in the cooler, so if local history is your thing and you're in Cincy, it's a definite plus.
Service: Well, they can pour your beer and keep them coming if you're looking for multiple rounds. I certainly wouldn't ask for various bits of information on various beers on tap, but that's not what they're going for there either - it's meant to be a campus bar and they pull it off just fine.
Selection: As mentioned, they had a couple of decent taps, and oftentimes that's all you can ask for in a world of college bars that typically only offer BMC stuff and think that if they offer SNPA that they have something unique.
Food: Solid. 'Nuff said.
Value: I've never felt like I've overpaid anywhere in Cincinnati for the beers I've drank. Like most places, you get what you pay for and as long as you know what you're walking into when you enter the place, you should be happily satisfied. On another plus note, the best Thai food in Cincinnati is right across the street at a place called Red Pepper, so again, well worth your time.
1,993 characters
3.65
/5
rDev
-3.2%
vibe: 3.5 | quality: 3.5 | service: 3.5 | selection: 3.5 | food: 5
Located on campus, it's gonna be nearly 100% college punks. It's pretty chill inside, though, especially during the day and sometimes on week nights. Not the largest selection but a decent number of taps and some good standby bottles. The serve a lot of Mt. Carmel beers and usually some Goose Island and Stone brews. The service at the bar is usually pretty good but they don't know a ton about the beer. The waiters are usually college punks as well but not always bad. The pizza is some of the best I've had and you'll usually find me here being a gluton after another Bearcat victory. Prices seem pretty good on all the food but the beers I believe are all $5 a pint...which isn't bad but not good, either.
710 characters
3.5
/5
rDev
-7.2%
vibe: 3.5 | quality: 4 | service: 2 | selection: 4 | food: 4.5
Mac's wears different hats depending on time of day, time of year, etc. During the day and early evening its a quiet place to get decent beer GLBC, Mt. Carmel, some dogfish and others. Later in the evening the place is LOUD. I don't mean too loud for a good beer bar, I mean so loud that you start to think that living on the same block could result in permanent hearing damage. They have DJ's, live music, or karaoke most nights and it seems like the idea is to blow out any chance at conversation within 100 yards or so of the bar. Bartender knowledge depends on who is working a particular shift with some good and some not so good. The food is actually great. Excellent Pizza, Sandwiches, The Macover, it's all good. The problem is that you will wait for it. Most of the time the wait staff is indifferent, lazy, overworked, or just missing. It generally takes forever to get food, refills, or bills. College type of crowd, just be prepared for a lot of noise.
964 characters
4.13
/5
rDev
+9.5%
vibe: 4 | quality: 4 | service: 4.5 | selection: 4 | food: 4
This is the quintessential college bar. Located just around the corner from the main campus of the University of Cincinnati, Mac's has a decent beer selection with a large number of the available beers being on tap. You won't find obscure favorites, but you'll find popular, quality beers from Sierra Nevada, Great Lakes, Goose Island and DFH. Also available is a strong lineup from local brewey Mt. Carmel.
The atmosphere is cozy, with wooden tables and wooden benches, murals of Italian restaurant compositions and all around kitchy stuff like old beer ads and vintage movie posters.
The service was good. The guy taking our order was nice and offered samples of the different beers in shotglasses before choosing. Note: Don't even bother with the Bearcat Brew.
The selection, like mentioned above isn't bad. They had a couple of beers that I haven't seen elsewhere, one being Great Lakes' Holy Moses. The two beers that I did have on tap (Mt. Carmel's Nut Brown Ale and Bell's Oberon) were very fresh.
We didn't sit down to a meal, but we did indulge in the soft pretzels with beer cheese (made with Mt. Carmel beer!) and fried pickles. Yes, it's bar food, but it was above average in my opinion. The pretzels and cheese paired well with the beer I had.
Overall, this is a nice spot. The pizza, which I've had before, is decent with a lot of topping options. They even have vegan pizza and burgers for the meatless minded out there.
Good beer, good bar food, good service and at reasonable prices. You can't beat that.
1,529 characters
3.13
/5
rDev
-17%
vibe: 3 | quality: 3.5 | service: 2 | selection: 3.5 | food: 4
Very interesting place it's where pizza, meets bar, meets alternative music. Not exactly my place to be, but it has served as a solid place to catch some good craft beer on tap and watch a UC game.
The selection here is better than average, though not outrageous. I came here for a Levitation "keep the pint night" release party. I thought it was very well handled.
The service here is actually not very good. It typically takes upwards of 5-10 minutes for a server to come take your order, as well as an inordinate amount of time between taking orders and getting drinks, getting food, and getting refills.
The selection is limited within the theme of the range of pizza/Italian, but within that category there is a great selection.
The food is very good, I enjoy it tremendously and generally reasonably priced.
813 characters
4.05
/5
rDev
+7.4%
vibe: 4 | quality: 4 | service: 3.5 | selection: 4.5 | food: 4.5
This place is quickly becoming a favorite of students at UC. What is better than pizza and beer.
Atmosphere: As soon as you walk in the door, BAM, a bar on the right and a pizza pick up window on the left. As you walk to the back there is a bar shuffle board game and then a nice size area with another bar and plenty of TV's. This is a great place to watch sporting events at.
Service: Can get fairly crowded but doesn't usually take long to get your food or drinks.
Selection: This place has plenty to choose from. Overall, they have about 50 beers with around 15 on tap. Out of the bars in Clifton this place has one of the best selections.
Food: It's a Pizza Pub... haha. Actually their pizza is very good but they also have really good sandwiches and I really like their jalapeno bottle caps and fried pickles.
Value: It's a college bar, it's not going to be very expensive. They also have really good specials. If your looking for cheap beer they have $1.00 PBR cans.
979 characters
3.88
/5
rDev
+2.9%
vibe: 3.5 | quality: 4 | service: 4 | selection: 3.5 | food: 4.5
Stopped in here for lunch after going through the whole Clifton area, I felt I was in need of some pizza and since this was on my list of places I figured I should stop right in. A nice small place, it was more like a pizzeria then a bar, but able to hold a good amount of people I would guess. Food was excellent and very quick with the servers being very pleasant and constantly coming up and asking if I needed anything. The selection was not half bad at all. They do have Mt Carmel on tap which was nice to see as well as some Great Lakes. The bottles consisted of the rest of the Great Lakes lineup, as well as some Left Hand, Rogue, Stone, and Barrelhouse. Of course there were some macros as well. This was definitely not a bad stop though and I would very much like to make another trip in here one day.
811 characters
3.15
/5
rDev
-16.4%
vibe: 3.5 | quality: 3 | service: 3 | selection: 3 | food: 4
Mac's is a mixture of a pizzaria and a bar. Haven't really been in there all that much but I know that on the weekends they've usually got live music. The food here is great, probably the best food I've had from a bar with the exception of GLBC. Service is average, the waitresses have a pretty good knowledge of whats on tap and what they've got in bottles. When asked what they had she gave a list that was fairly long. While I don't remember what was all on the list I can assure you that it was long. The list seemed to be taxing for her to repeat, so once I heard something I liked I stopped her.... They've got Mt. Carmel brews on tap, its nice to see that they're supporting local breweries. It also means that if they've got it on tap that it must be selling well enough for it to stay there, a reassuring thought for craft beer, especially since this bar is once again, college oriented. Prices are fairly low, the price for a pint of Mt. Carmel being about 2.25....the same as a pint of Miller.
1,004 characters
Mac's Pizza Pub in Cincinnati, OH
Place rating:
50%
out of
100
with
14
ratings