Beer Ink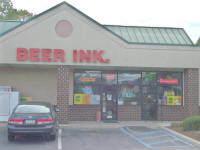 PLACE INFO
Type:
Store
530 Centerville Rd
Lancaster
,
Pennsylvania
, 17601-1306
United States
(717) 898-9185 |
map
Notes:
No notes at this time.
Added by Phatz on 05-03-2006
Ratings: 4 | Reviews: 4
2.4
/5
rDev
-30.8%
I forced myself to wait as long as I could before submitting this review because I have learned from previous experiences that it's usually better to let emotions subside before publishing anything on the internet. But lo and behold, I am still just as agitated, insulted, and adamant as I was the day I stepped into Beer Ink for the last time.
Perhaps I have become all too spoiled by living within reasonable distance of Stockertown, Shangy's and Tanczo's, but I have never been impressed with the selection at Beer Ink, and the service has always been less than what I would call friendly. For some reason (due to its proximity to where I had just purchased some grocery items) I felt compelled to once again confirm this. This was the rudest, most obnoxious experience I have had in quite a while.
Beer Ink is the first place I would recommend to a construction crew thirsty for a 30-pack of Stroh's, a pack of smokes and a lottery ticket. Previously, the most exotic label that I had seen on the shelves was Killian's Red, but I had heard that they recently (finally) started stocking some craft brews. I was looking for Sly Fox cans, which I had recently purchased at the next-closest distributor, Wheatland Beer Distributors. Being born and raised in the Keystone State, I am fully aware of the distributor laws, but I figured since Sly Fox is so close to Lancaster that maybe the local distributors would try to keep it on the shelves, regardless if they have to get it from a competitor.
I was asked if I needed help finding something, so instead of casually perusing the labels of their minimal craft selection, which I usually enjoy, I cut right to the chase and asked if they carried Sly Fox. I was met with a haughty snicker and "Never heard of it. What's it called again?" Considering its brewed 57 miles from Beer Ink, I was a little surprised and knew right away that I would have to go to Wheatland, located at 1701 Columbia Avenue, 17603. I repeated the name 'Sly Fox' and the lady behind the counter, who has been a beacon of misery since the day Beer Ink opened for business, (I grew up in the Hempfield area and turned 21 right around the time they first opened,) continued with her know-it-all smirk and asked, "What do they do?" I bit my tongue, suppressing all sarcastic replies that instantly popped into my head. I am always eager to discuss beer, especially with industry professionals, so I started to reply "They brew beer in Phoen . . ." Chuckling to her co-worker, she cut me off mid-word and told me "You're going to have to go out of Lancaster County for that, no one around here carries them." I very politely informed her that I had purchased it two weeks prior from Wheatland. This caused her soft pudgy face to glow a rosy hue as she literally yelled "Well have a nice day!" I exited the store dumbfounded and confused, re-playing the entire 3-minute event over and over again.
I was at a complete loss and trying to comprehend the situation: so had she heard of Sly Fox before or not? If she had never heard of it, how would she know that "no one" in the county carries it? Etc. Trust me, I know what its like to do something for a living and constantly have know-it-alls try to trump my knowledge. But I do have the common sense, combined with the common decency, to at least listen to someone who is talking about something I don't know about. I understand that craft brews may not be worth the shelf space or the tied-up inventory dollars at her location, that's fine. But to treat me like an idiot because she didn't want me to buy from a competitor is poor business practice. And to cut a customer off mid-word after making me feel like I don't know what I am looking for is just downright rude. At the very least, ask me what type of beer of it is and then suggest something similar that you have actually heard of and have in stock. Then to send me off by yelling at me because I dared to mention a competitor's name – I rest my case.
15 minutes later the case of Sly Fox Pikeland Pils that I wanted was being carried out and loaded into my car by a friendly and courteous employee of Wheatland.
In conclusion, go to Wheatland Distributors at 1701 Columbia Ave, Lancaster, PA, 17603.
4,273 characters
3.3
/5
rDev
-4.9%
This is a good example of a beer distributor in Pennsylvania. Simply dedicated to beer. The place is clean and cases are well organized. There doesn't seem to be an abundance of beer knowledge going on here. They have plenty of craft beer and some imports. Like most other distributors in the area, they probably get most of their stuff from Kirchner's Distributor which provides for most of the area. The prices are reasonable. They have a neat little rolling stand so you can slide your beer over to the register as you wait in line which is probably the coolest part about this place.
587 characters
4.2
/5
rDev
+21%
This store is typical of many of the beer distributers in the Lancaster area. The store is very clean and well laid out. They ahve a very good selection of Pennsylvania micros and some other East Coast selection. Victory was well represnted, as was Troegs, Appalachian, Weyerbacher, Lancaster Brewing and RiverHorse. While the selection is not as large as some other area stores, all the stock looked nice and fresh. The people at the store are very helpful. If you live in the area this would be a nice place to stop, but not somewhere I would go out of my way to visit.
571 characters
4
/5
rDev
+15.3%
I am really impressed with what they have done with the place since the last time I was at Beer INK. The store was immaculately clean and easy to browse through. The prices for the cases are easy to see directly above the shelves. Evern the parking lot and the landscaping have been renovated.
They carry the line of Serria Nevada products, Wild Goose -line and variety, Woodchuck variety, Brooklyn variety, a smattering of PetesWicked, Weyerbacher - the regular line - the variety and the big beers variety (that was cool to see it is Old Heathen, Merry Monks, Quad & Raspberry Imperial Stout), Tröegs line & variety, Shipyards Variety, Pyramid, Lion Brewery line, Victory line including 10yr, River Horse, Appalachian line, and LancBrewing Co line. That I recognized off hand they also had some I don't know yet. The lady I spoke to said they would order what I wanted from the region, but what they could get from the west coast may be limited because of the arrangements they have with their distribution company. They do have a case of 12 bombers of Arrogant Bastard ordered for me. That made me pretty pleased. They also just renovated the store to make it easier to navigate. Today I was in the store with my kids and I bought 2 cases. One thing that set apart this experience was the fact that the lady I spoke to up front paged someone to come carry the cases out to the car for me. I am more than capable. Often I pay, put the kids in the car, then pull up to the door and run back up to pick up my cases. She had just taken a special order for me and then went out of the way to be extra helpful. The store is not quite as large as Wheatland Distributors, but the people are very nice.
Hope this is helpful.
Cheers!
1,734 characters
Beer Ink in Lancaster, PA
3.47
out of
5
based on
4
ratings.