Sun Lik
| Shepherd Neame Ltd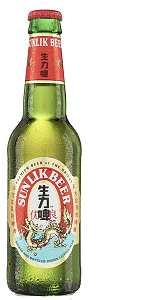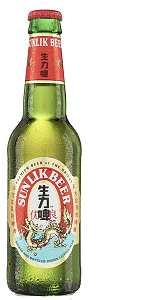 BEER INFO
Brewed by:
Shepherd Neame Ltd
England
,
United Kingdom
shepherd-neame.co.uk
Style:
Euro Pale Lager
Alcohol by volume (ABV):
5.00%
Availability:
Year-round
Notes / Commercial Description:
No notes at this time.
Added by Daredevil on 03-12-2006
HISTOGRAM
Ratings: 12 | Reviews: 7
Reviews by jazzyjeff13:

2.46
/5
rDev
+11.3%
look: 3 | smell: 2 | taste: 2.5 | feel: 3 | overall: 2.5
A 500ml brown glass bottle with a BB of Jan 2012. Sun Lik - the premium beer of the orient - brewed at Shepherd Neame in the UK. Gotta love that oriental flavour! The website calls it the no. 1 chinese draft in the UK, and mentions that they've moved from green to brown bottles in order to stand out on supermarket shelves.
Poured into a Guinness pint glass. A clear pale straw colour with good carbonation. Topped by a foamy white head - looks decent for a lager. Almost no aroma; a hint of light malt and grain.
Taste is clean but weak. A very pale malt flavour; it's not sweet but there is no discernible bitterness. There is also a very faint note I can't put my finger on, but it reminds me of other Shepherd Neame brews. Their own yeast perhaps - although this is a lager? Mouthfeel is smooth and slightly tingly, with almost no aftertaste.
A bit of a non-event, flavour-wise. Would probably be OK with food, but dull on it's own. There are plenty of more distinguished beers out there, and the fact that it isn't brewed in China gives it a lack of authenticity. Pass...
1,080 characters
More User Reviews:
1.76
/5
rDev
-20.4%
look: 3 | smell: 2 | taste: 1.5 | feel: 2 | overall: 1.5
Pours very pale gold with lively white head. Aroma is weak, slightly sweet malts, difficult to define. Taste is weird - dryish start but then strangely sweet and some hint of a herb or spice (the label does say with an "unmistakable Oriental taste!") Labelling also says San Miguel Brewing, but brewed under licence by Shepheard Neame. Not at all sure why Shepherd Neame would want to be associated with this tasteless abomination! Avoid unless desperate.
JohnW
B'ham UK Feb 2011
480 characters
2.95
/5
rDev
+33.5%
look: 3 | smell: 3 | taste: 3 | feel: 2.5 | overall: 3
Oh, a new lager from China thinks I: 'PREMIUM BEER OF THE ORIENT' claimed the front label. On getting the beer home I find new information. The rear label pronounced it was a San Miguel product brewed in the UK!
Anyway, the brown 500ml bottle was opened and reviewed in my back garden on a warm evening in April 2011. Poured into a pint glass, badged by Good People, Birmingham, ALA.
I had a long hard day at work and was ready for a refreshing beer, this looked like it would fit the bill nicely. Lager/Pils golden yellow, clear, bright and almost headless.
I can't pretent it had any great aroma, taste or depth of flavours, in fact it was a 'lawnmower' sort of beer, quenching my thirst but doing little for the art of brewing. Neither hoppy or malty, it sat squarely in the middle wishing to offend or please anybody, a beer for the masses.
Will I be rushing out and buying crates of this stuff, no: but it served it's purpose on the day.
946 characters
4.5
/5
rDev
+103.6%
Had a one pint draft at, IIRC, Harbour City restaurant, London, UK. It's an excellent copy of an American macro brew. I can see where it would be mediocre in a bottle but the draft was very enjoyable.
202 characters

2.06
/5
rDev
-6.8%
look: 3 | smell: 2 | taste: 2 | feel: 2 | overall: 2
Hoping to have a nice pale lager to go with my great Chinese food, I decided to order a Sun Lik from the menu at the Cherry Valley restaurant in St. Ives. Not sure I would do that again. This beer looks normal enough; pale gold with a slight head. One smell should be enough to tell you this isn't going to light your hair on fire. Not much more than grain and stale water. The taste is not much either. After a few sips it was used more to put out the heat from the spicy peppers than it was for thirst for the beverage. And it didn't even do that very well...
I would choose not to recommend this to a friend as I found it a poor example of the lager style.
661 characters
1.25
/5
rDev
-43.4%
look: 1.5 | smell: 1.5 | taste: 1 | feel: 1 | overall: 1.5
this is a licence brew from San Miguel (Hong Kong) wich is partly owned by San Miguel Philippines ... as I am not yet allowed to add new breweries I did choose to attach it to the licenced brewer (which hopefully will make them think about brewing such piss like this) .... now english lager is for sure not something you should order if I had a choice, but this one somewhat tops it all ... really dreadful .... tastes like water having been poured over crop with a bit of sugar added .... avoid it ...
503 characters
1.06
/5
rDev
-52%
look: 2 | smell: 1 | taste: 1 | feel: 1 | overall: 1
Pours a very light straw colour & is clear with a good few bubbles rising to the surface. The head is really just some lacing at the top.
Not a really bad smell but it consists entirely of grain & has a slightly skunky smell that makes you dread the tasting.
One of the worst tasting beer I think I have ever tried. It tastes really grainy with a slightly off citrus flavour. The beer in general tastes off as well.
Very thin & watery leaving a slight tang of the tongue. Almost rough & bumpy as you take a sip.
Too disgusting to finish, one of the worst ever as expected. It doesn't settle to well in your stomach either. Avoid at all costs.
http://abarwithnoname.wordpress.com
683 characters

Sun Lik from Shepherd Neame Ltd
Beer rating:
2.21
out of
5
with
12
ratings