Brilliant Ale
| Shepherd Neame Ltd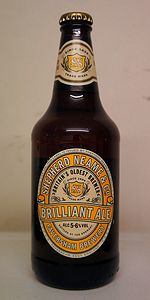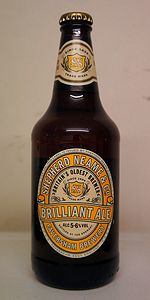 BEER INFO
Brewed by:
Shepherd Neame Ltd
England
,
United Kingdom
shepherd-neame.co.uk
Style:
English Pale Ale
Alcohol by volume (ABV):
5.60%
Availability:
Year-round
Notes / Commercial Description:
No notes at this time.
Added by mdagnew on 06-29-2013
HISTOGRAM
Ratings: 15 | Reviews: 4

3.17
/5
rDev
-12.2%
look: 3.25 | smell: 3 | taste: 3.25 | feel: 3 | overall: 3.25

3.24
/5
rDev
-10.2%
look: 3.25 | smell: 3.5 | taste: 3.25 | feel: 2.5 | overall: 3.25
Bottled and presumably not bottled conditioned as is probably a bright ale
Problem is that bright ales quickly diminish and I think it was an amazing brew Brilliant Ale? Barely Average.
186 characters

3.39
/5
rDev
-6.1%
look: 4.25 | smell: 3.25 | taste: 3.25 | feel: 3.5 | overall: 3.5
3.5
/5
rDev
-3%
look: 3.5 | smell: 3.5 | taste: 3.5 | feel: 3.5 | overall: 3.5
3.5
/5
rDev
-3%
look: 3.5 | smell: 3.5 | taste: 3.5 | feel: 3.5 | overall: 3.5
3.5
/5
rDev
-3%
look: 3.5 | smell: 3.5 | taste: 3.5 | feel: 3.5 | overall: 3.5
Coming in a 500ml brown bottle, BB date unknown, served lightly-chilled in Fuller's ESB stemmed pint-size goblet.
A: pours a bright golden colour with a light off-white head and mild carbonation.
S: lightly grassy notes accompany the otherwise biscuity and lightly candy-ish pale malts; faint sour apples, citrus fruitiness and starchy acidity also reveal following a good swirl. All in all, pleasant but not at all complex.
T: lightly spritzy on the entry, the swallow shows more sweet malts than Cascade hop fruitiness, but soon the hop impact sinks in, with plentiful bitterness developing down the sides of the palate, along with zingy citric hoppiness and lightly gristy feel from the malt undertones. Moderately chewy and dry in the finish.
M&O: refreshing, medium-plus bodied and never too heavy, this golden bitter is well hopped and shows a bit more sweetness at the foretaste than necessary, but all in all pretty pleasant and drinkable.
950 characters

3.54
/5
rDev
-1.9%
look: 3.5 | smell: 3.25 | taste: 3.5 | feel: 4 | overall: 3.75
Served at cellar temperature from 500ml bottle into pint mug.
L) Clear, lager-amber colour, a few big bubbles coming up, with a thin white film.
S) Not much at all. Some sweetish malt and very light English hops.
T) Pretty muted, but balanced. Sweetish on the malt, and not much bitterness to balance. Soapy hop finish, with barely any bitterness.
F) Light and fairly fizzy. No drying aftertaste.
O) A bit of a contradiction beer - it is balanced, easy drinking with no major flavours, so does it need to be this strong?
530 characters
3.56
/5
rDev
-1.4%
look: 4 | smell: 3.5 | taste: 3.5 | feel: 3.75 | overall: 3.5
500ml bottle bought from The Vintage, Antrim...
Poured a golden orange colour. Slightly off white head poured big, thick and foamy then faded quite quickly to thickish covering with good thick edging that creeps up the glass.... barely any carbonation bubbles.... some good lines of lacing around the glass...
Aroma - Good juicy fruits to the fore (oranges, apricots, some light strawberry traces), caramel and biscuity malts, some toffee, quite grassy hops, peppey notes, some toasted nuts, light marzipan traces...
Taste - Good peppery and grassy hop bitterness up front followed by caramel and some spicy fruits (bitter oranges (marmalade?), grapefruit, apples), lightly toasted biscuit malts, toasted bread notes, buttery, faint metallic traces, floral...
Feel - Sharp and dry... light bodied... very refreshing and thirst quenching - one of the most quaffable ales i've had in a while...
Overall - A decent example of a British golden Pale Ale... recommended...
981 characters
3.69
/5
rDev
+2.2%
look: 3.75 | smell: 3.5 | taste: 3.75 | feel: 3.75 | overall: 3.75

3.84
/5
rDev
+6.4%
look: 3.75 | smell: 3.5 | taste: 4 | feel: 3.75 | overall: 4
3.9
/5
rDev
+8%
look: 3.75 | smell: 4.25 | taste: 3.75 | feel: 4 | overall: 3.75
Brilliant Ale from Shepherd Neame Ltd
Beer rating:
3.61
out of
5
with
15
ratings