Cardinal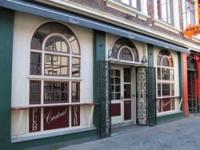 PLACE INFO
Type:
Bar
Skagen 21
Stavanger
, 4006
Norway
+47 982 04 200 |
map
cardinal.no
Notes:
No notes at this time.
Added by Sigmund on 05-04-2006
Ratings: 7 | Reviews: 4
Reviews by JohnnyP3:

4.2
/5
rDev
+0.2%
vibe: 4.5 | quality: 4 | service: 4.5 | selection: 4
Visited on 14 Oct 10. The Cardinal is the closest you can get to beer Nirvana in Stavanger, Norway. I say close because the beer offerings are exceptional, but you likely will run out of money before being able to try everything you would like.
The atmosphere was quite nice--a full house on a Thursday night. The bar was well positioned and organized with a full complement of beers on tap (counted around 12 or so). Adjacent to the bar was a seating area with tables for groups of 2-4. There was also an upstairs area with a separate bar and seating area for larger groups. Smoke-free atmosphere, which was appreciated. Upstairs, I saw one of the more unusual sights I have ever seen in a drinking establishment--what appeared to be a knitting club had taken over a large seating area and was vigorously knitting some kind of garment. I did a double take and went back downstairs. Good lighting and wood/stone decor throughout.
The service at the bar was friendly and efficient. I didn't have to wait long at all or jockey for position in order to order a beer. The selection of on-tap beers and bottled beers simply has no equal in the area. In fact, nowhere else even comes close. I didn't have a chance to look at the bottled offerings, but the on-tap selections ranged from European macros to Norwegian micros and some others in between. There were two selections from Haandbryggeriet, one from Nøgne Ø, Sam Adams Boston Lager, Stella Artois, New Castle Brown Ale, Old Speckled Hen and quite a few other quality Norwegian and German selections that I cannot recall...oh yeah, two selections from Erdinger. My only criticism of the draft selection is that they had a couple Norwegian beers like Tau, which is basically the BMC of Norway taste-wise. Because this beer can be found everywhere else in town and the selection everywhere else is usually so minimal, why not offer Norwegian beer-geeks something more unique in its place? The servers at the bar make an effort to serve the beer in the proper accompanying glassware.
As far as value goes, visitors from the U.S. will likely be in a state of shock over the prices. As far as Norway goes, this is pretty much par for the course, although the beers I had on draft at the Cardinal were even more expensive than if I had purchased them bottled at the Vinmonopolet. So, for me, this place is great for a rare splurge. Two beers ran about 180 NOK or roughly $30. Ouch.
2,430 characters
More User Reviews:
4.72
/5
rDev
+12.6%
vibe: 4.5 | quality: 4.75 | service: 5 | selection: 4.5
One of Norway's best places to enjoy exsigting new or old beers, a wide selection of commercial and craft beers. The staff is very knowable and helpful.
152 characters

4.74
/5
rDev
+13.1%
vibe: 4.75 | quality: 4.5 | service: 4.75 | selection: 5
5
/5
rDev
+19.3%
vibe: 5 | quality: 5 | service: 5 | selection: 5
Exceptional selection of beer and knowledgeable staff. Highly recommend if you are in Stavanger.
96 characters
3.99
/5
rDev
-4.8%
vibe: 3 | quality: 3.5 | service: 4.5 | selection: 4.5
So after learning that I would have to cut my Europe trip short, it was determined that I would not be visiting Stavanger. The earliest plane ride home I could get is not until this coming Monday. So my cousin's father (no relation to me) decided we needed to see Stavanger while we still had a few days in Norway. I had just written BA Sigmund to tell him I would not make it to Cardinal for a beer with him. Then they told me we were going! So I arrived last night, ate dinner, and then headed to the pub. I wish I had some way of getting a hold of Sigmund. It isn't often you can meet a BA from another country for a beer, so I was very disappointed. So Sigmund if you read this, sorry friend. Another time perhaps.
Now onto the bar. It was a very crowded Friday night, with plenty of drunks at the bar and a smokey haze filled the joint. Extremely loud and difficult to move, but a nice bar feel all the same. A little smaller than what I expected. I asked for the beer list and started hunting. There was a guy sitting at the end of the bar who asked if he could make recommendations for me. I didn't think much of it but said sure. Turns out he knew a decent amount about beer and he works at the bar. The catch is, he wasn't working that night. He was just drinking. Maybe he was the owner, I don't know. So it was very cool that he took the time to chat beer with me and interrupt his own drinks and conversation to pull bottles from the back to talk to me about. He made some great recommendations and I ended up getting the last bottle of HaandBryggeri Norwegian Wood. He said they weren't going to make it anymore and this was the last one they had. So although I had other beers in mind when I showed up, I just had to have it.
I didn't count the beer list, but it could easily be 200 different brews. The downside is that Norway is extremely expensive. The country is more affordable if you live in it for sure. But bars are even expensive for Norwegian citizens. So for example, right now one american dollar is worth about five Norwegian Kroner. The beer I bought was 92 Kroner. That's almost a 20 dollar bottle of beer! Even the cheaper beers like Becks were 60 some odd Kroners, so that's like 12 dollars. But it's like this with everything in Norway.
Overall a great beer stop if you go to Norway, a lesser visited country. That's a shame too because it's much better than every other part of Europe I've visited, except maybe Belgium. Bring some money and check out the beer list online. Probably just find one you really want and call it a night or you could bankrupt yourself in this bar.
2,614 characters
4
/5
rDev
-4.5%
vibe: 4 | quality: 4 | service: 4 | selection: 4
The best beer bar in my home town Stavanger, probably the best in all of Norway. They're really putting some effort into stocking the best possible beer selection - by Norwegian standards, that is. Nøgne Ø beers are available. 12 beers on tap and appr. 190 bottled. Cask night or "special samples night" Wednesdays. Friendly staff.
Opening hours:
Monday: 16.00 - 24.00
Tuesday: 16.00 - 24.00
Wednesday: 16.00 - 03.00
Thursday: 16.00 - 03.00
Friday: 12.00 - 03.00
Saturday: 12.00 - 03.00
Sunday: 16.00 - 24.00
527 characters
Cardinal in Stavanger, Norway
4.19
out of
5
based on
7
ratings.