Dismiss Notice
Aldara Stiprais (Strong)
| Aldaris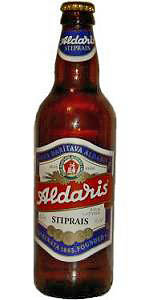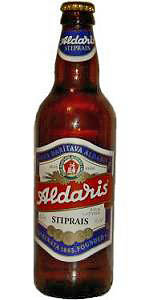 BEER INFO
Brewed by:
Aldaris
Latvia
aldaris.lv
Style:
Euro Strong Lager
Alcohol by volume (ABV):
6.50%
Availability:
Year-round
Notes / Commercial Description:
No notes at this time.
Added by brewdlyhooked13 on 06-15-2006
HISTOGRAM
Ratings: 13 | Reviews: 10
Reviews by yesyouam:
2.32
/5
rDev
-2.5%
look: 2 | smell: 2.5 | taste: 2 | feel: 3 | overall: 2.5
Aldaris Stiprais is a clear, pale yellow lager with a small white ring for a head. The aroma is of metallic fruit and cereal. It is medium-light on the palate and reasonably smooth. There are adjuncts and chemical flavors abound. It tastes like a 40.
(rated 12/25/2007)
269 characters
More User Reviews:

2.66
/5
rDev
+11.8%
look: 3 | smell: 2 | taste: 3 | feel: 2 | overall: 3
Found this strange agent on the shelf at Sam's Blue Light in Durham, hiding next to a host of equally odd looking Russian lagers. Pours golden with tons of carbonation bubbles and a thick, snow white head. The head subsides quickly and the nose features sweet malt and some artifcial smelling additives, reminding the taster briefly of soap.
Taste is surprisingly dry considering the heavy malt tones but the finish is gritty and astringent, as if the secret ingredient was sawdust. Despite the aftertaste, this goes down fairly easy and isn't riddled with alcohol flavor like a lot of "strong" beers I've tried. Drinkable if it's a buzz ye seek.
650 characters

1.06
/5
rDev
-55.5%
look: 2 | smell: 1 | taste: 1 | feel: 1 | overall: 1
Bottle. Hazy amber brew. Aroma of spoiled apple and stale seaport water. Flavor of Robitussin. Horrible brew. Maybe bottle was not fresh. But I'm suspicious of the beer the front label of which says "Lager", while back one says "all malt ale".
243 characters
2.23
/5
rDev
-6.3%
look: 3 | smell: 2.5 | taste: 2 | feel: 2.5 | overall: 2
500 cl bottle. Color pale copper.
Aroma is strange, not from a beer world, reminiscent of perfume or, more exactly, shampoo.
Carbonation is very high, crown small and unstable. No lace.
Taste uninspiring, bland, on the sweetish side, with a significant note of alcohol. Cannot recognize hops, all the bitterness is artificial. Malts are very well present, but they don't add to the character. Aftertaste stale, sweetish.
Not recommended.
449 characters


2.66
/5
rDev
+11.8%
look: 3 | smell: 2 | taste: 3 | feel: 3 | overall: 2.5
From a 16.9 ounce bottle with a very regal label.
Pours a clear gold with a big white head. Smells of grains and honey, grassy hops, but also phenols that unattractive for so slight an aroma. Taste is passable. Sweet but simple malts with a slightly lemony finish. I'm glad to have tried this Latvian beer and plan to try some of Aldaris' other styles in the near future. I expect that the others will be better; the main point of this particular beer seems to be nothing but alcohol provision.
495 characters

2
/5
rDev
-16%
look: 2 | smell: 2 | taste: 2 | feel: 2 | overall: 2
3.94
/5
rDev
+65.5%
look: 3 | smell: 4 | taste: 4 | feel: 4 | overall: 4
A typical, lager-like lemony-yellow with a good head of about 1 1/2 inches high, white, with great retention.
Smell is surprisingly malty, with citrus (mostly lemon), light pepper and hop notes. A good balance.
Taste is malt, lemon, hops, pepper and vaporous hint of pine/resin. NIce balance.
A medium-full body, good effervescence on the tip of the tongue, slightly warming. Pepper/hops/pine/alcohol all well blended in the aftertaste. A good beer, even very good, once you take the fact that I'm not a lager lover into consideration.
538 characters

2.1
/5
rDev
-11.8%
look: 2 | smell: 2 | taste: 2 | feel: 2 | overall: 2.5
The aroma is sweet with alcohol and very few hops. The appearance is pale gold with a thin head. The flavor is sweet with mostly adjuncts, alcohol, and paper. The palate is thin and the finish sweet and chemical. Overall it's not really disgusting but comes across as cheap and poor quality.
291 characters
3.03
/5
rDev
+27.3%
look: 3.5 | smell: 3 | taste: 3 | feel: 3 | overall: 3
Pours pale golden with very large white two finger head. Aroma is malty sweet. Taste is smooth throughout sweet malt with no alcohol or bitter aftertaste. Medium mouthfeel with average carbonation
This beer is not bad though, for the price it is not a bad pick up. ABV at 6.5% is very well hidden. This is my first Latvian beer and I was not disapointed. However, nothing stands out about this beer, a pretty standard export lager.
432 characters
2.5
/5
rDev
+5%
look: 2.5 | smell: 2.5 | taste: 2.5 | feel: 2.5 | overall: 2.5
Stiprais pours light yellow in color with initial rush of carbonation building a big white head. Head dissipates quickly leaving just a thin cover. Lacing is pretty good. Aroma is full of malty sweetness. Tastes sweet. Almost no hop bitterness, just some dryness. A bit more warming than usual (it's a tad stronger than euro lagers I am used to). Light to medium body. Fair mouthfeel, but aftertaste is a bit unpleasant.
Aldaris is Latvia's Anheuser Busch - dominating the market but with mostly bland beer. Stiprais is more flavorful than Zelta, but it is not remarkable.
574 characters

2.93
/5
rDev
+23.1%
look: 3.5 | smell: 3 | taste: 3 | feel: 3 | overall: 2.5
Picked up a single for $2 to try something different. Poured into a pint glass. Surprisingly large white head. Cloudy orange colored body, almost like a hefe. Not a bad looking beer. Smelled a bit like most Euro lagers. Taste came at me from two different angles. First, it tasted like most macro Euro brews. But secondly, it had this unusual sweetness on the back of your throat. Reminded me a lot of a Belgian sugar flavor. I think this is what helped increase the abv level. The "strong" aspect of this beer was its only redeeming quality. It had a bit of a punch to it, and didn't taste that bad. I wouldn't drink these all night, but Aldara makes one of the better beers I've had from the region.
701 characters
Aldara Stiprais (Strong) from Aldaris
Beer rating:
2.38
out of
5
with
13
ratings