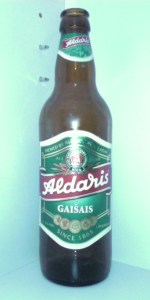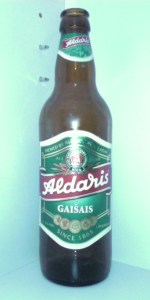 BEER INFO
Brewed by:
Aldaris
Latvia
aldaris.lv
Style:
European Pale Lager
Alcohol by volume (ABV):
4.50%
Availability:
Year-round
Notes / Commercial Description:
No notes at this time.
Added by DmanGTR on 06-07-2008
HISTOGRAM
Ratings: 12 | Reviews: 7
Reviews by droomyster:

2.58
/5
rDev
-8.2%
look: 3 | smell: 2.5 | taste: 2.5 | feel: 3 | overall: 2.5
Having tried their porter, I know that Aldaris can make good beer, but this lager misses the mark. Pours a very ordinary clear gold with minimal head. Very faint aromas of graininess and characterless hops. Tastes of sweet grains with insufficient bitterness for balance. Aldaris needs to kick this beer up few notches on every level. This beer is clearly targeting a mass-appeal but I think that Aldaris could do better. Aldaris Porteris, for example, is both finely crafted and very popular.
493 characters
More User Reviews:

2.23
/5
rDev
-20.6%
look: 2 | smell: 1.5 | taste: 2.5 | feel: 2.5 | overall: 2.5
I picked up a bottle of this at a local Russian supermarket. It had a very slight head, it didn't have any bubbles and was a completely clear gold. It had absolutely no scent at all.
It left a dull bitter taste in my mouth. This beer, like its scent, lacks a real clear taste. Not very impressed, but not necessarily bad.
322 characters
2.67
/5
rDev
-5%
look: 2.75 | smell: 2.5 | taste: 2.75 | feel: 2.5 | overall: 2.75
A: The beer is crystal clear yellow in color and has a moderate amount of visible carbonation. It poured with a finger high bright white head that died down but consistently left a short head covering the surface.
S: Light aromas of grainy malts and corn are present in the nose.
T: The taste follows the smell and has some slight hints of sweetness that peek out from a light amount of bitterness.
M: It feels light- to medium-bodied and a little dry on the palate with a moderate amount of carbonation.
O: You can definitely smell and taste some of the adjuncts used in this beer, but there are enough hops to help keep things in check.
Serving type: can
658 characters
2.59
/5
rDev
-7.8%
look: 2 | smell: 3 | taste: 2.5 | feel: 2.5 | overall: 2.5
Described as an ale but more than likely an EPL.
500ml brown bottle.
It pours a straight gold with a fizzy white head that quickly dissipates with no lacing.
The smell is grainy with some noble hops, nothing offensive, average.
The flavor is pretty crappy though. it is sweet and husky with some very blunt malt flavors.
Not that great.
341 characters

2.19
/5
rDev
-22.1%
look: 3.5 | smell: 2 | taste: 2 | feel: 3 | overall: 2
A: The pour is a clear golden straw with a small white head.
S: Same pruney, cloying sugar smell as many other lagers from the region. Horribly sweet with a little bit of metal and bleach. Apple juice and corn syrup only add to the problem.
T: Sweet corn syrup and cereal all the way. Mild malt flavor gives just a bit of bread. No hop character or bitterness at all. Straw flavor is pretty much all the contrast you get from it.
M: Light to medium in body with a medium carbonation.
O: I don't think I'll be repeating my purchase.
535 characters

3.35
/5
rDev
+19.2%
look: 3 | smell: 3 | taste: 3.5 | feel: 3.5 | overall: 3.5
A - poured clear golden honey color with 1" white head that disappeared to leave a bubbly cap and light lacing in my pint glass
S - malty and hoppy balance. Very crisp nose, somewhat reminiscent of a Labatt Blue, only much better and more defined smell. Light waft of citrus
T - tasted almost lager-ish but without the corniness. Fresh hoppy taste, followed by mild maltiness and a clean, bitter finish.
M - light bodied, medium/light carbonation
D - this was a pretty smooth brew, very drinkable, refreshing, and thirst quenching
Overall - This was a decent beer that has much potential. I only criticize that it tasted too similar to a Labatt, but was somewhat better than the macro. This was only $0.98 on sale at Beers of the World and I bought one just for kicks and was surprised by its quality. A great companion for pizza, a burger, or just a summertime refresher.
877 characters
3.17
/5
rDev
+12.8%
look: 3.25 | smell: 3 | taste: 3.25 | feel: 3 | overall: 3.25
2.75
/5
rDev
-2.1%
look: 2.5 | smell: 2.5 | taste: 3 | feel: 3 | overall: 2.5
I got this can directly from Riga. Back in the States, I did the tasting. It poured a clear pale yellow with a white head building about one and a half fingers high. It dissipates fast, but leaves good lacing.
The smell reveals grain,malt and Corn syrup.
Tasting the beer, there are actually some citrus notes up front, followed by malt and corn syrup flavors, being finished with a light hop character. Very light bodied beer, which reminds me of some lagers I had in Bolivia. Typical thirst quencher, but not much to it, yet drinkable.
537 characters
Gaisais Ale from Aldaris
Beer rating:
2.81
out of
5
with
12
ratings