Taps Charleston Lager
| Taps Brewing Co. Inc.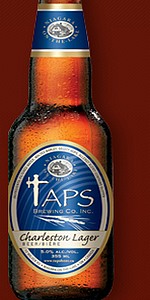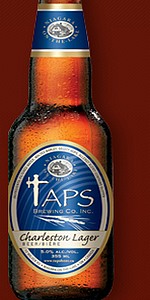 BEER INFO
Brewed by:
Taps Brewing Co. Inc.
Ontario
,
Canada
tapsbeer.ca
Style:
American Pale Lager
Alcohol by volume (ABV):
5.20%
Availability:
Year-round
Notes / Commercial Description:
Made from 100% 2-row barley, with just the right amount of Cascade hops. Our Charleston Lager is a refreshing, light bodied, flavourful golden lager that is perfect for all occasions. The ideal, easy drinking cottage brew.
Added by pootz on 05-08-2006
HISTOGRAM
Ratings: 13 | Reviews: 7
Reviews by galluch:
More User Reviews:
3.03
/5
rDev
-7.1%
look: 3 | smell: 2.5 | taste: 3 | feel: 3.5 | overall: 3.5
On-tap at the brewpub, fresh batch. A little cheesy aroma in hops. Pale yellow body with carbonation bubbles and a little head on. Lacey. Served on the too cold side, more complex as it warms. Average mouthfeel, maybe even a tad above that. Aggressive carbonation. Decent drinkability. The taste is a tad funky for a lager.
Had this again 3 mnths later, again a beer is served a bit too cold. Got a bit of hops and dry finish. Carbonation was right there.
455 characters
3.32
/5
rDev
+1.8%
look: 3 | smell: 3.5 | taste: 3.5 | feel: 3 | overall: 3
Can- SParkling deep yellow/gold with a frothy but short lived white fizz. The nose on this one is pale malts, some straw, biscuit and a bit of lemon. Tastes of sweet pale malts, cookie dough, a bit of lemon, some bread crust with just a little bit of grassy hops. Has a nice biscuity aftertaste with a sharp hop bite near the end. I think this should be classed as a Dort/Helles.
379 characters
2.98
/5
rDev
-8.6%
look: 3.5 | smell: 3 | taste: 2.5 | feel: 3.5 | overall: 3.5
The weakest of Taps' initial offerings... however, see note at the end of this review...
Poured a pale gold or dark yellow into a pint glass. Small head, but I initially poured it a bit too cold, so it's likely my fault.
Sweet, fruity, apple-juice aroma. Some noticable malt presence, very fresh and sparkly. Champagne-like.
Taste is way too sweet. Fruity, like apple juice and green grapes. Some faint hops in there, but overwhelmed by the sweetness.
Mouthfeel is light and refreshing without being watery, and it has a decent, if 'apple-y' aftertaste.
Note: The bottles I had are from the 'original' recipe for this beer, which, according to the brewer, has now been modified after many, many complaints that it was too sweet. I encourage people to try some more recently brewed bottles (last three months or so?) to see if they're any more balanced. I plan to grab some more from the brewery next time I'm in Niagara-on-the-Lake and see for myself.
966 characters

3.8
/5
rDev
+16.6%
look: 3.5 | smell: 3.5 | taste: 4 | feel: 3.5 | overall: 4
Refomulated tried it on tap at the brewery very fresh. I'm readjusting my scoring accordingly
Frothy 2 finger cap. Gold color.
Aroma is malt accented and fills the room with a bready aroma.
Flavor has toned down the sweetness of the first recipe. Still has a substantial malt spine and great sweet biscuit tastes but is a little less sweet more rounded and balanced with the addition of some more hops. If you close your eyes to the label, you'd swear you were sipping a malty Dortmunder lager fresh from the fatherland.
The more I taste this simple malty lager the better I like it...3 mugs of these slid down like butter on a hot Sunday afternoon.
661 characters

3.47
/5
rDev
+6.4%
look: 3 | smell: 3.5 | taste: 3.5 | feel: 3.5 | overall: 3.5
Pours a clear gold color with a minimal ivory head and little lace. The aroma is malty and sweet with a nice floral hop character. The taste is light and somewhat hoppy. Citric and floral hop notes mingle firm maltiness. The finish is sweet with some hop flavor but not a lot of bitterness.
This beer is great for what it is; an all malt version of a Canadian macro lager. It has more complexity and flavor in general and woukd probably win over some Canadian drinkers.
472 characters
3.18
/5
rDev
-2.5%
look: 3.5 | smell: 3 | taste: 3 | feel: 3.5 | overall: 3.5
On tap at the brewpub. Pours a pale yellow with thin white head. No visible lacing. Smell is of very mild hops and some bready malt. Flavour is pretty mild, but nothing off about it. There is a little bit of sweetness from the malt and a hint of bitterness. Carbonation a bit prickly. I prefer the Premium Lager to this.
320 characters
3.17
/5
rDev
-2.8%
look: 3.25 | smell: 3 | taste: 3.25 | feel: 3 | overall: 3.25

3.18
/5
rDev
-2.5%
look: 3 | smell: 2.5 | taste: 3.5 | feel: 4 | overall: 3
Had as a 4 oz sampler...
No real head on the sample (which came to me quickly, so there should have been lacing at a minimum - though the other with out head when served to me had great lacing). Pours an exceedingly clear and pale yellow. Sweet malt dominates the palate. The body has a light bitterness to it, with a bit of malt playing in the profile. Crisp and a good beer for what it is, though not my desire...
I really have to wonder why they offer 2 BMC style lagers out of 6 -8 taps though...
503 characters

3.25
/5
rDev
-0.3%
look: 3.25 | smell: 3.25 | taste: 3.25 | feel: 3.25 | overall: 3.25

Taps Charleston Lager from Taps Brewing Co. Inc.
Beer rating:
3.26
out of
5
with
13
ratings